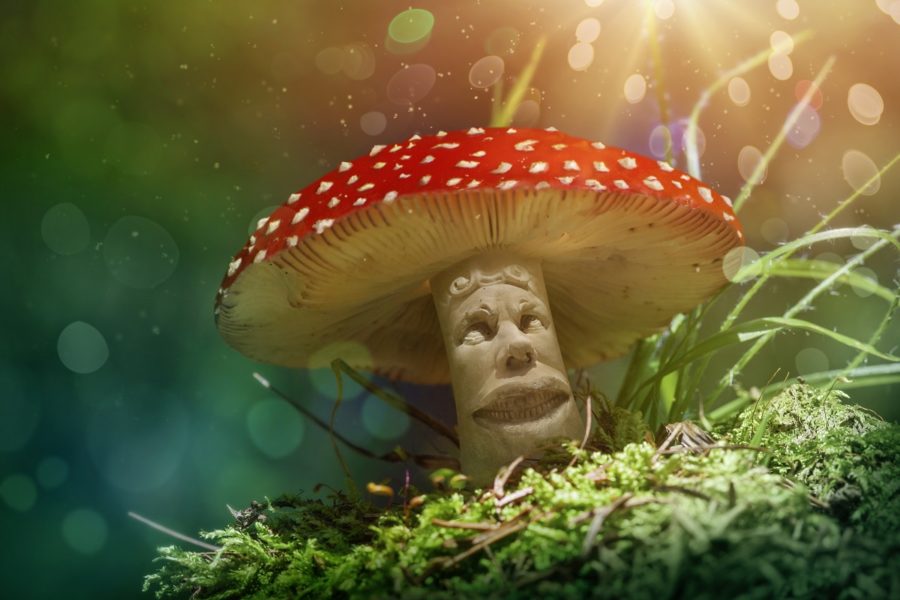 Psychedelic magic mushrooms have been used for centuries for social, religious and medicinal purposes.
They are commonly called "magic mushrooms" due to their hallucinogenic properties. When ingested, users can experience a wide variety of effects. Researchers have been studying the effects of these mushrooms and believe that they can be used as a potential therapeutic option for a variety of mental health issues including anxiety, depression, obsessive compulsive disorder (OCD), and addiction.
While many associate mushrooms with substance abuse, they are not physically addictive themselves, although they can be habit-forming. The active chemical inside mushrooms, psilocybin, can make users see the world differently, causing researchers to explore how it works and how these side effects can be potentially therapeutic.
Magic Mushrooms Therapeutic Potential
Dr. Robin Carhart-Harris, from Imperial College London, heads a team that is exploring the effects of psilocybin. With the assistance of 30 volunteers, Carhart-Harris and his team injected psilocybin into the brains of 30 healthy people and scanned them to identify the drug's effects on function. After being injected, the regions of the brain associated with emotional thinking became more active while the regions responsible for high-level thinking, self-consciousness, and introspection became less active. Since many mental health disorders are tied to excessive connectivity to the brain, lessened activity can help disjoint the over-connectedness many experience and may relieve symptoms of specific conditions.
Over-connectivity in the brain is often what causes people to become locked into negative thoughts, fixating excessively on thoughts that are depressive. By disrupting the connection, psilocybin can provide relief from depressive symptoms and provide individuals with the ability to feel relief by escaping those thoughts. Researchers propose that the use of psilocybin in conjunction with therapy can provide overwhelmingly positive results.
With over 350 million people around the world suffering from depression, the potential for psilocybin in treatment is substantial. Currently, treatment for depression alone may use serotonin re-uptake inhibitors (SSRIs) which increases levels of serotonin in the brain to improve mood; however, SSRIs are not effective for everyone. Even in cases where they are found to be beneficial, the medication does not produce instant results and often has to be prescribed for long periods of time before they're effective. Although it is still in infant stages of exploration, researchers suggest that the combination of psilocybin and therapy may be able to treat mental health conditions within one or two sessions.
Researchers go on to suggest that psilocybin's ability to disrupt the world and introduce "chaos" through hallucinations and altering people's reality may also help treat addictions. Professor Roland Griffiths from Johns Hopkins School of Medicine stated that people felt reorganized after therapy that included psilocybin, which could help address attitudes towards addiction. Griffiths and his team have conducted research treating nicotine addiction with psilocybin-based therapy and have found an 80 percent success rate, with many quitting within six months after treatment. The findings of this study show potential for faster, more effective long-term outcomes as compared to current forms of treatment.
Although the mechanisms of psilocybin's impact on addiction are largely unknown, many report experiencing increased motivation and confidence in their ability to overcome addiction. Psilocybin is thought to disrupt the thoughts and behaviors that influence habitual patterns of abuse and fixation, thereby releasing the brain and allowing people to think differently. Several people have stated that addiction seems less compelling with the assistance of psilocybin treatment. Researchers continue to move forward with examining their role in treatment and suggest that those who would use psilocybin treatment should do so under the care of medical professionals.
What's the Danger?
Despite the promising outcomes of some studies, psilocybin is illegal in many countries. In the United States, psilocybin is classified as a Schedule I drug, meaning it is considered to have a high potential for abuse with no legitimate medical purpose for use. At this time, small-scale studies have been conducted to explore the potential risks and benefits of psilocybin use, but it still must achieve widespread acceptance and larger-scale trials in controlled settings to prove its vigor. It still requires testing in clinical settings to verify its safety in regular use with patients.
Although mushrooms are not physically addictive, they can be habit-forming and psychologically addictive. Many become addicted to the "spiritual journey" they associate with use and intensify their use in order to experience an "intense spiritual awakening". Users typically develop tolerances to the drug's effects, and this increased tolerance also applies to other psychedelics such as LSD and DMT. Within a few days, tolerance decreases; however, users may take higher doses in order to achieve the same effects whether or not their tolerance as changed.
Psychedelics are unpredictable and can cause numerous side effects. Users may experience both "good trips" and "bad trips" which can vary depending on their state of mind, emotions, physical location, the influence of additional substances, and other factors. Previous experiences and dose strength also influence the intensity of the trip and make each experience unique and unpredictable. Regardless of the type of trip a user experiences, they often exhibit symptoms such as increased heart rate, distorted perceptions, dilated pupils, change in appetite, change in personality, and euphoria.
Click here to learn more about different psychedelic drugs that can cause addiction or psychological problems.
There are numerous short term and long term consequences associated with use of mushrooms. While there are typically minimal physical side effects, it is still possible to experience negative outcomes. Mushrooms, like other psychedelics, can cause a number of psychological reactions that can range in severity.
Many of the physical side effects are directly related to use. These include:
Nausea
Hypothermia
Impaired motor skills
Vomiting
Stomach pain
Rapid breathing
Increased blood pressure
Hyperthermia
The psychological side effects associated with mushroom use can lead to long-term issues. Prolonged use can cause paranoia, hallucinations, schizophrenia, and short-term memory loss. Other side effects include:
Flashbacks
Panic attacks
Severe depression
Emotional swings
Paranoid delusions
Psychosis
Many of the psychological side effects last as long as a trip, but some can continue for weeks or years, even if the person has stopped using the drug altogether. In addition to the consequences it has on the user's health, abuse of mushrooms can cause problems in relationships, employment, and financial stability. Since the drug is illegal, it can potentially lead to incarceration.
The Future of Treatment
Treatment for mental health disorders and addiction is constantly evolving. A person's needs in treatment are unique and traditional methods may not always be the most effective. Many treatment centers currently utilize a variety of treatment types in order to provide clients with an individualized plan to best address their needs.
Although much is still unknown about the effectiveness of psilocybin in treatment on a larger scale, current studies and trials show that it may have a promising future. Due to the legal status of mushrooms and the potential consequences of use, it is still necessary to further evaluate the safety of their use in medical treatment. Regardless of the future of medical psilocybin, researchers do not believe that psychedelics in treatment of mental ailments will become mainstream. Instead, they suggest that they may evolve into alternatives for those who are unresponsive to SSRIs in treatment.
The use of psychedelics in treatment is a polarizing topic, but if their use provides meaningful relief in addressing mental health issues and addiction, it is possible that their legal status may change. Researchers are continuing to move forward with studies to explore their potential in treating alcoholism and other conditions with promising results.
Sources:
http://www.cnn.com/2014/09/17/health/magic-mushroom-chemical-depression/
http://www.addictionhope.com/mushrooms