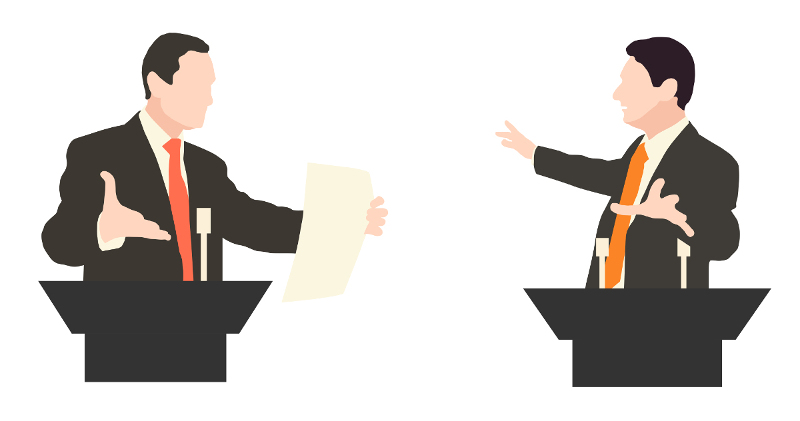 Drug addiction is often discussed during presidential campaigns.
It is a polarizing topic with different opinions across the board. Each of the potential candidates has a unique platform and proposal for handling drug addiction in the United States.
Addiction in the United States has long been treated as a crime and is often stigmatized. Many do not seek help for addiction due to lack of resources or fear of how others will perceive them. For those who struggle with addiction, supporting it often comes at a great cost. Many experience financial troubles, damaged relationships and may resort to criminal activity in order to support their habits. People often end up in court and may face incarceration for addiction-related crimes, which only further alienates them from the people and resources they need to help them overcome addiction.
How to address addiction in the United States has become an important topic in the presidential campaigns. In what is sometimes described as an "unexpected focus," the discussion surrounding addiction treatment in the United States has highlighted the similarities and differences between the presidential hopefuls that are currently running. Regardless of their stance on drug policy in the United States, candidates across the board agree that those who struggle with addiction need assistance with accessing resources and recovery.
Click here to learn about how communities are banding together to tackle drug addiction.
The Candidates' Stances
Each of the presidential campaigns has taken different stances on the addiction issue in the United States, but many share the same viewpoint regarding treatment for those with addiction. Addiction must be treated as a disease, not a crime, and those who profit from addiction—pill mills, drug dealers, or someone else entirely—should be treated as the criminals in the conversation.
Vermont Senator Bernie Sanders has definitively declared that addiction is a disease and not a criminal activity. His home state has been hit particularly hard by the heroin epidemic. Rates of heroin and opioid abuse have skyrocketed across the country and Sanders has called for a radical shift in how we treat addiction in America. He has further gone on to state that the healthcare community needs to "get it together" when it comes to prescribing opioids and treating mental health. Sanders believes the War on Drugs has been largely unsuccessful and has only increased unemployment and imprisonment of nonviolent offenders.
Hillary Clinton's campaign has announced a 10 billion dollar plan to combat the drug and alcohol addiction epidemic in the United States. Her proposal outlines plans to improve treatment and recovery options, equipping first responders with medications to stop opioid overdoses from turning fatal, and focusing on treatment rather than incarceration for users. Clinton highlighted that addiction treatment is one of many gaps in America's healthcare system and that nearly 65 percent of inmates meet the medical criteria for addiction. Her plan focuses on creating partnerships between state and federal treatment programs to improve addiction treatment, and she proposes prioritizing the treatment of incarcerated, nonviolent, low-level federal drug users. She plans to pay for these programs with the funds saved by the criminal justice system.
Jeb Bush shared his family's history of addiction to explain his approach to addiction treatment in the United States. Bush's daughter, Noelle Bush, has long struggled with addiction, facing felony charges and ending up in jail. Asking for Noelle's permission, Bush shared the family's story of recovery and the difficulties they faced. Recalling that many families share similar challenges in dealing with addiction, Bush proposed a plan that included preventing drug abuse, strengthening the criminal justice system, securing the border with Mexico, and improving treatment and recovery programs. He proposes nonviolent offenders receive treatment for their addiction while those who are drug dealers face incarceration. His personal experience with addiction allowed his message to resonate with the public.
Candidate Donald Trump's proposal centers around building a wall between the United States and Mexico, stating that the wall would help address New Hampshire's drug epidemic. Through a Facebook video, Trump stated, "I am going to create borders. No drugs are coming in." In addition, he stated that he would work to help those with existing addictions overcome them, but he did not address the growing prescription drug abuse problem.
For many of the candidates, prescription drug abuse and the growing heroin epidemic were highly prioritized when discussing approaches to addiction in the United States. New Hampshire legislators have largely focused on these topics because heroin and opioid abuse has dramatically impacted the state. According to a recent survey, approximately 25 percent of New Hampshire residents believe the issues surrounding addiction are more important than jobs and the economy, with an astounding 50 percent of those surveyed admitting to knowing someone who has abused heroin.
Approaches to Addiction Treatment
The different approaches to addiction treatment highlight the varying opinions people hold regarding substance abuse. Many candidates' stances on addressing addiction indicate a changing climate as to how we perceive addiction and those who struggle with it. Many believe the current methods of addressing addiction have failed and a shift in how we view addiction and methods of treating it is necessary in order to progress forward. Despite their varying stances in several other key areas, the relative consistency regarding addiction indicates that many believe it requires treatment rather than incarceration.
While it is important to address the concerns regarding the availability of drugs in the United States, the need to treat addicts rather than punish them is critical in overcoming the current epidemic. With increased accessibility to prescription drugs, the growing presence of heroin, and the legalization of marijuana, addiction touches the lives of many people across the country. It is highly visible with the help of pop culture, media coverage, and social media, making it an important topic to address. No longer is addiction stereotyped as a problem that only afflicts a certain group of people – it is a problem that is visible and can touch the lives of anyone regardless of age, gender, race, or ethnicity.
While the United States appears to be shifting its views on addiction, many other countries have already taken dramatic steps to address the stigmas surrounding substance abuse and make treatment more accessible to all people. The governments in these countries claim that this protects public health and provides treatment for those with addiction. Rather than threatening addicts with jail time, some countries have implemented programs that include treatment and community service as a way to develop character and give back, rather than resorting to punishment through incarceration. Many of these countries report a decline in substance abuse among their population. Some have gone so far as to propose the implementation of injection rooms for those who struggle with addiction. Rather than having drug paraphernalia on the streets and exposing the general public to this, those who inject drugs can go to an injection room that is clean, safe, and staffed with medical professionals to prevent overdose and ensure the safety of the public.
Whether or not proposals like these will make an appearance in the United States is unknown, but monitoring their success in other countries and the impact they have on addiction rates may make it plausible in the future. For now, the United States is undergoing a major shift in public opinion regarding the legality and safety of marijuana and the effects of these changes is still largely unknown. Presidential hopefuls are working towards changing the perception of addiction throughout the country and providing resources to those who are in desperate need.
Sources:
http://time.com/4156176/democratic-debate-bernie-sanders-heroin-disease-crime/
http://www.cnn.com/2015/09/02/politics/hillary-clinton-10-billion-drug-addiction-fight/
http://www.cnn.com/2016/02/06/politics/donald-trump-new-hampshire-drug-epidemic/
http://www.nytimes.com/2016/01/06/us/politics/jeb-bush-drops-guard-to-share-family-account-of-addiction.html?_r=1