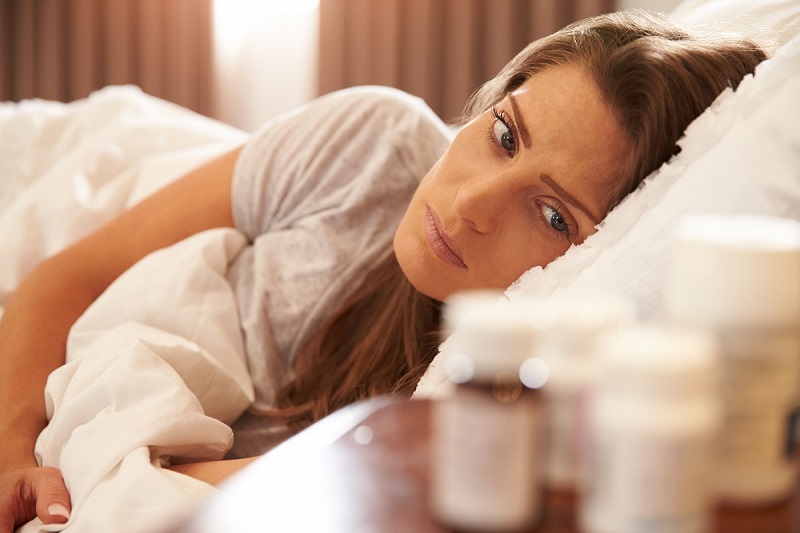 When people think about drug abuse and addiction, illegal substances that are dangerous and come with criminal charges normally spring to mind.
In many cases, however, the substances that lead to the abuse of more illicit drugs found in many households. Sleep aids and cough medicine, while helpful when used to treat insomnia and illness, can be abused and become addictive over time. Prescription drug abuse is a growing epidemic in the United States and around the world. With an increase in prescriptions given by doctors, these medications have become easily accessible. What may start as a necessity can gradually lead to dependency and addiction. Although not everyone who uses sleep aids or cough medicine does so in order to get high, many grow to rely on the substances and may begin to use them simply out of habit. Withdrawal symptoms and cravings can make it impossible to stop this cycle once it starts.
Sleep Aids
In the case of sleeping pills, many people begin using them out of medical necessity and do not intend to be addicted or abuse them. Taking sleeping pills can sedate the user and calm their mind. Over time, they may begin to use the drug even when it is not needed simply because they like the feeling it produces. Sleeping pills can cause effects similar to those of being drunk. In some instances, people may begin using sleeping pills to enhance the effects of other drugs or alcohol. Since sleeping pills are prescribed by doctors, many falsely believe there are little to no consequences associated with misuse; however, research shows that addiction can lead to a deteriorated quality of life and potential health consequences. Depending on the type of sleeping pill abused, individuals can experience a wide array of physical symptoms, damage to organs, increased tolerance, and painful withdrawal symptoms when doses are reduced or stopped altogether. In addition to addiction, sleeping pill overdose is also a concern when these substances are abused.
There are a variety of sleeping pills that may be prescribed to for insomnia or other conditions.
Barbiturates cause sedation by depressing the Central Nervous System (CNS). In larger doses, barbiturates can act as an anesthetic, which is why the drug is not commonly prescribed for sleep disorders. Barbiturates have a higher risk of overdose compared to other sleep aids.
Benzodiazepines are commonly prescribed for sleep disorders under names such as Xanax, Valium, Librium, and Ativan. They work by enhancing the effect of a neurotransmitter called GABA, which produces a sedating, calming effect on users. Those who use these types of drugs for a long period of time are prone to severe withdrawal symptoms.
Nonbenzodiazepines work similarly to benzodiazepines, but are a different chemical structure. Drugs like Lunesta, Sonata, and Zolpidem fall into this category.
Cough Syrup
Cough syrup abuse has become more predominant in recent years, specifically among adolescents. A 2008 study found that one in every ten teens in the United States has abused DXM (dextromethorphan), a common ingredient in cough and cold medicines. Consuming large amounts of DXM can produce an intense high. Almost half of all over-the-counter drugs in the United States contain the ingredient. This makes it cheap, easily accessible, and completely legal.
Some cough syrups are abused as a drug for recreation. Click here to learn more about "sizzurp" and why it is popular.
When taken as recommended, products containing DXM are safe and effective, but when taken in large doses, they can cause hallucinations and potentially cause other serious effects on health. Many household names like Nyquil, Robitussin, Dimetapp DM, and Theraflu contain DXM in all forms including syrups, capsules, tablets, and lozenges. When taken in excess, DXM produces effects similar to those of PCP or ketamine. Abuse of DXM is becoming more visible through pop culture and social media; however, abuse of cough syrup and other similar medications has been a long-standing issue.
DXM poses many threats to the physical and mental health of users. Many abusers experience symptoms such as irregular heartbeat, increased blood pressure, slurred speech, nausea, vomiting, memory loss, hallucinations, and coma.
Then appeal of DXM lies in a number of factors. These include:
Easy to obtain: If DXM is not in your own home, it is in the home of a friend, family member, or neighbor. High-dose tablets are popularly abused because they are easier than syrup to ingest in large quantities.
Cheaper than alternatives: Purchasing a bottle of cough syrup or a pack of capsules is much cheaper than buying illicit substances from a drug dealer. Since they are readily available in most stores, it is easy to shoplift these items too.
Perception of safety: Many believe that because these are legal products prescribed for treating illnesses that they come with less potential for danger. They are purchased in safer environments and can be carried anywhere without any care or consideration.
Parents are unaware: Many parents have a hard time buying into the belief that teens may be drinking cough syrup to get high because the very idea of it sounds revolting. These are medicines parents give to their children when they are sick. In most cases, when parents talk about drug abuse with their kids, cough syrup is rarely included in the discussion.
Sources:
http://www.webmd.com/parenting/teen-abuse-cough-medicine-9/teens-and-dxm-drug-abuse?page=1
http://alcoholrehab.com/drug-addiction/sleeping-pill-addiction/