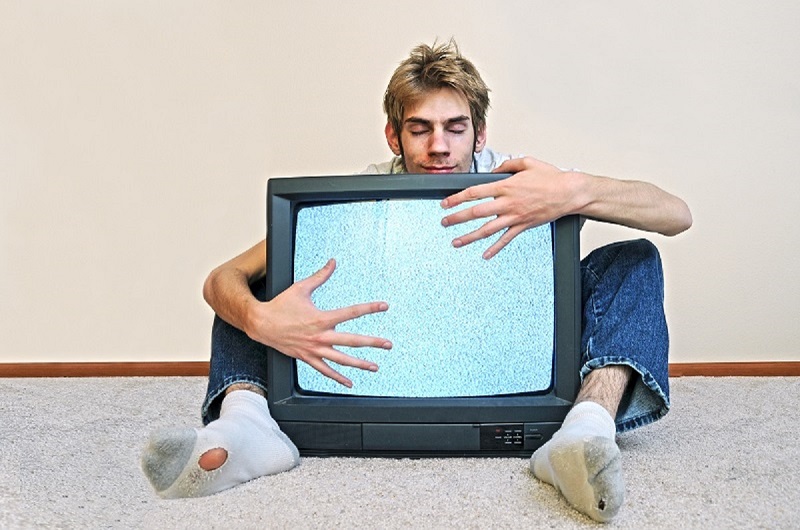 Television has evolved over time to become the primary source of information for many and a daily activity in most households.
Watching television has become a way many people relate to one another. Catching up on favorite TV shows and discussing them with others is a fun and easy way to build friendships. As technology has evolved, television has become more and more ubiquitous. Gone are the days of waiting to get home to watch your favorite show. The availability of streaming services such as Netflix, Hulu, and Amazon have made it easier than ever to watch movies and shows at any time. In fact, you don't even need a television to watch shows anymore. Laptops, tablets, and smartphones offer the same services on the go.
Although television has opened many doors for communication and advancement in technology has allowed us to stay more connected than ever, television also has the potential for abuse. Some may watch television for long periods of time without actually paying attention to what is happening on the screen, and many people celebrate "binge-watching" television, in which a person spends hours watching episode after episode of their favorite shows. While on the surface this may seem harmless, engaging in these activities can cause an individual to neglect their responsibilities, personal hygiene, relationships, and other areas of life in favor of just "one more episode".
What is Television Addiction?
There are two behaviors that can often be associated with television addiction: teleabuse and telefixation. Teleabuse is a regularly occurring and a systematic way of watching television. This may be difficult to identify since television has become a part of most people's daily routines; however, these daily rituals can lead to addiction. Telefixation is a tendency to think about television for abnormal amounts of time and may be exhibited through behaviors such as sitting in a dark room, unmoving and silent, either alone or ignoring others in the room. This behavior often alludes to a person's willingness to become completely captured by televised images, hypnotizing oneself through multiple senses. It can be a sign of television addiction.
What makes television addiction hard to identify is TV's prevalence in public spaces. Television can be watched virtually anywhere from a variety of devices, making it hard to tell whether or not an individual is engaging in abusive behaviors. In addition, individual discrepancies in how a person processes television does not necessarily mean an individual is addicted to it.
In order to correctly identify if someone is addicted to television, it is important to be cognizant of behaviors and indicators similar to those associated with substance abuse. This may include withdrawal symptoms if an individual is not able to engage with a device.
The primary signs of television addiction include:
Watching television for more than 2 – 3 hours a day
Reduced participation in non-TV leisure activities
Worsening relationships with others
Choosing television over other exciting plans
Inability to tolerate interruptions and/or comments from others while watching television
Confusing reality and television
Using language from television shows in everyday conversations
Feeling anxiety, agitation, and irritability when unable to watch TV
Symptoms of television addiction vary based on behavioral and environmental factors. Another indication that someone might be addicted to tea is their use of the medium as a way to obtain role models. An individual may aspire to goals and lifestyles they see on television and replace real relationships with those they develop with characters on the screen. Another common experience shared among those who struggle with television addiction is a desire to reduce contact with the outside world, work responsibilities, or personal problems. Watching TV replaces time spent out or with others, and may cause an individual to act more reclusively.
Click here to learn more about a technology addiction treatment program.
Addressing Television Addiction
Establishing guidelines to control the amount of time spent watching shows can help prevent or treat television addiction.
Limit the daily amount of time spent watching television to 2 – 3 hours, and less for children.
Reduce the likelihood of telefixation by watching TV with good posture in a well-lit room.
Take up hobbies and other activities to engage in throughout the week.
Maintain relationships with peers.
When watching TV, be sure to watch multiple sources as to not fixate on specific ideas and messages.
Television addiction is often a temporary phenomenon that can be corrected through modifying behaviors. It may also develop as a means of dealing with stressors and bad days. Giving oneself time to engage in more creative activities that do not involve the use of a television can often help individuals regulate their behaviors and attain a healthy balance in their lives. It is nearly impossible to live in a world completely void of television and similar technologies, making it especially critical for people to develop a healthy relationship with technology and change behaviors that enable negative habits.
Sources:
http://www.gomentor.com/articles/television-addiction.aspx
http://en.benessere.com/psychology/articles/addictions_television.htm