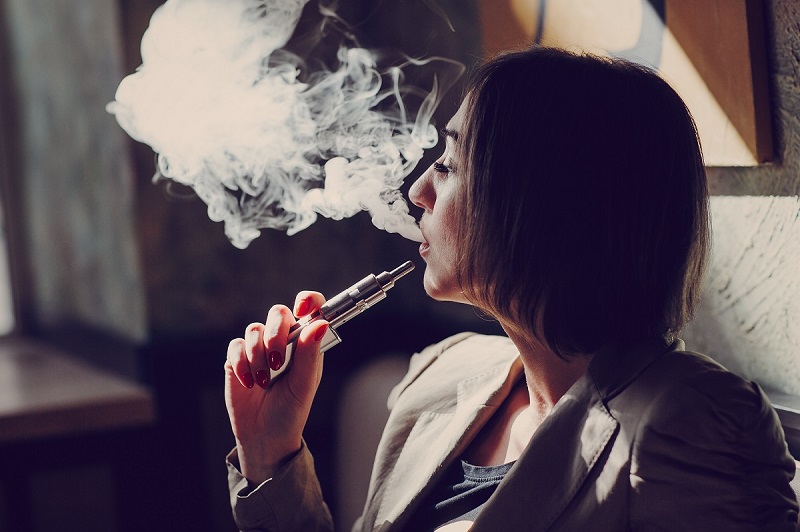 Electronic cigarettes have substantially grown in popularity over the past few years.
Marketed as a safe alternative to actual cigarettes, many are putting down traditional cigarettes in favor of the high-tech devices. Although there is not yet enough research available on the safety of the devices, their popularity has not been tempered. It is estimated that the number of teens and adolescents using them has doubled between 2011 and 2012, and it shows no sign of stopping.
Electronic cigarettes are commonly called e-cigarettes or e-cigs. The devices function similarly to a real cigarette. They glow when you inhale, produce clouds of vapor that look like smoke, and some even resemble a cigarette. Many call the act of using an e-cigarette "vaping." Regardless of the manufacturer, they all operate following the same basic principles: they have a battery, a heating element, and contain a cartridge with nicotine, flavors, and other liquids. Some e-cigarettes are disposable while others are rechargeable and have refillable cartridges.
Since their introduction, the safety of these devices has been debated. Because they contain nicotine, they are addictive and cause withdrawal symptoms, but initial evidence suggests they may be safer than regular cigarettes. Although tests show that levels of dangerous chemicals in an e-cigarette are a fraction of what a person would receive from an actual cigarette, their contents can vary and the long-term risks from use and largely unknown. Additionally, many worry that the bright colors and flavors make them more appealing to young adults and teens, creating a new generation of smokers. Since they do not smell like tobacco, it can be harder for parents to detect if their child is vaping.
Click here to learn more about what is affecting teens to help assist them in smoking.
Do E-Cigarettes Help Smokers Quit
E-cigarettes are largely promoted as a healthier alternative to regular cigarettes and can be used to help smokers quit, but a recent study suggests that is not the case. A report published in The Lancet Respiratory Medicine found that adults who use e-cigarettes are 28 percent less likely to stop smoking. Although e-cigarette usage has resulted in significantly less cigarette smoking, the devices are not recommended as effective smoking cessation aids. Currently, there is no evidence to support that they work effectively to assist smoking cessation.
The U.S. Food and Drug Administration (FDA) has not received applications from e-cigarette manufacturers to approve the devices for smoking cessation. Furthermore, the FDA has not taken action against companies who claim the devices can serve that purpose. Instead, the FDA has voiced concerns about the products' safety, since e-cigarettes are not currently regulated. Without regulation from the FDA, e-cigarettes may contain unknown chemicals or toxic substances that are dangerous to users and not actively advertised. Studies show that e-cigarettes can produce solvents that are lung irritants. These solvents can also transform into carbonyls, which is a group of cancer-causing chemicals. With e-cigarette models that allow users to increase the device's voltage and temperature, the solvents are more likely to be produced.
Although there are many unknowns regarding the safety of e-cigarette usage and their ability to aid in smoking cessation, that does not mean they have not helped people successfully quit. When used similarly to other nicotine replacement products, they can help people slowly wean themselves off of nicotine without experiencing severe withdrawal symptoms. Many consider e-cigarettes to be the "lesser of two evils," but emerging data may change that viewpoint.
Smoking Cessation Options
For those looking to quit smoking with the assistance of smoke aids, there are numerous options to consider. Some of the most common aids are called "Nicotine Replacement Therapy" products. These products help users deal with nicotine withdrawal symptoms while they quit smoking. Rather than getting nicotine from a cigarette, it is delivered through a product such as gum, lozenges, patches, or sprays. Without the effects of withdrawal symptoms, many find it is easier to quit with these products. Over the course of time, users must wean themselves from nicotine in any form, and many of these products contain their own set of instructions for this as well.
There are pros and cons to using these products to quit smoking. Many studies suggest that nicotine replacement products are moderately effective in helping people quit smoking. Across products, the success rates are consistent. While they do assist with the physical addiction, they do not help with psychological addiction. For those who are serious about quitting smoking, it is important to consider combining nicotine replacement product usage with a program or plan to cope with psychological addiction. Additionally, nicotine replacement products can have numerous side effects such as skin irritation, sleep disturbance, and sore throat. These are usually dependent on the type of product used; however, regardless of the type of aid used, a person should not smoke while on Nicotine Replacement Therapy because it can cause additional dangerous side effects. Additionally, nicotine replacement products can be costly, ranging from $250 to $2,000 for a full course of treatment.
Regardless of the method chosen, there is no way to quit smoking that is completely effortless and easy. It is important to consider the duration of treatment, the addictiveness of the product itself, the cost, and the potential side effects of use.
Patches: Nicotine patches are available without a prescription and require eight to ten weeks of treatment. They can be addictive and cause side effects such as skin irritation, blistering, burning, or itching. They are available in a variety of dosages and are relatively cheap compared to other nicotine replacement products.
Gum: Nicotine gum is a popular smoking cessation product that does not require a prescription. Treatment lasts approximately 12 weeks, and its cost is comparable to nicotine patches. Users can chew the gum several times a day, and users often place it between the gums and lower lip to facilitate nicotine absorption. Users should not eat or drink anything 15 minutes before or after using the gum.
Nasal spray: This form of treatment requires a prescription. Treatment lasts approximately 12 to 14 weeks and the product itself is highly addictive. It can cost upwards of $350 and can produce side effects such as congestion, sore throat, or sinus irritation.
Inhalers: Nicotine inhalers work similarly to e-cigarettes, but do not produce the "smoke." These devices work better in smoke-free environments because they are not designed to look or function like cigarettes. Users puff on the inhaler to receive a dose of nicotine. This form of treatment requires a prescription and usually lasts from three to six months. It can be highly addictive and is one of the most costly forms of Nicotine Replacement Therapy.
Zyban/Chantix: Medications are becoming readily available in the United States to help clients quit smoking without the aid of nicotine. These medications work by regulating dopamine and other brain chemicals to reduce the frequency and intensity of cigarette cravings. Using these medications results in reduced cravings, stress, depression, and other symptoms that often accompany the quitting process. While the medications are effective, they are not without side effects and are not appropriate for everyone. Some side effects include weakness, rapid heart rate, and worsened depression. In most cases, using medications like this is recommended as an option for those who have no other alternative available.
For those looking for an alternative approach to quitting smoking, there are different forms of treatment that do not utilize nicotine replacement products. These include:
Hypnosis: While many people do not believe in hypnosis, it seems it may be helpful for those looking to quit cigarettes. Hypnosis is largely misunderstood, but the process is designed to calm the mind using meditation, relaxation, and guided imagery to focus on specific goals and outcomes. Therapists use hypnosis to access the subconscious, helping the patient feel reduced stress, anxiety, anger, or depression for a short period of time. While it is not a permanent solution to quitting smoking, it can help improve focus and make patients more receptive to suggestion.
Acupuncture: Acupuncture has grown in popularity in a variety of treatment fields. Many who quit smoking cite acupuncture as an effective piece of their recovery. Needles or pressure are used on specific areas of the body to trigger changes and encourage healing.
Psychotherapy: Therapy is an excellent tool for recovery. Often utilized in substance abuse treatment, psychotherapy is a helpful way to identify influences on addictive behaviors and establish healthy coping mechanisms to deal with cravings and triggers. Many find that substance use is influenced by co-occurring mental health disorders, environmental factors, or peer pressure. Therapy provides a safe place to address these influences and establish methods of addressing them without the aid of substances.
Support groups: For those quitting smoking, establishing a healthy support network can be beneficial in recovery. Many become involved with support networks and communities in person or online to connect with others who share similar experiences. These groups provide people with the ability to connect with those who can readily relate to their experiences and provide advice, guidance, and support. Community members can offer insight into the recovery process and mentor those who are working through it.
Sources:
https://quitsmokingcommunity.org/13-stop-smoking-aids-2014/
https://www.sciencenews.org/article/health-risks-e-cigarettes-emerge
http://www.webmd.com/smoking-cessation/features/electronic-cigarettes
http://www.cbsnews.com/news/e-cigarettes-dont-help-smokers-quit-study/
http://www.quit-smoking-advisor.com/02-Patches-and-Gum/stop-smoking-aids.html