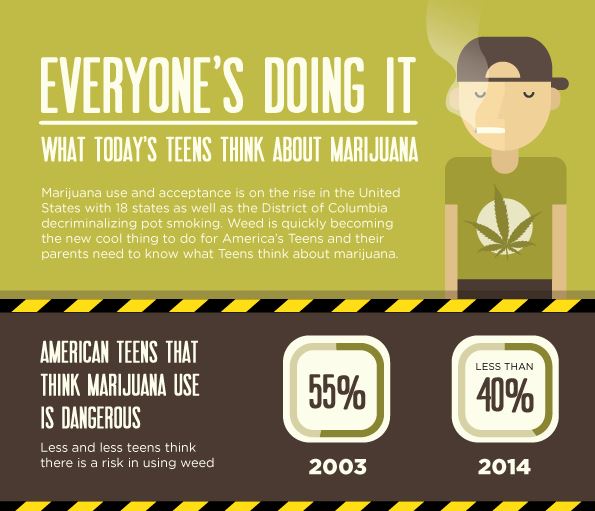 As of today, 23 U.S. states and Washington D.C. have enacted laws legalizing medical marijuana, according to procon.org. Washington and Colorado have gone so far as to legalize the drug for recreational use. This is changing the way most teens think about the topic of smoking weed. Nowadays, teens tend to think of marijuana as a safe drug, in comparison to hard-core drugs like crystal meth, cocaine, heroin.
So, if you're a parent who is against all drug use, including marijuana, then it's time to beware. They need to know that any drug addiction is dangerous, even an addiction to marijuana. Therefore, you need to talk to your kids and find out what they think about marijuana in 2014.
Studies show that the number of teens in the U.S. who think smoking pot is dangerous, has decreased over the past decade:
• In 2003, 55% of teens believed weed to be dangerous
• In 2014, this number has dropped to just 40%
How Do Teens Use Marijuana in 2014?
Even the way teens use marijuana has evolved over the years. It's no longer just a plant being smoked in a pipe or in rolling papers of some sort. Instead, teens are using two other popular methods for using weed:
1. Honey Oil – This thick liquid is created by dissolving marijuana in a solvent. The most common ones are petroleum, butane, alcohol and acetone. This form is said to cause a much stronger high than smoking pot, causing extreme hallucinations and paranoia.
2. Vapor Pen – Heard of those e-cigarettes which have vapors that don't emit odors? Well, these pens take on the same concept. There's no odor, and the smoke is not caused by fire, so no lighter is needed. Teens are smoking vapor pens in public places and right on school grounds.
The Key is to Talk to Your Teen about Weed
Here are some tips for talking about marijuana use with your teen:
• Have talks with your teen about alcohol and drugs before he/she gets to middle school
• Set clear, strict boundaries about drugs and alcohol and share them with your teen
• Let your teen know that you will love your child no matter what, so it's okay to come to you
• Spend quality time with your teen to ensure that she/he understands your values and morals
The infographic below is courtesy of helpyourteennow.com and includes more great information about teens and weed.