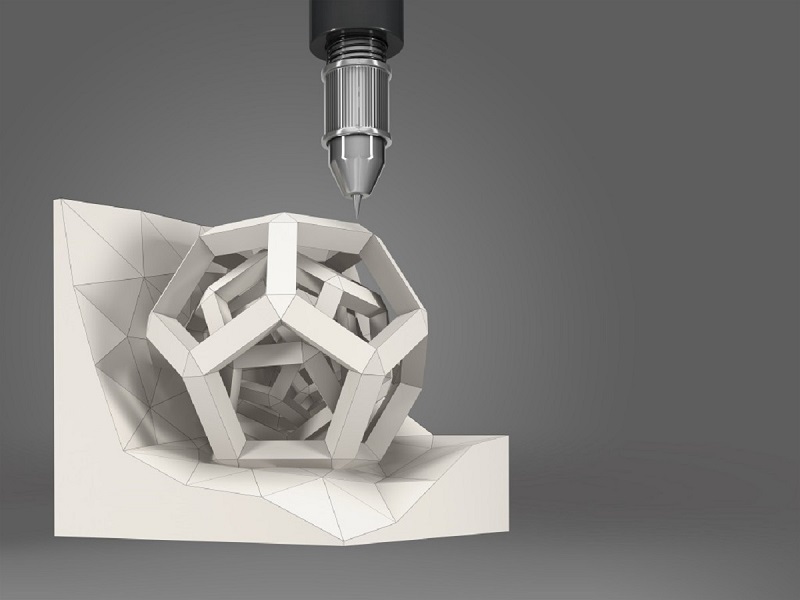 The revolutionary 3D printer is changing countless industries.
Working from a virtual design, a 3D printer is capable of creating nearly any object you want by using a 3D modeling program or a 3D scanner. While not all 3D printers use the same technology, many of them work by "slicing" a model into hundreds or thousands of horizontal layers and creating the object by blending each layer together into the three dimensional object.
The popularity of personal 3D printers began to rise in 2011 as prices began to fall. 3D printers typically run between $250 and $2,500 making them more readily accessible to people than ever before. Even if an individual does not want to invest in their own personal 3D printer, there are several 3D printing businesses that make the technology accessible. Companies like Shapeways, Ponoko, and Sculpteo offer inexpensive services—including printing and delivery—through a user-friendly site. Users simply log in, upload a digital file, and receive their final product.
3D Printing and Drug Use
With the growing ease of access and services available, many are questioning how the accessibility of 3D printers will affect other markets, such as illegal drugs. Printed drugs may come sooner than expected, with the first 3D printed pill already approved by US authorities. The drug, which is used to treat epileptic seizures, is the first prescription drug manufactured from a 3D printer. Using Aprecia's "ZipDose" technology, the drug easily dissolves in a "sip" of liquid.
Using a 3D printer would allow companies to package drugs more compactly, providing a greater dose of medication in a smaller, easily dissolvable pill. Chemist Lee Cronin, from the University of Glasgow, claims to have created a prototype 3D printer that is capable of assembling chemical compounds at a molecular level. Cronin's 3D printer would work similarly to current 3D printers, but on a much smaller, more precise scale. With his model, Cronin shared that individuals would be able to go online with a prescription, buy a "blueprint" and the chemical "ink" for it, and then safely print the drug from home. Using this method, dosages and chemicals could be tailored to fit the specific needs of the individual, while accounting for allergies and other concerns.
While the ease of accessibility to prescription medication has many obvious benefits, this same accessibility raises concerns about more dangerous activities. Many have warned of the potential for individuals to abuse 3D printers with sophisticated techniques to print controlled substances. With accessibility to a wide market, users could experiment with various chemicals and create new drugs whose legal status is not yet defined and whose effects will largely be unknown. This concern is plausible considering the current growing number of chemists experimenting with compounds to create "legal highs", which are drugs that avoid current substance-control laws. Click here to learn more about legal synthetic drugs and the dangers that can go along with them.
Ease of Accessibility and Substance Abuse
One of the greatest contributing factors to the rise of prescription drug abuse is the ease of accessibility. Prescription drugs have become readily available in most households, and as a result prescription drug addiction has exploded in recent years. The increased availability of 3D printers raises similar concerns. Increased accessibility to 3D printers opens a door to even
more chemical compounds without many of the associated risks. While many people are wary of interacting with a drug dealer or nervous about unknown contents in drugs, 3D printers remove many of these fears, making it easier for individuals to experiment and take risks they may have otherwise avoided.
Ease of accessibility is one of the most common contributors to initial drug use and a frequent factor in continued use. With minimal barriers, it is easier to use illicit substances and develop addiction. For many, the perception of safety also contributes to the rise in substance abuse. The ability to print drugs in the comfort of one's home can contribute to the false belief that easy accessibility means there is no danger in use—this is similar to the phenomenon we have experience with the recent rise in Prescription drug accessibility and abuse.
Just as is the case with prescription drugs, as 3D printers become more readily available, it is important to monitor access and use. While 3D-printing drugs and prescriptions is still in its infant stages, the rapidly developing market will surely make it an everyday reality in the upcoming years.
Sources:
http://theweek.com/articles/462825/3d-print-drugs
http://www.independent.co.uk/life-style/gadgets-and-tech/news/first-3d-printed-pill-approved-for-prescription-drug-use-in-the-us-10437976.html