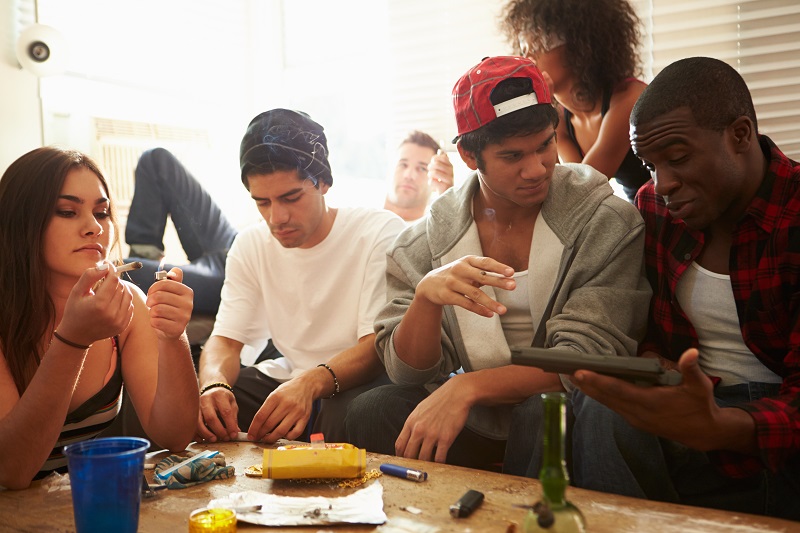 Countless synthetic drugs are used recreationally in the United States and other parts of the world, and synthetic drug abuse has grown exponentially in recent years for a variety of reasons.
Often referred to as "legal highs," synthetic drugs are made by chemists who avoid legal repercussions because of their ability to alter formulas and avoid arrest. By changing the formula to include compounds that are not listed among banned drugs, individuals are able to abuse synthetic drugs that cause effects similar to those caused by illegal drugs, and without fear of legal consequences. Since the compounds of synthetic drugs are constantly changing, it is nearly impossible to compile a complete list of them. Although some synthetic drugs have recently become illegal, the ever-changing formulas constant influx of new substances are a cause for concern and have made it difficult to stop the growing epidemic.
What are Synthetic Drugs?
Synthetic drugs are often sold under the guise of incense, fragrances, and other harmless products. With imaginative and colorful names, like Mr. Smiley, spice, Molly, and Funky Monkey, it is easy for people to acquire synthetic drugs without the stigma associated with more well-known illegal drugs. Synthetic drugs are in a class that includes bath salts and synthetic marijuana. Often times, they're sold under branding that presents them as plant food, incense, or fish food. These drugs are made up of hundreds of chemicals that can be compounded into countless formulations, and while the drugs are "legal highs", this does not make them any more safe.
Synthetic drugs are not regulated. This means that the formulation of the drug can vary from batch to batch and it is nearly impossible to know with 100 percent certainty what is being ingested. In most cases, a synthetic drug is so new to the market that laws prohibiting their use do not exist yet. These drugs are not tested for safety and can produce a number of dangerous side effects.
Common Synthetic Drugs
One of the most popular synthetic drugs on the market is synthetic marijuana. Often called spice, K2, or Scooby Doo, the drug uses synthetic cannabinoids to mimic the effects of THC. The effects of synthetic marijuana are considerably stronger than marijuana and often produce more dangerous side effects. Synthetic marijuana has been responsible for thousands of poisonings in the United States, and because of branding, it is particularly popular with teenagers and young adults. In a recent study, it has been suggested that at least one in ten high school seniors in the United States have used synthetic marijuana in the past year, and it is the second most prevalent drug abused by teens, after actual marijuana.
Another popular synthetic drug that has recently made headlines is bath salts. This synthetic compound produces effects similar to methamphetamines. Unlike synthetic marijuana, bath salts are often used unintentionally because the substance has been found in batches of Molly, another synthetic drug that is supposed to be a purer form of MDMA (ecstasy). Studies show that Molly often contains little to no MDMA and is, more often than not, a dangerous cocktail of unknown substances. What makes synthetic drugs like bath salts and Molly so dangerous is that it is nearly impossible to know what is actually being ingested. Those who take synthetic drugs are taking a gamble each time they use.
Click here to learn more about other synthetic drugs similar to bath salts in our blog post here.
Side Effects of Synthetic Drug Use
Signs and symptoms of synthetic drug abuse vary greatly because their contents are largely unknown. In some cases, the compounds of synthetic drugs can negatively interact with one another and worsen side effects associated with use. Some common signs of synthetic drug abuse include:
Anxiety
Agitation
Restlessness
Heart palpitations
Aggression
Hallucinations
Paranoia
Chest pains
Seizures
Suicidal thoughts
Homicidal tendencies
Delusions
Heart attack
Self-destruction behaviors
Overheating
Death
Symptoms can last from a few hours to a few days. These signs can alert someone to the possibility of synthetic drug use, but it can be difficult to determine exactly what drug was used. While drug tests can identify some compounds found in specific synthetic drugs, a person can still test negative for the drug because countless chemicals not included in the list can be part of the formulation.
Synthetic drugs are particularly dangerous because they are incredibly addictive and make many engage in compulsive behaviors. This also puts individuals in the vicinity of a synthetic drug user in danger. For example, a mother in Kentucky attempted to kill her two-year-old when using bath salts because she believed her son was a demon. Another man who used spice attempted to throw his girlfriend from an eleventh-floor balcony. In a third case, a man attempted to kill himself with a knife while under the influence of bath salts. Bath salts are also the reason for recent media headlines related to "zombie attacks," because some individuals under the influence of the drug have attacked people and chewed on their flesh.
Sources
http://www.narconon.org/drug-abuse/signs-symptoms-synthetic-drugs.html
http://theconversation.com/legal-highs-a-look-at-the-growing-use-of-synthetic-drugs-38404