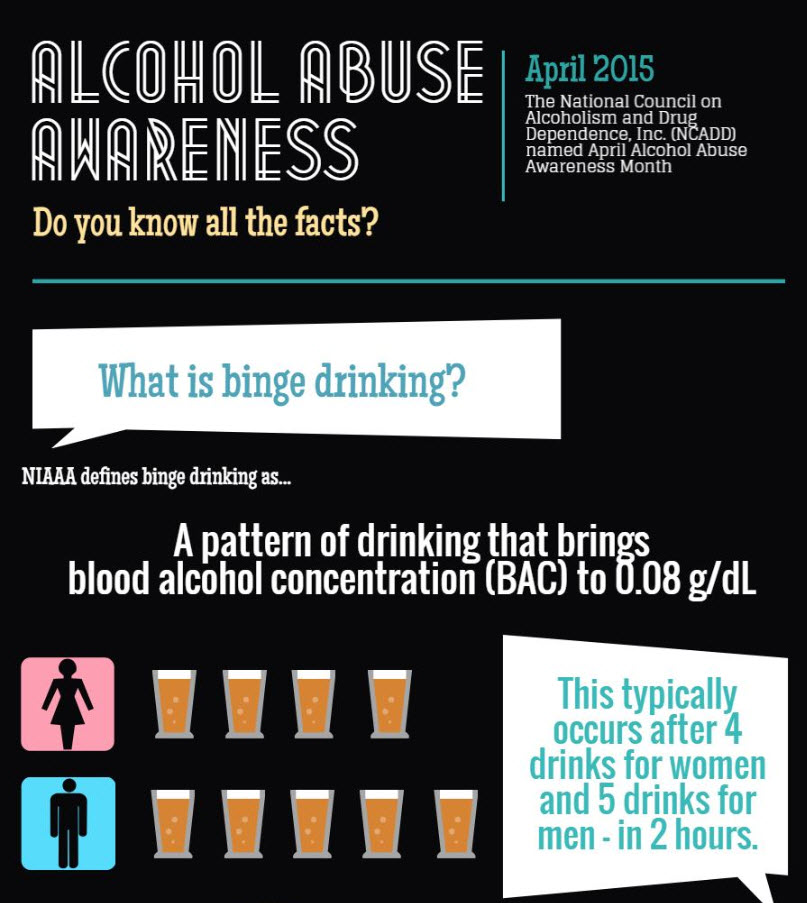 In 1987, the NCADD designated April Alcohol Awareness Month in an effort to increase awareness and reduce stigmas surrounding alcoholism.
Click here to view the full Alcohol Abuse Awareness Month Infographic.
The theme for April 2015 is "For the Health of it: Early Education on Alcoholism and Addiction," which will feature a number of events designed to educate the public—especially young adults—about alcohol treatment and prevention. For young adults, early education about the impact alcohol can have on their lives is one of the most critical components in the prevention of alcoholism.
Underage alcohol use is on the rise in the United States and statistics point to an alarming trend of alcohol consumption among children as young as nine. Approximately 3 million adolescents between the ages of 14 and 17 regularly consume alcohol and more than 100,000 12 to 13 year olds binge drink each month. It is estimated that 40 percent of children who begin consuming alcohol before the age of 15 will become alcoholics at some point in their lives.
Alcohol consumption is one of the leading causes of injury and death among teenagers, and its statistics such as these that have made a focus on underage drinking such a priority during this year's alcohol awareness month. While these statistics are a cause for concern, experts agree that the best deterrent to underage drinking is parental influence. Talking with your children about the dangers of alcohol use has a profound impact on their choices. Research suggests that adolescents and teens are 50 percent less likely use drugs and alcohol when their parents have discussions with them surrounding the dangers and risks associated with use. While there is no singular method that works effectively for every child, it is important to engage them in meaningful discussion.
Talking about drugs and alcohol does not necessarily entail "a big talk." It is important to take advantage of "teachable moments" as they present themselves throughout life. Whether issues are brought up through television, movies, celebrities, news events, or among family and friends, having open conversations with your kids about drug and alcohol use can have a profound impact on their outlook. Discussing these topics "in the moment" allows you the opportunity to present them with facts about the dangers of substance use rather than allowing them to be inundated with images glorifying substance abuse in the media and amongst peers.
It is never too early to start the conversation. While you may talk about drugs and alcohol differently with an 18-year-old than you would a 10-year-old, it is never too early to begin discussing the topic. You are better able to influence your child's attitude and decisions surrounding substance abuse before they start using.
Be open about family history. Research has shown that substance abuse is a chronic disease that can be linked to family history. Biological factors play a major role in the development of addiction and awareness of its existence is important. Just as with any other family history of problems, such as heart disease or cancer, it is important to inform your child about any predisposition they may have to addiction or substance abuse.
Get involved. It is important to engage with your child about everyday life. Get to know your child's friends and help them develop healthy coping mechanisms for stressors. Discovering healthy outlets for negative emotions and experiences can deter the likelihood of your child looking to drugs or alcohol as a means of coping.
Be honest and set expectations. Talking to your child about the effects drugs and alcohol can have on their lives now and in the future is critical. These discussions help build bridges rather than walls, and allow them to speak openly about many issues that may concern them. Having an open, honest relationship with your child allows them to feel comfortable discussing difficult topics and also helps them make healthy, mature decisions on their own. Be clear about the possible consequences of substance abuse, including legal and medical repercussions, and set clear rules about drug and alcohol use. Be equally clear about the consequences they may face if they break those rules.
More About Alcohol Addiction & Treatment
Sources
http://www.amadorcoe.org/Health/april%20alcohol.pdf
https://www.verywell.com/how-many-people-drink-alcohol-in-the-us-67305