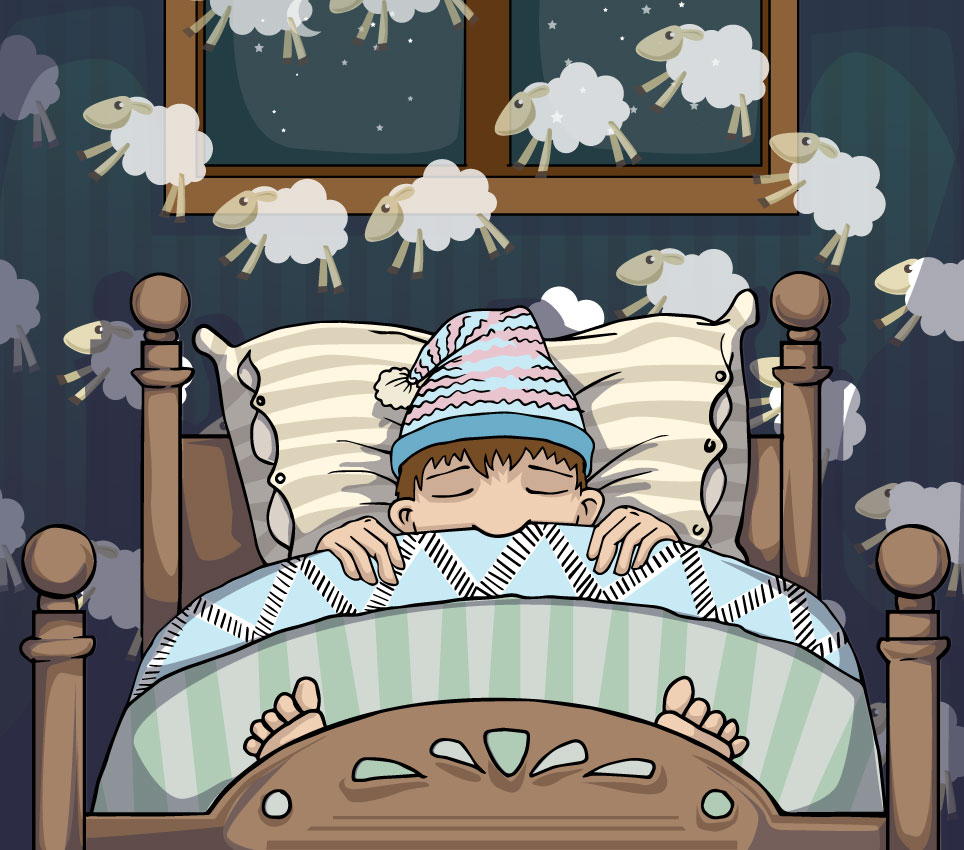 Insomnia is a sleep disorder that affects countless people in the United States.
According to the National Sleep Foundation, nearly half of the people in the United States (48 percent) experience insomnia at least once in their lives and approximately 22 percent of people live with chronic insomnia. Insomnia can last from a few days to a few weeks in acute cases, and can last months or years in chronic cases.
Most adults need an average of seven to eight hours of sleep a night in order to feel well-rested. For some, six hours is enough, while others may require nine. While sleeping, the body cycles through two levels of rest: REM (rapid-eye movement) sleep and non-REM sleep. REM sleep is a lighter sleep in which an individual experiences dreams. Non-REM sleep is a deeper, more restful sleep, but not everyone is able to reach this level of sleep due to interruptions including pain, breathing difficulties, effects of medicine, or effects of substances.
Learn more about: Types of Insomnia, Signs & Symptoms of Insomnia, Substance Abuse and Sleep Disorders
Alternative Ways to Treat Insomnia
There are a variety of healthy ways to address insomnia. Many recovery programs incorporate these methods to help individuals cope with the disorder and develop healthy ways of addressing symptoms. This is especially critical in early stages of recovery. As an individual's body adjusts to being unaltered by illicit substances, the withdrawal symptoms experienced— including insomnia—can make it easy for some to relapse. Providing alternative treatment for insomnia and other withdrawal symptoms can improve an individual's comfort in recovery and reduce the likelihood of relapse.
Cognitive-Behavioral Therapy (CBT): Many recovery programs use CBT in addiction treatment, but the therapy can also be beneficial for those struggling with insomnia. CBT works by helping individuals identify and change negative thought patterns that influence destructive behaviors. This form of therapy also addresses emotional triggers that may influence insomnia. By using this medication-free method, therapists are better able to identify triggers that influence the sleep disorder and to help the individual effectively cope with its causes. This may include identifying substance abuse, co-occurring mental health disorders such as anxiety and depression, an overabundance of caffeine, or pre-bedtime activities that can negatively impact an individual's ability to sleep, such as an upsetting conversation, staring at a bright monitor, or watching television. CBT can also help an individual develop relaxation techniques that may make it easier for them to fall asleep at night. Relaxation methods such as breathing techniques, visualization, and progressive muscle relaxation can help calm the mind and body, making it easier for the individual to fall asleep.
Prescription medication: In some cases, prescription medication may be required in order to help an individual fall asleep. Prescribed in addition to therapy, these medications can provide some relief while an individual recovers. Some sleep medications have addictive properties, making it critical for an individual to share addiction history in order to avoid relapse. It is also important to disclose any history of substance abuse due to risk of negative side effects. Some medications, while not addictive in nature, can present other problems for those in recovery. For example, an individual recovering from alcohol addiction may have difficulty with medications due to changes in the liver caused by substance abuse. In some cases, antipsychotics may be used to induce sedation; however, they often come with a long list of potentially serious side effects, making it important to use caution when taking these medications.
Melatonin supplements: Melatonin is a naturally occurring hormone in the body that aids the sleep-wake cycle of the body. Taking this supplement may help an individual ease into sleep more quickly. Some research indicates that melatonin levels are lower in alcoholics, which may explain why insomnia occurs frequently in those who abuse alcohol. While melatonin is effective for many people, it is not regulated by the FDA and it is considered a dietary supplement. It is important to consult with a specialist to determine if melatonin is an appropriate option.
According to the American Academy of Sleep Medicine, there are several types of insomnia that affect adults:
Short-term insomnia: This form of insomnia generally lasts no longer than a few weeks. It is temporary and usually brought on by stress.
Idiopathic insomnia: This type of insomnia does not have a known cause, but it is chronic. Currently it cannot be attributed to any factors including illness, medication, pregnancy, or other physical conditions.
Psychophysiological insomnia: This form of insomnia is caused by anxiety surrounding lack of sleep. For those who struggle with this form of insomnia, worrying about lac of sleep actually exacerbates the condition and causes individual to lose even more sleep.
Insomnia due to poor sleep habits: Nearly 10 percent of individuals who seek assistance for insomnia can attribute their condition to poor sleep habits. Whether it's staying up late with friends, sleeping in noisy conditions, or watching scary movies before bed, this type of insomnia is often due to behaviors that can be modified to address the issue.
Substance-induced insomnia: Certain substances can induce insomnia including caffeine, drugs, alcohol, and other types of medication. Subsequently, insomnia can lead to the development of substance abuse as an individual may attempt to use drugs and alcohol to induce sleep.
Other medical or psychiatric conditions: Insomnia can also be caused by medical conditions such as sleep apnea, heartburn, pregnancy, and lung disease. In addition, it may be caused by psychiatric conditions such as post-traumatic stress disorder (PTSD), depression, and bi-polar disorder. A thorough medical evaluation can identify if any of these conditions have influenced the development of insomnia.
Insomnia has a number of signs and symptoms; however, insomnia itself can be a symptom of another medical condition. A thorough evaluation can identify its cause. Signs and symptoms include:
Waking up during the night
Difficulty falling asleep
Daytime fatigue/sleepiness
Irritability
Poor concentration/focus
Tension headaches
Depression or anxiety
Lack of coordination
Increase in errors/accidents
Gastrointestinal issues
Difficulty socializing
Worrying about lack of sleep
In addition, those with insomnia often cite feelings of tiredness or sleepiness throughout the day. They may not wake up feeling fully refreshed and energized.
A sleep specialist can help identify whether or not a person is struggling with insomnia. This includes a full medical history, extensive questions, and screenings for psychiatric disorders or substance abuse disorders. It is often recommended that patients keep a sleep journal to more closely monitor their own sleep patterns. In some cases, more sophisticated tests may be conducted to identify sleep patterns. A polysomnograph (which is an overnight sleeping test that records sleep patterns of the previous night) or an actigraphy (which uses a small wrist-worn device to measure movements and sleep patterns) can more accurately assess an individual's needs and experiences.
In many cases, substance abuse and dependency develops as a result of self-medication for insomnia. Alcohol and tranquilizers are the most popular substances used to induce a state of drowsiness or sleepiness because of their depressant qualities; but even though these substances can help one initially fall asleep, they actually disrupt natural, healthy sleep patterns. This often exacerbates the condition, worsening symptoms and introducing new negative influences. Studies show that individuals who drink alcohol prior to going to sleep wake up more frequently throughout the night and often experience trouble going back to sleep. Those who use self-medication as a method of treating insomnia often develop crippling addictions that can worsen insomnia and their overall health.
More About Drug Addiction Treatment
Insomnia is also often also a symptom of substance abuse. For example, stimulant drugs such as cocaine, MDMA (ecstasy), and methamphetamines disrupt healthy sleeping patterns by causing individuals to feel more alert and energized. In some cases, individuals are unable to go to sleep due to the effects of the drug and often put themselves at greater risk for other complications.
Insomnia is also common in those recovering from addiction. Studies show there are consistently higher rates of insomnia among individuals in recovery. For example, one study found nearly 75 percent of those recovering from alcohol addiction experienced insomnia immediately following detoxification. In some of these cases, insomnia lasted as long as five weeks. Researchers believe that this link could be an indicator for risk of relapse. Individuals who struggle with insomnia during recovery were found to be two times more likely to relapse than those who did not have insomnia. This reinforces the importance of simultaneously addressing sleep disorders and other co-occurring disorders while in treatment for substance abuse.
Sources:
http://www.medicalnewstoday.com/articles/9155.php?page=2
https://www.promises.com/articles/issues-related-to-addiction/overcoming-the-vicious-cycle-of-substance-abuse-and-insomnia/
https://www.futuresofpalmbeach.com/co-occurring-disorders-overview/insomnia-substance-abuse/