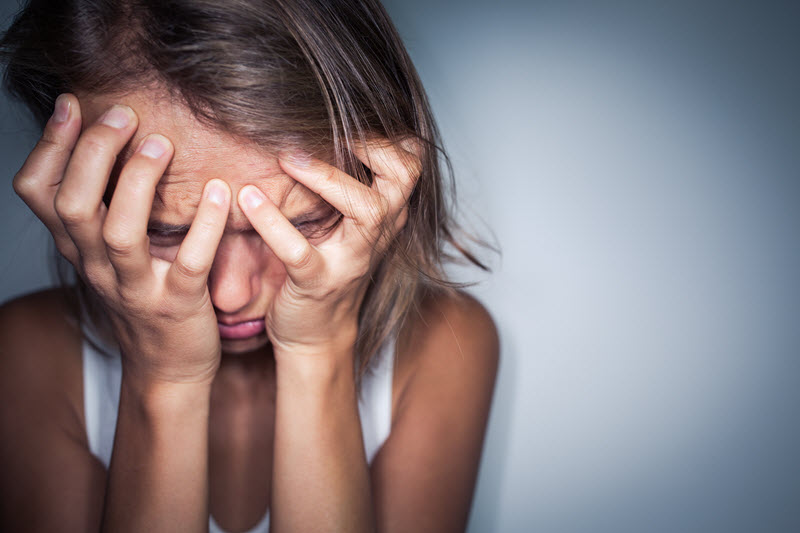 The paralyzing fear associated with anxiety disorders can make the temporary relief provided by drugs and alcohol seem appealing. For a moment, drugs and alcohol can make people forget about the things that cause them discomfort. While this may be tempting, this method of self-medication can cause more harm than good. For some, drugs and alcohol can exacerbate symptoms of the condition. Even if this is not the case, over time a person will begin to build tolerances that require them to consume more drugs or alcohol in order to achieve the same effects. This can quickly lead to dependency and addiction.
Anxiety and Addiction
While everyone experiences stress and anxiety during certain situations, clinical anxiety is persistent and unrelenting. Anxiety disorders can be crippling and prevent people from accomplishing even the most menial tasks. Symptoms can be both psychological and physical in nature. These symptoms can be disruptive and affect a person's ability to perform at work, maintain relationships, or have a high quality of life. For this reason, some choose to turn to drugs or alcohol in an effort to self-medicate. While this may temporarily alleviate symptoms, it often worsens a person's condition.
Symptoms of Anxiety
Anxiety can manifest in a number of ways. While cases may vary in severity and symptoms, most people with any form of anxiety feel a general, vague sense of dread or fear. Although anxiety can take many forms, there are many common symptoms experienced across the board that include:
"For a moment, drugs and alcohol can make people forget about the things that cause them discomfort. While this may be tempting, this method of self-medication can cause more harm than good."
Shortness of breath
Chest pain
Nausea
Stomach pain
Dizziness
Rapid heartbeat
Sweating
Types of Anxiety Disorders
Anxiety can negatively affect relationships, job performance, and social activities. Some of the most common anxiety disorders are:
Generalized anxiety disorder (GAD):

This form of anxiety causes an individual to feel a persistent sense of dread or fear for no particular reason. They tend to worry about numerous things that may not be connected. While they may try to pass them off as "typical worries," these anxieties are much more crippling than they are for others.

Social anxiety disorder (SAD):

This form of anxiety is also commonly referred to as "social phobia." Those who suffer from this disorder have intense fears of interacting with others. This may cause them to feel discomfort in crowded places, speaking in front of people, or when participating in social activities.

Post-traumatic stress disorder (PTSD):

PTSD often develops after a person has experienced a traumatic event. This could be related to military combat, a natural disaster, a violent crime, or sexual assault. Those with PTSD may experience symptoms such as nightmares, flashbacks, anger, insomnia, or paranoia.

Panic disorder:

Panic disorders are characterized by episodes of overwhelming, uncontrollable fear. While a panic attack occurs, a person may feel impending doom. Symptoms such as sweating, nausea, chest pain, dizziness, and hyperventilation can be paralyzing, even though in most cases the person is not in any real danger.

Phobias:

There are a wide range of phobias that can produce symptoms of a panic disorder. Phobias are irrational, debilitating fears of objects, places, or specific situations. These fears can cause people to go out of their way to avoid situations, even if it interferes with their everyday lives. Common phobias include fear of enclosed spaces (claustrophobia), fear of heights (acrophobia), fear of flying (aviophobia), fear of crowds (agoraphobia), and fear of spiders (arachnophobia).
Treatment Options for Anxiety and Addiction
It is important to treat both anxiety and addiction co-currently since both can affect the other. Anxiety can trigger addiction and vis versa so when looking into treatment choosing a dual-diagnosis treatment program may be the best option.
Why Choose Dual-Diagnosis Treatment
When a person with a mental health disorder also struggles with addiction, it is important to treat both conditions equally. Dual-diagnosis treatment is designed to address the specific needs of those in recovery with concurrent conditions. This holistic approach to treatment allows all aspects of a person's mental, physical, and emotional health to be treated with the same level of care. By treating their symptoms concurrently, clients are able to develop the life skills and emotional intelligence needed to maintain long-term sobriety. Treating one while ignoring the other can increase the likelihood of relapse and put a person in danger of more serious consequences.
CBT and Anxiety and Addiction
For those with mental health disorders, Cognitive Behavioral Therapy (CBT) is a popular treatment approach because of its ability to help clients identify and address the thought patterns that enable anxious or fearful behaviors. Rather than using drugs or alcohol to handle these stressors, clients learn new coping mechanisms to overcome even the most stressful situations. The lessons learned through this recovery model can be applied to any situation and have many life-long benefits.
Have questions about dual-diagnosis treatment for yourself or a loved one?
Call 877.634.7849 to speak with an admissions counselor.
Resources
http://americanaddictioncenters.org/anxiety-and-addiction/