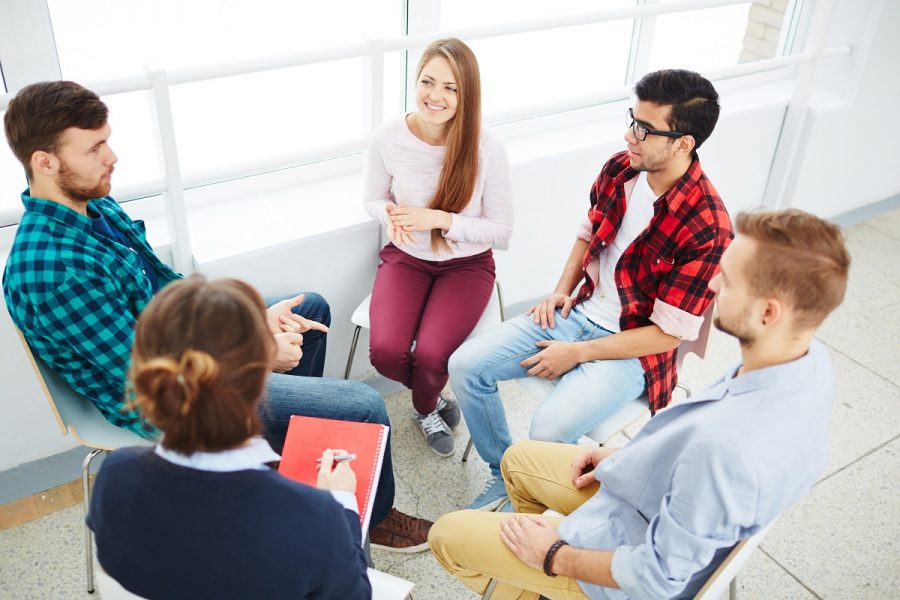 Experimentation with substances is a common phenomenon among youth, but experts theorize that the progression of addictive behaviors moves much faster during college. With a culture that normalizes binge drinking and substance abuse, many young adults in college are abusing substances at a higher rate than in previous years. Prescription drug abuse is largely behind the increase in substance abuse among college-aged students. According to a study conducted by Columbia University, almost half of all full-time college students binge drink or abuse prescription drugs. Almost one-fourth of these students meet criteria that classifies them as addicted or dependent on substances, and could benefit from college addiction help.
Substance Abuse on College Campuses
Substance abuse is a widespread problem on many college campuses. While alcohol has been a long-standing issue on college campuses, the introduction of prescription drugs like Adderall have compounded the problem. Adderall is a medication used to treat Attention Deficit Hyperactivity Disorder (ADHD), but many college students use it as a "study drug" to improve their motivation, concentration, and focus. Many students will take Adderall to pull an all-nighter in preparation for a big test. While Adderall does not make a student smarter, it does eliminate distractions so that the user can focus, making it a tempting drug to abuse. Because it is a prescribed drug, many believe that it is safer to use than other drugs; however, medications prescribed by doctors can be just as dangerous when used incorrectly.
Alcohol continues to be a serious problem on college campuses. Studies show four out of every five college students drink at least occasionally during their time in school, and 40 percent admit to binge drinking at least once. While alcohol consumption on its own can be problematic, binge drinking introduces a new set of problems because users consume copious amounts of alcohol over a short period of time and become extremely intoxicated. Despite these dangers, alcohol continues to be the substance of choice among many college students. It is often used as a means of hazing new Greek pledges, but it is also used as a tool to relate with others and reduce social anxiety. It provides many with an escape from stress and removes inhibitions. While these side effects are often desired, they come with their own set of consequences that can include negatively affecting relationships with others and the development of physical or mental health issues.
Read more about alcohol abuse in college
Have questions regarding our program?
Call 800.465.0142 to speak with an admissions counselor.
Addressing the Addiction Problem
Unfortunately, it is easy to succumb to peer pressure and experiment with drugs and alcohol. While there are resources to treat addiction and dependency once it develops, prevention is the best way to address the epidemic. Stopping the cycle before it even begins is possible through numerous resources:
Education: Pop culture and mainstream media can often cause young adults to believe that substance abuse is a normal part of growing up. It is often portrayed as a humorous aspect of a variety of situations, rather than an activity with dangerous repercussions. Teaching young adults about the negative consequences associated with drinking and substance use is critical in helping them make educated decisions. Through education, young adults can understand what excessive alcohol consumption can do to a person, allowing them to make smarter choices regarding their own bodies.
Enforcement of laws and rules: Alcohol consumption and drug use will occur regardless of legal status. While laws may limit underage drinking or access to illicit substances, there is no way to completely remove access. One way to address this is to enforce laws and rules regarding consumption of drugs or alcohol. Enforcement can help reduce the amount of incidents related to drug or alcohol use.
Address misconceptions regarding substance use: Many college students use drugs or alcohol as a way to relate to peers. Whether it is to help them loosen up, become more popular, or as a way to increase sexual desire, students may use substances because they falsely believe they will benefit from them. In fact, substance abuse often produces the opposite effect for many students. Addressing misconceptions and educating students about the realities of substance abuse can reduce use altogether.
Sources:
https://www.addictioncenter.com/college/preventing-substance-abuse-college/
http://collegecandy.com/2012/02/25/how-to-get-help-for-an-addiction/