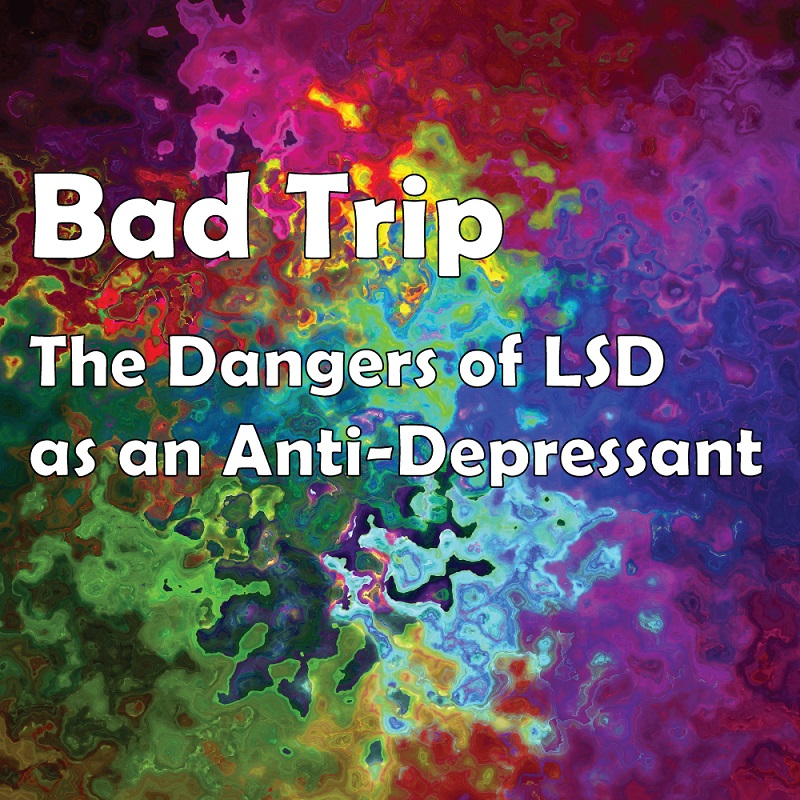 LSD stands for "lysergic acid diethylamide," which is a powerful hallucinogenic drug that disrupts the normal functioning of the brain.
The drug goes by many names including acid, blotter, dots, and cid. Many of its street names are derived from the way the drug is sold – as little designs on pieces of paper. While the drug appears in a variety of forms including tablets and thin squares of gelatin, it is most popularly sold on blotter paper – an absorbent sheet of paper soaked in LSD and covered with colorful artwork and designs. The blotter sheets are perforated into little one-quarter inch squares with each representing an individual dose. LSD has been around for many years, but its popularity has increased recently due to the growth of music festivals, as well as new science claiming LSD is effective in treating disorders like depression.
LSD was discovered in 1938 by Albert Hofmann, a chemist who happened upon the drug while while looking for a blood stimulant. Hofmann did not know the hallucinogenic effects of LSD until 1943, when he accidentally consumed it. Scientists were intrigued and began experimenting with the drug, but failed to find a medical use for it. The drug grew in recreational popularity through the 1960s, but it also caught the eye of the military, which believed LSD could be used as a chemical weapon. Researchers thought the drug could be used to interfere with enemies' planning and judgment while simultaneously creating confusion and terror. Experiments were conducted to try to change the personality of specific targets, and to control specific populations, but the drug was eventually banned in 1967.
Click here to learn more about the abuse of LSD among young adults.
LSD as an Anti-Depressant
Recent reports suggest that LSD could potentially be used to treat certain disorders such as depression. As Hofmann and other scientists noted, LSD contains properties that are similar to chemicals already present in the brain. The belief that LSD could be used in treatment of mental health disorders arose from the fact that ketamine, a powerful anesthetic that produces hallucinations as a side effect, has evidently delivered relief to patients suffering from depression.
Neuroscientist Ron Dunman of the Yale University School of Medicine worked with colleagues to identify the effects of ketamine on the brain. In a study, Dunman and his colleagues administered a small amount of ketamine to rats to observe its effects on their brains. According to their study, ketamine induced a rapid increase in connections in the brain. The study showed that ketamine stimulated the prefrontal cortex, the region associated with thinking and personality in humans. While it is incredibly difficult to know whether or not an animal is depressed and whether or not the drug helps alleviate symptoms of depression, Dunman and his colleagues put the rats in stressful situations to see how ketamine affected the brain in situations when connections in the brain would likely be decreased. During the study, they noted that ketamine helped the rodents deal with their stress.
Regardless of the effects of ketamine on brain activity, the hallucinogenic side effects can cause a number of short- and long-term side effects. The effects of LSD are unpredictable and can vary greatly depending on a user's mood, experiences, personality, and environment. It produces both physical and psychological effects that can impair an individual's ability to make good decisions, which may put them in a dangerous situation.
Side Effects and Dangers of LSD
LSD can produce a wide variety of side effects that vary from use to use. The effects of the drug are often felt within 30 to 90 minutes of use. Users may experience mood changes, such as experiencing several emotions at once or severe mood swings. When taken in large doses, it often produces delusions and hallucinations. LSD is known to alter users' perception of time and depth. They may experience sensations that cross over the senses, such as hearing colors or seeing sounds. They may not be able to accurately identify the size and shape of objects, and may experience altered perceptions of touch, movement, sound, color, and their own body image. These changes in perception and depth can cause users to experience severe, terrifying thoughts, panic, loss of control, and fear of insanity.
In addition, LSD produces a number of physical side effects including:
higher body temperature
dilated pupils
nausea
loss of appetite
increased heart rate and blood pressure
high blood sugar
dry mouth
tremors
sleeplessness
These side effects are especially dangerous when the drug is abused in festival settings. The combination of loud music, high temperatures, and bodies everywhere can increase the severity of side effects experienced while using LSD.
LSD is also known to produce "bad trips" in which a user experiences adverse reactions that last as long as 10 to 12 hours. When an individual experiences a bad trip, it can impact them for the rest of their lives. In some cases, individuals will experience triggers that may cause them to have flashbacks. Flashbacks can occur suddenly and without warning. They may cause hallucinations and delusions that may eventually manifest into long-lasting mental health disorders, such as severe depression and schizophrenia.
Sources
http://www.drugs.com/illicit/lsd.html
http://www.scientificamerican.com/article/psychedelics-may-help-treat-depression/
http://www.drugfreeworld.org/drugfacts/lsd/a-short-history.html