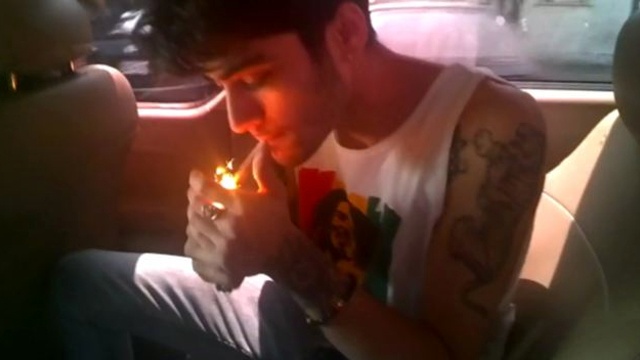 Celebrity flings, alleged infidelities, twitter fights and now narcotics; are One Direction on the brink of becoming a sleazy rock 'n' roll band?
In May, One Direction hit the headlines when two members, Zayn Malik and Louis Tomlinson, were filmed allegedly smoking marijuana in the back of a car on the Latin America leg of their world tour. While possession of a small amount of marijuana is not illegal in Peru, the reaction from the media and many fans was extreme.
 "Just ripped up my One Direction ticket because Zayn and Louis smoke weed. I hate this band so much!"
Tweets like the one above, from former 1D fan @gagationer, were widespread on social media. While many fans didn't care and went to great lengths to defend the actions of their favorite band members, others were furious at what they perceived to be the downward spiral of their once-beloved band.
While Malik and Tomlinson's behavior may not exactly be evocative of the classic sex, drugs and rock and roll antics from the 1970s, many are concerned that these early signs of drug use are just the beginning of a slippery slope for these young men.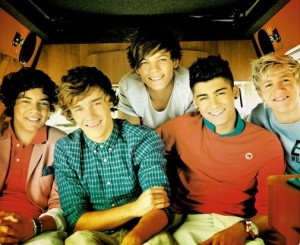 Those were the days; a pre-scandal One Direction in 2011. Image courtesy of British One Direction
In itself, a joint may not be the end of the world, but it was the glamorization of the drug in the boys' conversation which alarmed so many. Zayn and Louis seemed proud of their wild ways – if this is the new attitude of One Direction, what can we expect from them next?
Is One Direction in the face of a long fall from their popstar pedestal? They certainly wouldn't be the first once squeaky-clean pop puppets to dabble in drug use and see their public image plunge because of it.
Perhaps the most infamous fall from grace is Justin Bieber. Once an innocent tween heartthrob from Canada, Justin Bieber's criminal record now includes prostitutes, drugs, violence and speeding. If you name a felony, it's likely that The Biebs is guilty of it.
Last year was a very bad time for the 20 year old singing sensation. Bieber began 2013 by visiting a Brazilian brothel, moved on to public urination and criminal damage, advanced to assault, and then topped it all off with a vandalism charge.
However, it seems as though Justin was only getting started, as this year he already has a shocking three arrests under his (very ineffective) belt. In January 2014 Bieber was arrested in Florida for driving under the influence, driving with an expired license and resisting arrest. A toxicology report confirmed to police that he had alcohol, marijuana and the anti-anxiety medication Xanax in his system.
Those close to him blame his downfall on drugs – and considering Bieber has been accused of using nothing harder than marijuana, the furor around One Direction's marijuana use becomes somewhat more understandable.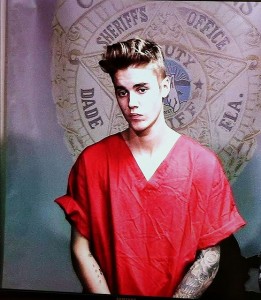 An apparently penitent Justin Bieber in court. Image courtesy of Xavier Boswell
"The drugs and hangers-on are turning Justin into a zombie," his former housekeeper Tatiana Voziouk said. "Justin was once a sweetheart, kind, considerate and a talented boy and he is now a lost boy. I'm terrified he'll become the next Michael Jackson. If he doesn't act now, I will hear one day that he has passed away. It is heart-breaking."
Voziouk claimed that marijuana would be delivered to the Bieber's house by a legal drug company who supply medicinal marijuana. In the form of cookies, lollipops and candies, these marijuana products were "always" in the house according to Voziouk.
The second most notable turn-around from teen star to toker is Miley Cyrus. Cyrus managed to shed the clean-cut Disney starlet image that she spent her entire teens cultivating overnight – with the help of a foam finger, a waggling tongue and some vigorous twerking. The over-sexualization of her image wasn't what shocked her fans the most, however; it was her frequent reference to drug use and her advocacy of drugs such as marijuana and MDMA.
"I think weed is the best drug on earth!" Cyrus was happy to admit to Rolling Stone magazine. "Hollywood is a coke town, but weed is so much better. And Molly [MDMA] too. Those are happy drugs – social drugs. They make you want to be with friends."
Her openness about her drug use didn't stop there: this year Cyrus halted a concert to encourage her young fans to smoke pot instead of cigarettes. "You know what, weed has never killed anybody. You guys know that right? So instead of smoking a cigarette, why not just roll a fat joint?"
When she's not dishing out health advice, Cyrus's own well-being seems to be suffering. In May, the 21 year old spent two weeks in hospital after allegedly suffering an 'allergic reaction' to prescribed antibiotics. Word from those in the know, however, is that the hospitalization was the result of "months of over-the-top partying — including rampant pot smoking and a drug binge that ended in an overdose."
It's simple to see how easy it is to slip into a downward spiral for these young stars. Almost anything they could want is available at the click of a finger, especially considering their apparently-endless bank accounts.
Although it may begin with just one joint, drug use can quickly escalate and get out of hand, as proved by Bieber and Cyrus. Placed in context, the hype over One Direction's use of marijuana is far more logical. It may have started off as "just one joint" but it can quickly escalate to ill health, mental breakdowns and multiple arrests. Just ask Justin Bieber…