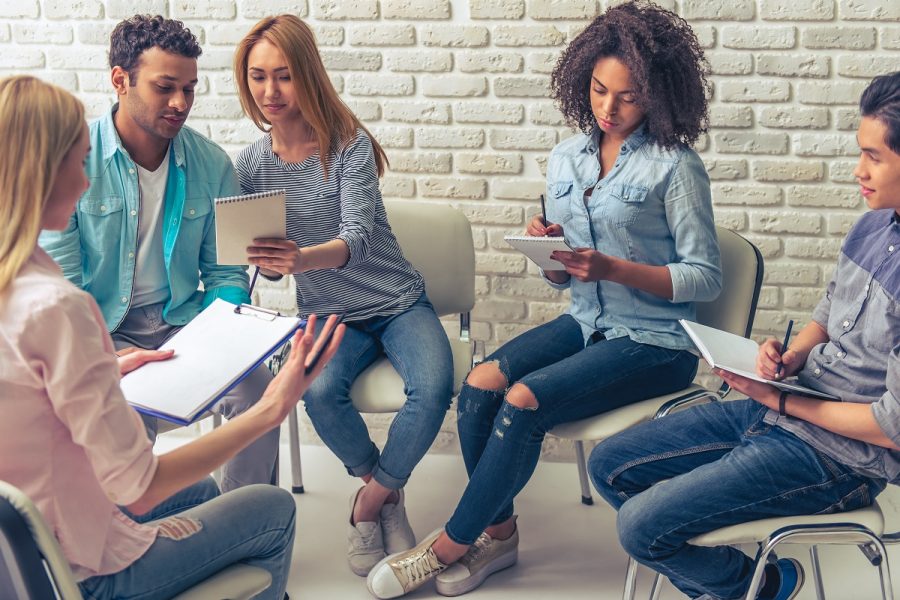 Substance abuse treatment centers often utilize multiple forms of therapy in order to provide the most effective treatment. While it is critical to address individual needs during treatment, there are many benefits to exploring common experiences in larger groups. For many, substance abuse begins as a method of self-medication for mental health disorders or traumatic experiences. In many cases, this can lead to feelings of isolation and a sense of loneliness that compounds the need to use substances as an escape. Group therapy — one of many types of therapy that treatment centers often use — can address multiple issues at once, making it a critical component of recovery. Group therapy serves as a method of connecting individuals and exploring common themes while simultaneously building a support network of people who can readily relate to one another.
What is Group Therapy?
Group therapy aims to bring people together who share similar experiences. This helps remove feelings of isolation and helps patients realize they are not alone. Groups can range in size, but tend to be small. In most cases, group therapy is used in conjunction with individual therapy. Groups may meet one to two times a week and discuss a variety of topics. Depending on the strategy of the therapist, groups may aim towards a specific plan and set goals, while others may have more freedom in allowing the participants to control the dialogue and direction of discussion. Clients may be asked to practice specific skills with other members of the group, share their stories and experiences, or simply provide updates on where they are in their recovery.
Click to learn about drug addiction counseling
Group therapy can be incredibly effective, especially for specific conditions. In particular, those who struggle with depression and post-traumatic stress disorder benefit greatly from discussing their experiences with others who can relate to them more easily. This removes feelings of isolation that can often perpetuate symptoms of these conditions. Group therapy excels in its ability to connect people, allowing them both to give and receive support from others. Additionally, group therapy provides a safe space to discuss sensitive topics while simultaneously allowing the therapist to observe how people interact in groups, providing more insight that can be used to share more constructive feedback. Participants can serve as role models for others and inspire others through their growth and progress. This environment encourages people by fostering feelings of success and accomplishment.
The Benefits of Group Therapy
Group therapy used in conjunction with individual therapy is often successful. Topics that are explored in group therapy can be more deeply examined in one-on-one sessions. The two often work together to provide a more in-depth exploration of specific issues and topics. Group therapy is an excellent tool in recovery for a number of reasons, including:
Group therapy removes feelings of isolation: A common theme in rehab is the belief that a person is alone in their experiences and struggles. While each person has unique needs in treatment, there are universal experiences that can be explored in groups. By removing barriers, participants begin to realize that their individual struggles are not theirs to carry alone, and the support of others can improve the recovery process.
Group therapy encourages sharing: Group therapy encourages participants to give and receive support. Although it is a common misconception that group therapy is the process of people taking turns engaging with the therapist while others observe, that could not be further from the truth. Group therapy offers many benefits and allows participants to support one another. This can mean listening, engaging, or offering hope and inspiration when someone struggles.
Group therapy encourages participants to develop a voice: It can be difficult to acknowledge one's own needs and feelings. Group therapy encourages participants to actively consider and voice their feelings during sessions. This allows participants to connect with themselves and well as other members of the group.
Group therapy encourages healthy relationships: A common theme in addiction treatment is the presence of unhealthy relationships. In group therapy, therapists are able to create a safe environment where people can express their thoughts in feelings in an honest and healthy way. By helping people improve their communication others, they are able to develop new healthy relationships with peers while simultaneously developing the skills to repair relationships that may have been previously damaged as a result of substance abuse.
Group therapy serves as a support network: Above all else, having a strong support network in recovery can be the difference between success and relapse. Group therapy can serve as a safety net for participants by strengthening relationships, reducing isolation, and providing a method of dealing with negative influences in recovery.
Sources:
https://www.verywell.com/what-is-group-therapy-2795760
http://psychcentral.com/lib/5-benefits-of-group-therapy/