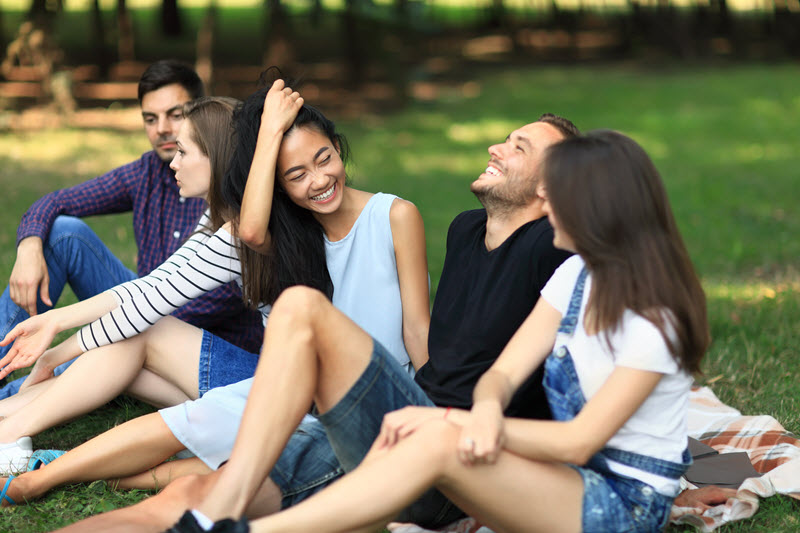 People most frequently discuss gratitude and being thankful during the holiday season. They are often acknowledging the benefits they have or received or will receive. While it is possible to express insincere gratitude, most people give thanks because they are truly happy with something in their life. This positive mindset is beneficial for both mental and physical health. It can provide people with energy, confidence, and the mindset to achieve things to make their lives better.
Those who struggle with addiction may also struggle with the idea of gratitude. Many express feeling that they are different from others and the trauma they have endured is unlike any other. When someone has been wronged, it can be easier for them to justify negative behaviors and push gratitude away. Rather than finding happiness in little things, they may choose to focus on the negatives. This behavior can be dangerous because it can easily lead to relapse. There are ways, like practicing gratitude and meditation, that can help those struggling to overcome addiction.
The Benefits of Expressing Gratitude
Positive thinking can have a profound impact on mental and physical health. Some benefits of gratitude and positive thinking include:
Grateful people tend to attract others: When people are grateful, they tend to have more friends. People with a positive mindset are nice to be around, tend to see the good in others, and their energy can be revitalizing. It is the idea of "attracting what you put out" – by shifting your energy and becoming more positive, positive people will gravitate to you.
Positive people tend to experience less stress: People with a positive outlook are less likely to assume the worst when negative things happen. They do not seek trouble and try to look on the bright side of things. Stress is one of the highest contributors to many forms of physical or mental illness. Positive outlooks can reduce stress levels and help people live happier, healthier lives.
Positive people tend to experience less conflict: People who are happier with their own lives tend not to experience as much conflict. They are less likely to have hidden agendas or feel the need to get their own way.
They are less likely to experience depression: Those with a positive outlook are less likely to struggle with symptoms of depression. Positive outlook and gratitude are closely linked to overall mental health.
Gratitude in Addiction Recovery
In recovery, it can be easy to lose sight of positivity. Struggling with withdrawal symptoms and facing tough realities can make it difficult to see the good. For many, gratitude can start with the idea of being grateful for sobriety. Being grateful for the opportunity to recover and improve one's station in life can be a critical first step in maintaining a more positive outlook. Rather than viewing problems as a challenge, a positive outlook will encourage people to focus on the opportunity it presents for growth.
How to Increase Feelings of Gratitude
Feeling grateful requires an attitude change. With a more positive outlook, people begin to experience physical and mental health benefits and typically see improved relationships with others. There are numerous ways to form a more positive outlook and learn to be grateful. Some ways to achieve feelings of gratitude may include:
Readjusting focus: While it is important to have drive and set goals, the inability to satisfy that need can leave some feeling empty, unhappy, or disillusioned. Rather than focusing on material things, set goals around what is most important in life. For most, these goals are related to the people in their lives rather than possessions. Changing that focus from the material to the immaterial can improve mood and help the person feel a sense of accomplishment.
Stop comparing yourself to others: One thing that can make it difficult to feel gratitude is the need to compare your success to that of others. These comparisons are often misleading and only lead to negative feelings. Even if a person appears to be successful in one area of life, it does not mean they are perfect. Focusing on yourself and your own successes will help you maintain a more positive outlook.
Make notes about what you are grateful for: Journaling can be a great way to keep the little things in mind. By writing down what you are grateful for on a daily basis, it creates a positive habit of looking for the good things. If you are faced with a troubling day, having something to reflect back on can help keep things in perspective.
Surround yourself with positive people: People tend to be influenced by the people they spend time with. Surrounding yourself with positive people can help you maintain a positive outlook and view things in a similar light. Being around positive role models can also help you grow.
Have questions about treatment for yourself or a loved one?
Call 877.634.7849 to speak with an admissions counselor today.
Sources
http://alcoholrehab.com/addiction-recovery/the-importance-of-gratitude-in-recovery/
https://www.promises.com/articles/5-steps-to-cultivating-an-attitude-of-gratitude-in-addiction-recovery/