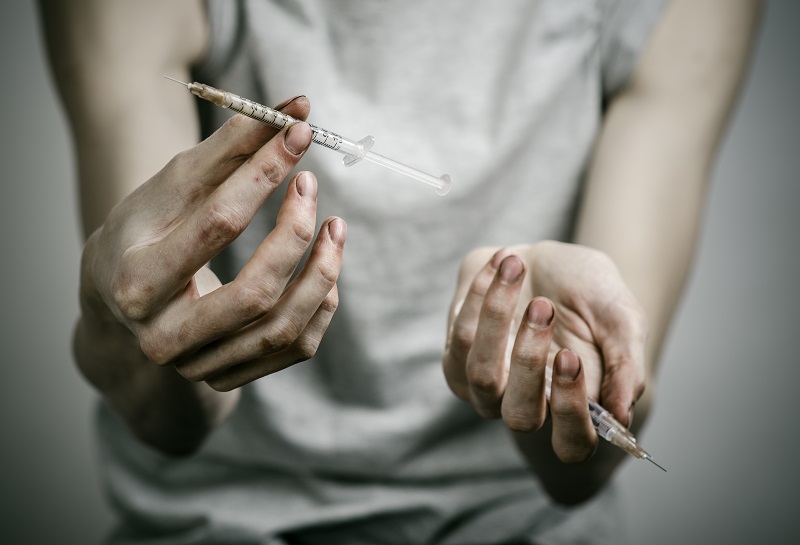 The human immunodeficiency virus, commonly known as HIV, is a virus that causes not only HIV infection but can also lead to acquired immunodeficiency syndrome (AIDS).
Beginning in the 1980's the HIV/AIDS epidemic soon became global, and the World Health Organization and UNAIDS (the division of the United Nations dedicated to fighting the HIV/AIDS epidemic worldwide) now estimates that "35 million people were living with HIV globally at the end of 2013. That same year, some 2.1 million people became newly infected, and 1.5 million people died of AIDS-related causes." Although these numbers are frightening, the global rate of HIV infections have declined significantly – except for one country: Russia. HIV can be transmitted four different ways: through sexual intercourse; transfusion of contaminated blood; from mother to baby during pregnancy, childbirth, and breastfeeding; and the sharing of dirty needles or other sharp instruments. This last avenue of transmission—the sharing of dirty needles—is the reason why HIV rates in Russia have been escalating. Here are some statistics on the growing rate of HIV in Russia:
Ten years ago, 170,000 people in the Russian Federation had human immunodeficiency virus, HIV. The estimated number now is 1.2 million and Russia alone accounts for over 55% of all new HIV infections reported in the European region.
1.8 million Russians inject drugs, which is about 2.3% of the country's population.
Opioid Replacement Therapy is banned in Russia.
In 2008, only 7% of Russians who injected drugs had access to clean needle exchange programs.
Injection drug users compromise around 60% of Russia's HIV-positive population.
Last year (2014) in Russia, 90,000 people contracted HIV, whereas in Germany only 3,000 people were infected.
In the last five years the number of HIV infected citizens has doubled.
Russia's decision to not legalize drug replacement therapy along with the lack of access to clean-needle exchange centers is making their HIV problem skyrocket. In other countries, the transmission of HIV via the sharing of dirty needles has been somewhat subdued by the implementation of the two previously mentioned areas of treatment. For example, in Ukraine, a former Soviet Republic, drug substitution therapy in the form of methadone is permitted, allowing Ukraine to see a dramatic decrease in HIV rates. Unfortunately, after Russia annexed Crimea – a Ukrainian territory – in 2014, recipients of methadone were told they could no longer receive help.
Dealing with the Spread of HIV at Home
Although the rate of HIV infection is rising in Russia, we should still not forget that this is a global epidemic and one that still plagues our own country. Although America does provide addicts with drug replacement therapy, needle sharing still persists throughout the nation. In March of 2015, there was an HIV epidemic that consumed Scott County, Indiana. Needle-sharing addicts began the spread of the disease in Scott County and soon at least 169 infections of HIV were confirmed by the Indiana State Health Department. The epicenter of this epidemic in Scott County is the town of Austin, where opioid addiction is a massive problem. Dr. William Cooke, who is the medical director at Foundations Family Medicine in Austin, has seen opioid usage drastically increase over the past 10 years. After seeing countless numbers of used needles littered on the land, Cooke began to lobby Indiana lawmakers to launch a clean-needle program in the county to help prevent the spread of any disease that might come with the sharing of dirty needles. Cooke also attributed the growing rate of opioid addiction to the extreme poverty in the county, which in turn is fueling the HIV epidemic. The fact of the matter is that heroin—and other opiates and opioids like morphine—are fairly ubiquitous in America. We see the rich and famous overdose while the poor and discarded spread HIV through habitual and irresponsible usage.
Current Treatments
However, there are some great drugs that have been developed to fight opioid and opiate drug addiction. For example, the non-narcotic drug naltrexone is used among addiction specialists to help treat opioid addiction. Naltrexone is an opioid antagonist which means it reduces and sometimes completely blocks the subjective effects caused by intravenous opiate use. When co-administered with morphine, on a chronic basis, naltrexone can block the physical dependence to morphine, heroin, and other opioids, allowing the recipient to focus on the psychological phase of treating their addiction. A longer lasting, injectable version of the naltrexone drug, Vivitrol, also enables recovering addicts to shed their physical and psychological dependency on opioids. The Vivitrol injection can also be used to prevent narcotic addiction relapse. For instance, a recovering addicting can take the naltrexone pill on a chronic basis for about two weeks and then ask their doctor about a Vivitrol injection to further and more sufficiently fend off any chance of relapse.In addition to having a pharmaceutical approach, heroin rehab centers offer the support for an affected addict's mental and physical well being to build a strong foundation for a new life.
Hope for the Future
As we've seen, the sharing of dirty needles can bring with it HIV. So what advances are being made in treating the HIV disease itself? Fortunately, there have been many strides in recent years. For instance, researchers in Germany are experimenting with what they call "molecular scissors". These "scissors" are designed to go into the HIV-infected cells in an individual's body and cut the HIV strain out of it. The scissors are actually a genetically designed enzyme that is injected into the body in pursuit of a particular genetic sequence, in this case the HIV virus'. The researchers at Dresden Technical University, where this new technique is being tested, say the scissors have a rate of 90 percent in identifying the HIV virus and that, if the proper funding is found, this treatment could be implemented in the next ten years.
As more money gets allotted to research in both the treatment of addiction and HIV, more life-saving breakthroughs will come. But with backwards policies like those in Russia, the worldwide effort to destroy HIV is hindered. Education about not only HIV but also addiction and proper forms of drug use needs to be implemented globally in order to ensure that future generations don't experience the horrible diseases of the previous.
Sources
http://www.who.int/features/qa/71/en/
http://www.ibtimes.co.uk/why-are-hiv-rates-so-high-russia-1465212
http://www.theverge.com/2015/7/2/8884697/russia-hiv-aids-crisis-heroin
http://www.theguardian.com/world/2015/may/15/russian-hiv-aids-epidemic-worsening-under-kremlin-policies-says-expert
http://www.in.gov/isdh/26649.htm
http://www.nbcnews.com/health/health-news/indiana-hiv-epidemic-n330206
http://www.drugs.com/pro/naltrexone.html
http://www.drugs.com/vivitrol.html
https://www.rt.com/news/hiv-cure-aids-treatment-495/