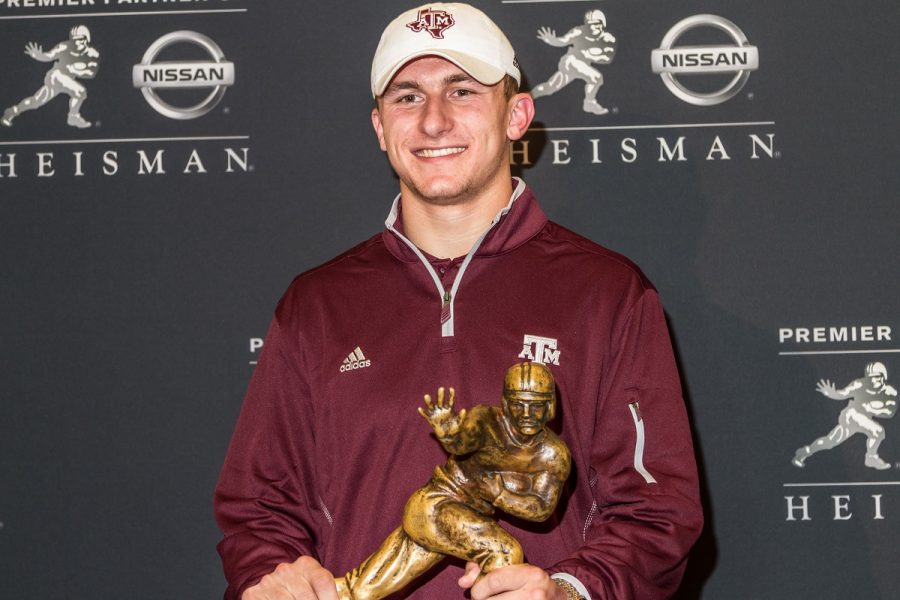 Johnny Football. Money Manziel. Only a few years ago, Johnny Manziel was on top of the world. He was the hottest commodity in the football world, maybe even the sports world. He dazzled crowds with his electrifying plays and struck fear into the hearts of opposing defenses. Johnny Manziel, like many before him, then failed at the professional level due to off-field issues—mainly his affairs with drugs and alcohol.
If you need any proof of Manziel's talent, just look at his college highlights and accomplishments. He was the first freshman to win the Heisman Trophy. He was the Manning and Dave O'Brien award winner. He was a unanimous 2012 all American. In two years, Johnny Manziel threw for 7800 yards and 63 TDs with almost a 70% completion percentage. But he didn't only posses an incredible arm—Manziel rushed for almost 2200 yards and 30 touchdowns in his illustrious college career. These stats, as well as his team's upset of the college football powerhouse Alabama, solidify Manziel as one of the best quarterbacks—maybe even players—to ever play college football. This success should surely translate into success on the next level, right? Johnny Manziel was selected with the 22nd pick of the 2014 NFL draft by the Cleveland Browns. Cleveland thought Manziel was the once-in-a-lifetime prospect that could change their franchise, but the myriad of excellent NFL players selected after Manziel could have helped the Browns much more. Selected after Manziel were nine pro bowlers, including Derek Carr, Teddy Bridgewater, Allen Robinson, Jason Verrett, Jarvis Landry, Devonta Freeman and Trai Turner. I can guarantee that the Browns would now love to have any of those players on their roster.
During Manziel's college career, there were multiple unpleasant incidents, such as Manziel asking for money for autographs and showing up late to practice. Soon after Manziel was drafted, the first of many videos of Johnny Manziel partying surfaced, one of which featured him drinking champagne in a pool shouting, "I can't hear you, there's too much money in my [explicit] hand." Later that summer, Manziel was photographed with a rolled up $20 bill, which is usually in conjunction with snorting recreational drugs such as cocaine. At the beginning of the 2014 NFL season, Manziel was fined for showing up late to practice, and then for flipping off the Redskins' bench. Johnny Manziel was not named the starting quarterback for the beginning of the NFL season. He was involved in an early morning altercation, and in his first start threw for 80 yards and two picks. In December, Manziel finally seemed to become aware of his behavior, saying he wished to grow and change. After multiple times being caught partying, Manziel entered rehab. At this point, many believed he would turn his career around. Once again, Manziel was not a starter in the 2015 season. Later in the year, Manziel was seen with his girlfriend who was noticeably worried and had a bruise on her arm. No charges were pressed. After being named the starter, he was stripped of that title after a weekend of intense partying during his bye week. Manziel was accused of domestic violence by his girlfriend, claiming that he threatened to kill the both of them. Manziel's father even said that Manziel needed help if he wanted to stay alive. After the continuation of the domestic violence case and even more videos of him partying surfaced, the Browns waived Manziel. All of Manziel's agents quit and his sponsors dropped him. In April 2016, Manziel was indicted on the allegations of him purposefully assaulting his girlfriend. On July 1st, 2016, 1, Manziel again claimed that he would get clean and sober. If Manziel does join another team, he will be suspended for violating the NFL's substance abuse policy. Manziel has expressed a desire to play for the Cowboys, but the Cowboys are not at all interested. It will be interesting to see if Manziel can ever turn his career and life around and have some success in the NFL.
If Manziel did not ever come into contact with drugs and alcohol, who knows what he could have accomplished.
Have questions regarding our treatment program?
Call 800.465.0142 to speak with an admissions counselor.
Sources:
http://johnny-manziel.com/stats/
http://www.sports-reference.com/cfb/players/johnny-manziel-1.html
https://en.wikipedia.org/wiki/2014_NFL_Draft
http://sportsday.dallasnews.com/college-sports/texasamaggies/2016/08/07/timeline-johnny-manziels-journey-college-station-legend-father-fearing-life