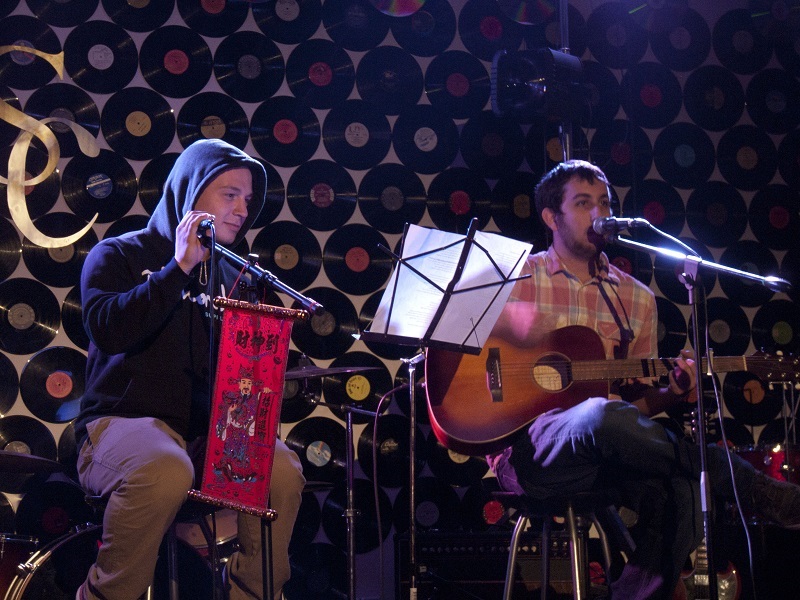 Music is a powerful influence in many people's lives, but many do not realize the impact it can have in addiction recovery.
Music can transform a person's mood and emotional state. Happy, uplifting songs can lift spirits, while other songs can darken a person's mood with feelings of sadness or despair. While it can be difficult to articulate feelings and emotions through words alone, music can perfectly capture feelings in ways that may be inconceivable otherwise. Poets and scholars alike have discussed the the power of music, and as new evidence emerges, studies suggest that their claims are true. Music has the power to help individuals cope with emotions and a variety of conditions, including the journey through recovery from addiction.
Music Therapy in Treatment
Due to its effects on a person's mood, music is quickly becoming a part of the therapeutic approach to addiction recovery. Music therapy is a process that uses music to help individuals effectively manage their physical, emotional, and cognitive problems. In conjunction with other therapeutic approaches, music provides yet another outlet for clients and a new avenue of exploration. Clients may interact with music in a number of ways including listening, singing, dancing, writing, and playing. Each client is given an individualized course of treatment that is designed to engage them in a way that is both meaningful and productive.
Music therapy has numerous benefits when used in conjunction with traditional therapy methods.
Music relaxes people. It can help reduce stress levels and encourage relaxation. In addition, music may even be used to reduce blood pressure and is used in treatment of hypertension. Some studies suggest that music is good for the heart.
Music improves mood. Those who struggle with depression can find solace in music. Music can alleviate symptoms of depression and can help individuals better deal with anxiety. Subsequently, it encourages a more positive state of mind. Even after an individual has stopped listening to music, its effects can continue to benefit them by leaving them with a more optimistic mindset. Music also serves as an emotional release for many, and can help individuals deal with difficult emotions.
Music is meditative. When music has a strong beat, the brain can become stimulated and fall into sync with it. This encourages a state of relaxation which can be useful in reducing muscle tension and chronic pain. Additionally, music has been shown to improve levels of concentration, reduce feelings of loneliness, and increase spirituality.
Benefits of Music Therapy in Addiction Recovery
For addiction treatment, music therapy serves multiple purposes. Individuals can find a plethora of benefits from music through various stages of recovery.
Initial sobriety. When first becoming sober, individuals often face a rollercoaster of emotions that they previously treated via substance abuse. Listening to music, creating music, or engaging with it through dancing or singing can help individuals release destructive emotions that can negatively impact the recovery process. One of the most common influences in relapse is the inability to deal with stress. Music provides individuals with a method of managing stress levels and can boost mood. Without the influence of drugs and alcohol, some may experience mental "fuzziness," and music can help counteract this sensation by increasing concentration levels.
Dealing with feelings of loneliness and boredom. Individuals often feel a sense of loneliness when they initially break away from the peers and environments they once engaged with. Music can help alleviate these feelings and provide individuals with a new way to relate with their peers. Many find they have more time on their hands when theiy're not using substances and may feel a sense of boredom that can trigger relapse. Regardless of the way in which an individual chooses to engage with music, it can fill time previously spent obtaining and abusing substances.
Music as a lifestyle change. Whether it's a method of relaxation and meditation, or a means of relating to others, music is a powerful influence. It can help individuals manage stressors, triggers, and emotions in a healthy, productive way, and it can provide individuals with another form of support.
Songs About Addiction Recovery
Many musicians have used their journey through addiction and recovery to fuel songs describing their experiences, thus helping others along their own path to sobriety. Some popular songs about addiction and recovery include:
Macklemore & Ryan Lewis – "Starting Over": From the 2012 album The Heist, this rap describes Macklemore's experience with relapse and its consequences. In it, he reflects on his three-plus years of sobriety and the way his relapse affected his view of himself, his relationships with others, and his journey to achieving sobriety once more.
Aimee Mann – "Wise Up": This powerful song, featured in the 1999 film Magnolia, is believed to be about addiction and reaching a breaking point. The song urges users to "just give up" the habit, further detailing this sentiment by expressing, "it's not going to stop, 'til you wise up".
Eminem – "Going Through Changes": Eminem's journey through addiction and recovery has been detailed in many songs, but the 2010 album Recovery truly explored recovery from a pill addiction that nearly took his life. In it, he describes his experiences, including taking up to nearly 20 pills a day, his nearly fatal overdose, and his journey to accepting the fact that he needed help.
Staind – "It's Been Awhile": This hit song from 2001 is the reflection on life as a former addict from lead singer, Aaron Lewis. The song resonated with countless listeners as many flocked to Lewis with their own stories of addiction and recovery.
A Perfect Circle – "Gravity": From the 2003 album The Thirteenth Step, "Gravity" addresses the topic of giving in to addiction and the desire for help. Although lead singer Maynard James Keenan never personally struggled with addiction, he drew inspiration from those close around him who he witnessed struggle, specifically guitarist Billy Howerdel.
Sources
https://www.thefix.com/content/10-more-greatest-songs-about-recovery
http://alcoholrehab.com/addiction-recovery/music-therapy-in-addiction-recovery/