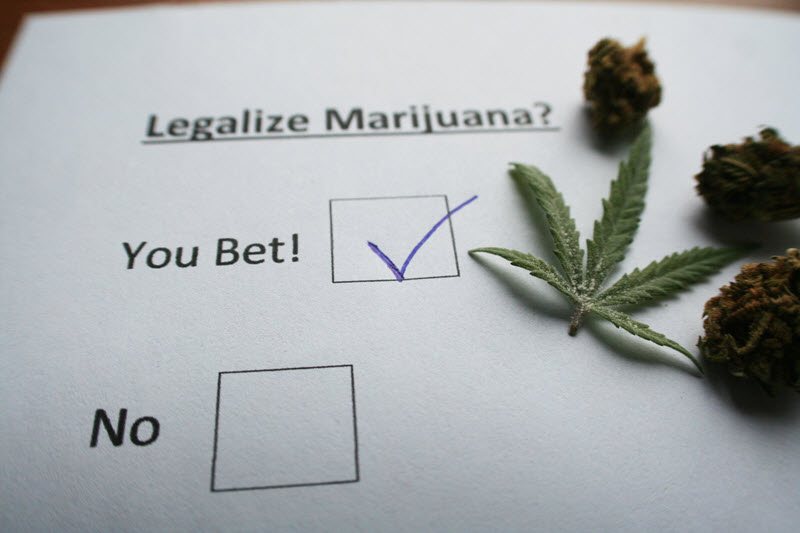 In 2016, Proposition 64 passed with a margin of about 12 percent, making California the latest state to legalize recreational use of marijuana. Although California was the first state to legalize medical marijuana, it is the fifth state to legalize recreational use following Colorado, Washington, Oregon, and Alaska. California was not the only state to join this group this election cycle. Both Massachusetts and Nevada also passed legislation legalizing recreational use.
The legalization is complicated and many of the proposition's largest components may not be in effect until 2018. While those who currently use marijuana recreationally can now possess it with no fear of arrest, the legality of its purchase and sale is not clearly defined. While many suggest that legalizing marijuana can be beneficial for the state due to the potential tax revenue, others are concerned about the larger issue of public health and what easy access to marijuana may mean to those suffering from substance abuse, addiction, and adolescents in general.
What is Proposition 64?
While the approval of Prop 64 does legalize adult recreational use of marijuana, it does not equate to a free-for-all concerning possession, use, and sales.
As of November 9th 2016, Prop 64 has made the following items legal for adults 21 years or older:
Adults 21 years or older can possess, transport, obtain, or give away no more than one ounce of marijuana.
Up to six plants per residence can be cultivated and possessed. Marijuana plants and harvest that exceed one ounce must be kept out of view of the public in a locked space. While some local governments may forbid outdoor cultivation, they cannot prevent it from happening inside private residences.
Medical marijuana patients still keep their current rights. This includes possessing and cultivating as much as they need for personal medical use. As long as this occurs under a doctor's recommendation, this may continue regardless of the restrictions Prop 64 has introduced.
Beginning January 1, 2018, licensed stores may sell marijuana to consumers. Until then, those with medical marijuana licenses may continue to purchase at medical collectives and dispensaries.
Those who have a state medical marijuana card will be exempt from state sales tax.
Despite the legalization of recreational use, Prop 64 does not protect all forms of use. Prop 64 provides the following restrictions:
Marijuana cannot be consumed in public places.
Marijuana may not be smoked or vaporized in non-smoking areas, especially in areas where children are present. It cannot be used within 1,000 feet of child-care facilities or schools.
Marijuana cannot be possessed in an open container or consumed while operating a vehicle or as a passenger. This includes motor vehicles, boats, or airplanes.
Anyone under the age of 21 cannot possess, use, cultivate, or transport any amount of marijuana.
Marijuana possession may not exceed more than one ounce, or cultivation of more than six plants.
Although recreational use of marijuana is now legalized, employers still retain the right to prohibit use of the drug by their employees. Additionally, property owners may forbid possession or use of marijuana on the property.
The Concern with Legalization
While many argue that the potential tax revenue from marijuana sales alone is reason enough to justify its legal status, many are concerned about the new problems that arise with widespread availability. Legalization does not necessarily mean a product is safe. Substances such as alcohol and cigarettes are known to lead to addiction and have a negative impact of personal and public health. Marijuana would be no exception, and without appropriate education for the public, "safe" use of marijuana may be largely misunderstood and lead to a higher demand for marijuana addiction treatment.
Learn More about the effects of Legalization
Lack of Understanding
One of the biggest concerns regarding the legalization of marijuana is the lack of understanding surrounding how it works, including doses and timing of effects. While marijuana is one of the most commonly used drugs in the United States, there are countless people who are considering experimenting with the drug now that it is legal in California. Many have either never tried marijuana or may not have used it for a long period of time. Due to the way marijuana strains have evolved, the amount of THC in the drug may be higher than expected, and effects can vary depending on the mode of ingestion. Many people might be unaware of the varied levels of potency in modern marijuana.
Those who choose to smoke marijuana generally understand their state of mind and the effect of the drug fairly quickly. Edible marijuana is a completely different story. With a vast array of products containing varying levels of THC, many may not understand proper dosage and timing of the effects. The effects of marijuana are often delayed when it is consumed, causing some impatient users to consume more than they may have intended. By the time the drug kicks in, they have taken too much and experience more dramatic side effects.
Facts about Marijuana Addiction
Risks for Children
Another concern regarding the legalization of marijuana is its potential danger to children. Legalization may imply a certain level of safety to some. Although marijuana is not legal for those under the age of 21, it does not mean the product is entirely inaccessible. The normalization of use can make it appealing to some and may increase rates of experimentation. This can have detrimental effects of brain development in adolescents who choose to use marijuana.
Additionally, the introduction of edibles has been a cause for concern. Available as cookies, brownies, candies, and other snacks, edibles are visually appealing. Although laws require packaging to meet specific labeling requirements, for those who cannot or do not read it, they could easily wind up in the wrong hands. Edibles in households are easy to access, and while this could be simply bad for an adult, edible consumption by a small child could have more profound side effects.
Driving Under the Influence
While its legal status does not promote or prevent impaired driving, some users may believe that driving under the influence of marijuana is not as dangerous as driving under the influence of alcohol. This false belief can put many in life-threatening situations. The side effects of marijuana can cause slower reaction times, paranoia, short-term memory loss, and a distorted perception of time and space. Behind the wheel, this can be deadly.
While law enforcement can intervene when there is a suspicion that a driver may be operating a vehicle under the influence, That does not necessarily prevent an increase in impaired drivers. Catching impaired drivers is a way to prevent accidents from happening; however, larger emphasis should be placed on education surrounding the dangers of driving under the influence. Although increase education does not prevent people from driving under the influence, it can certainly reduce the frequency of DUI's and may help many make informed decisions regarding their use.
Sources
http://www.kevinmd.com/blog/2014/03/3-concerns-legalization-marijuana.html
http://www.canorml.org/news/what_will_be_legal_and_what_wont_after_Prop_64