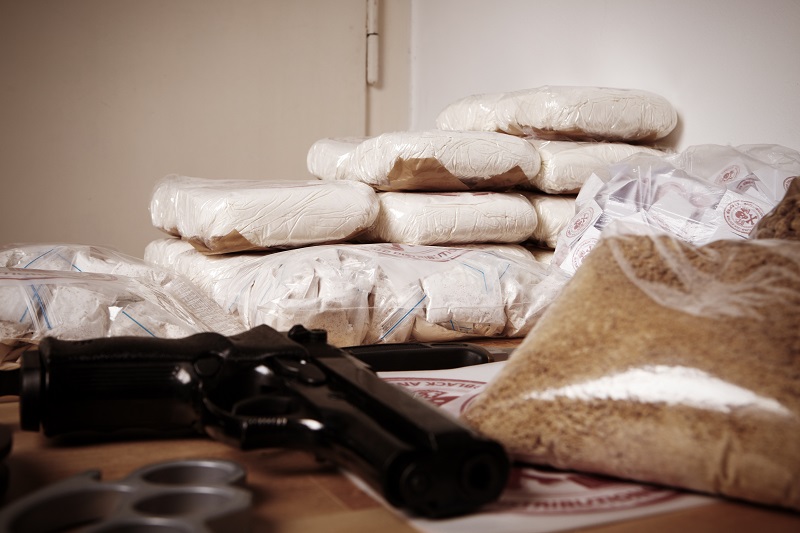 As a multi-billion dollar business, the drug trade from Mexico stands as one of America's biggest obstacles.
The main source of money for these criminal and disgusting organizations that kill people by the thousands and contribute to the corruption of the Mexican government is the buyer who buys the drugs from them. Although it may not be direct, everyday people who indulge in taking drugs facilitate this violence and criminality.
El Chapo's Escape and the History of the Sinaloa Cartel
Joaquin "El Chapo" Guzman, the infamous kingpin of arguably Mexico's largest and most profitable drug cartel, escaped from a Mexican maximum-security prison on Saturday July 11th. This is not the first time El Chapo has escaped from a Mexican prison: back in 2001 he famously escaped prison via a laundry cart. This time, however, Guzman escaped prison through a very sophisticated and large tunnel that connected from his shower in prison to a remote house in the fields of Mexico. The tunnel, which, according to investigators, had ventilation, lighting, ladders, oxygen masks and standing room ability, provided an easy escape for not only the War on Drugs' biggest opponent but also the Mexican government's biggest enemy.
Guzman's Sinaloa cartel is without a doubt the biggest cartel in Mexico. The cartel started off in the 1970s as a group of people in a rural farming town who wanted to make more money by selling contraband. Initially, the Sinaloa cartel started off just with shipping marijuana and cocaine, but in the past decade and a half they have expanded on what they export: now the two hot products are heroin and methamphetamine. What's interesting at the Sinaloa cartel is that although Guzman is publicly recognized as the kingpin, or the leader, of the organization, the cartel's power is actually dispersed throughout its business ties with its traffickers and other partners. This allows the cartel to function when and if El Chapo is detained. The Sinaloa cartel also has deep connections not only with local townships and big businesses but also with people in Mexican law enforcement and government.
What's Being Shipped?
Figuring out exactly what goes in and out of Mexico, in terms of contraband, is a tough task. However, there are some numbers that are confirmed:
From 2007 to 2011, nearly 70% of guns recovered, in Mexico, from criminal activities, originated from sales in the United States.
90% of all the cocaine tat enter the United States goes through Mexico. On top of that, Mexico is also the main supplier of marijuana and methamphetamines to the United States.
Every year, Mexican drug cartels take in about $19 to $29 billion from U.S. sales.
A surge of Mexican black tar heroin, in Ohio, lowered the price of a kilogram of heroin from $50,000 in 2008 to $33,000 in 2009.
These numbers represent just how massive and lucrative entering the contraband game is. In fact, in some situations, working for the cartel might be better for the individual on a strictly financial level. After El Chapo's second arrest, hundreds of people flooded the streets throughout Mexico to show their support for the then-detained boss who provided many jobs and economic support to people working in rural areas.
Casualties of the Drug Trade
There's a reason why it's called the "war on drugs": it's just as bloody and vicious as any other historical war. Tens of thousands of people have been killed from violence between cartels and police forces, other people have gone missing, and Mexico's government is as corrupt as they come. Due to the massive rate of exporting the cartels do to America, it could be argued that simply by buying contraband, whether be marijuana or heroin, you are contributing to the wrong side of the war on drugs. Just to further show how severe the drug trade can be, here are some numbers from 2012 and 2013:
2012
Since then-Mexican president, Felipe Calderon, sent 50,000 soldiers after drug cartels in 2006, the conflicts between the government and the cartels and also between rival cartels have claimed more than 55,000 lives.
3,000 police officers and soldiers have died since 2006, which is the same amount of coalition soldiers who have died in Afghanistan.
5,000 people have disappeared, in drug-related crimes, since 2006.
On a highway in northern Mexico, 49 corpses were decapitated, dismembered and dumped.
2,143 Mexican women have been arrested in the U.S. over the past decade for involvement in drug trafficking.
One American agent has been murdered on duty in Mexico since 1985.4
2013
22,732 homicides were reported in Mexico. The main cause of deaths was firearms, followed by knives and strangling.
Approximately 10.7 million households had at least one member of their family become a victim of a crime. This is 40% of Mexican households.
In the past six years, 47,000 migrants have been killed while crossing from Mexico to the United States.
Mexican drug cartels are without a doubt Mexico's biggest problem. They have infiltrated all levels of government in Mexico and hold a firm grip on the individual communities and towns that comprise Mexico and other South American countries; the cartels are everywhere. The violent and criminal actions the cartels take are reminiscent of barbarians in medieval times: decapitating bodies on streets, kidnapping loved ones, and pillaging villages and stripping every resident of their property. All of these actions are primarily funded by the cartels' involvement with the Mexican-American drug trade.
Sources
http://www.latimes.com/world/mexico-americas/la-fg-drug-lord-escapes-mexico-prison-20150711-story.html#page=1
http://www.nbcnews.com/news/world/blood-alliance-short-history-el-chapos-sinaloa-cartel-n391171
http://www.cnn.com/2013/09/02/world/americas/mexico-drug-war-fast-facts/
http://www.businessinsider.com/mexican-drug-war-statistics-2012-6
http://nypost.com/2014/02/27/crowds-throng-streets-to-support-el-chapo/