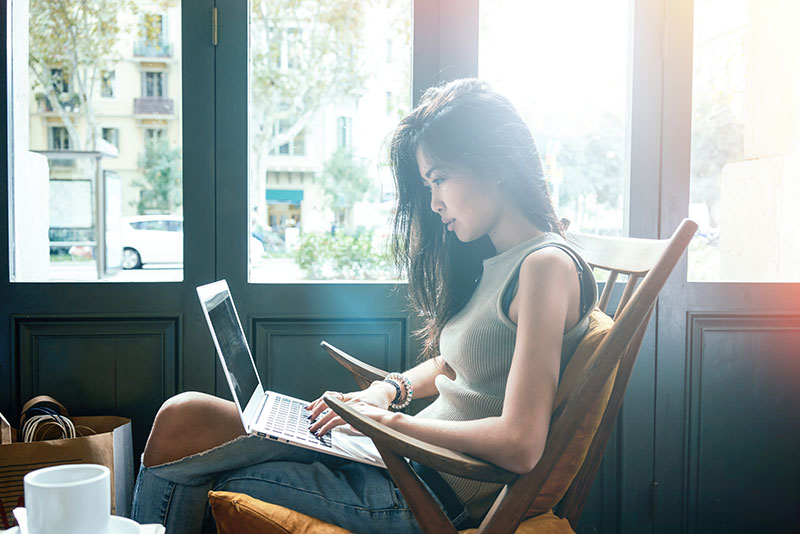 If you are interested in becoming a drug and alcohol counselor, finding counseling certification programs online might be your best option. Before you sign up, read our list of helpful facts about online certification and counseling in general.
1. Online Programs Allow You To Set The Pace
Many counseling certification programs online allow students to work at their own pace, including our own program here at Sober College School of Addiction Studies. This is perfect for working adults that need to fit coursework around their work schedule as well as people who wish to finish a program as quickly as possible.
At Sober College, you start our online program at any time and finish in just a few months. You can opt for our Accelerated Online Substance Abuse Certification Program or our Self-Paced Online Abuse Certification Program.
The Accelerated Online program is a bit more structured, with benchmark goals to keep students on track, and coursework is completed within six months. The Self-Paced Online program is a bit more flexible, which is perfect for those who love to set their own pace or have difficult scheduling issues. You can finish this program in as little as three months or you can take up to 18 months to complete the coursework, depending on your needs and goals.
2. Practicum Is Part Of The Process
While coursework and study is important, it's also important to get out into the counseling world and start to get your feet wet and gain experience. In addition to the six academic classes, there are two practicum classes where you work in a counseling setting.
For the first practicum, known as Supervised Practicum, you will be working with a supervisor as well as a supervising instructor as you get started with your fieldwork. The second practicum is known as Supervised Fieldwork Practicum, and this is an internship that includes 255 hours of practical experiences at an agency or facility approved by your instructor. Keep in mind that you can complete practicum while you are working on other courses, so it is possible to do both at the same time.
All in all, after you have finished the Sober College program, you will have completed 315 classroom hours (online or in-class depending on your choice) and 255 practicum hours. Through it all, you will be able to talk with our qualified instructors as well as interacting with other students and this makes our online program unique as we provide you with as much support and interaction as you need to enhance learning.
3. RADT Certification Is A Quick Process
At Sober College, we offer training and coursework for those seeking RADT certification and CADC certification. We also offer training for people who wish to become prevention specialists. But let's start out by learning a bit about RADT.
RADT certification is the first step for many of our students, especially those in California. This is a Registered Alcohol Drug Technician and in order to obtain RADT I certification, you need to complete a 9-hour orientation before you can apply for this certification. Once certified, you will be able to work in a registered alcohol or drug facility. In California, in fact, you must have RADT I certification in order to work in a registered facility.
Many of our students opt for RADT II certification, which includes 25 hours of coursework and 20 of these hours must come from a CCAPP-approved provider, such as Sober College School of Addiction Studies. Additionally, for RADT II certification, you must pass the IC&RC exam, which you will have to complete eventually anyway in order to advance into the next phase of counseling – CADC.
4. CADC Training Is The Next Step
CADC, which stands for Certified Alcohol Drug Counselor, is the next step, and this is our main area of specialization here at Sober College School of Addiction Studies. Your RADT certification, either RADT I or RADT II will be good for five years. At that point, you must take extra coursework in order to keep working as a certified counselor. Most people, however, complete their CADC training long before this five-year period has passed.
Our online CADC training is outlined in the first two facts in this article. It includes the six academic courses and two practicum courses. Once you have completed your coursework, practicum and passed the IC&RC exam, you will be able to start acquiring hours toward certification.
5. You Don't Have To Have A College Degree
For RADT certification and CADC I, you do not need to have completed a bachelor's degree. In addition to the coursework, practicum and IC&RC exam, a certain amount of supervised work experience is needed for certification. Keep in mind, you will be helping others fight addiction during these hours and this is paid work, it just means that you will need to be working under a supervisor.
Without a college degree, you will need to complete 3,000 hours of work experience. If you have an associate's degree, you will need 2,080 hours. This degree will need to be in behavioral science or what is known as allied mental health professions, which might include a degree in community health services, mental health counseling and other similar fields of study. So if you do happen to hold an associate's degree in a related area, this will reduce the number or supervised hours needed for certification.
There's also a CADC II certification to consider. You don't have to possess a college degree for this either. In fact, whether you have a degree or not, is irrelevant as all CADC II's are required to complete 6,000 hours of supervised work experience, whether they have a GED and no further education or they have a master's in public health.
Again, keep in mind that this is not "unpaid" work and it will be valuable work helping others. These hours are simply supervised. It might sound like a lot of time, but the 2,080 hours for those with an associate's degree equals 52 weeks, if you worked a 40-hour work week, this is basically just a year. For those without a degree, the 3,000 hours needed for CADC I certification is about 18 months.
Also, another thing to keep in mind as you work toward CADC I certification is that those 255 practicum hours are counted as part of your 3,000 or 2,080 supervised hours, which means about six weeks of this time already will be met once your finish your coursework. While many people are searching solely for counseling certification programs online, we do offer both in-class and online coursework. If you prefer an in-class setting, our in-class hybrid program can be completed in six months and you only need to attend classes one weekend per month. To learn more about all of our programs, head to the Counselor Training tab at the top of our homepage.