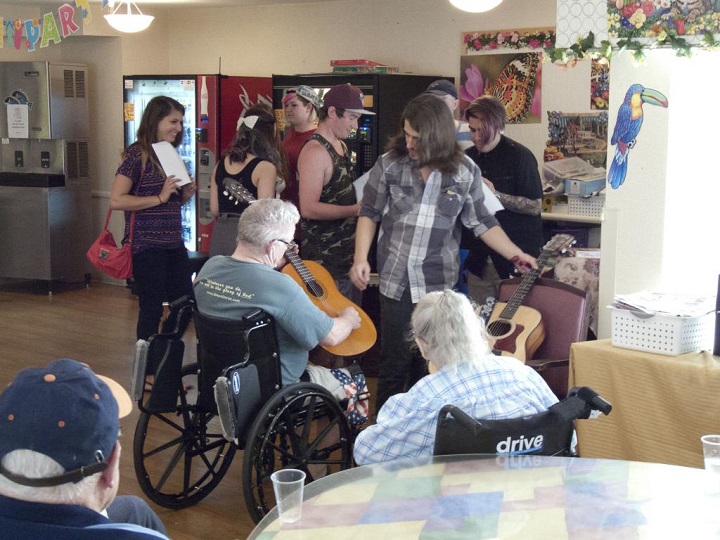 "Showing gratitude is one of the simplest yet most powerful things humans can do for each other." Randy Pausch, The Last Lecture
When in the depths of addiction, we focus on ourselves and our drugs of choice. We show no regard for others. Drugs and alcohol compel us to disregard the moral and ethical codes of society. Lying, cheating, and stealing are necessary evils we accept in order to survive. The disease of addiction ensures its survival by swindling us into believing our own justifications and rationalizations for our actions. Addiction is cunning … and, well, addictive.
The Community Outreach (CORE) program at Sober College provides clients with the opportunity to turn their lives around, after addiction. In part, by giving back to the community by working with various community service organizations. One of these activities is "Singing to the Elderly," where clients are taken to a retirement home to sing.
Before embarking on a "Singing to the Elderly" trip, I spoke with one client about his initial feelings regarding the upcoming task. He mentioned a slight feeling of apprehension. He was concerned to see and meet the clients of the retirement home: A activity that, for him, carried with it some uneasiness. However, this was not his first time engaging in this CORE activity. Given this, he acknowledged that he would feel better once he got there. Upon arriving, he knew the home's clients would enjoy their visit.
Once at the retirement home, the Sober College clients gathered into a communal room where the clients of the home were already beginning to congregate. Many arrived in wheelchairs. Nurses situated them in the front of the room to provide prime viewing of the upcoming events. The music department's intern introduced the group and the show began. Sober College clients played hits from the 60's, 70's, and 80's to the delight of the audience.
As I stood in the back watching, I felt a deep appreciation fall over me. I saw a group of young men and women singing their hearts out in order to brighten other people's days. In the audience I saw men and women who had already lived out the majority of their own lives, each with their own experiences and wisdom with which they humbly kept to themselves.
I saw an excited group of young people bring energy and liveliness into a seemingly monotonous place, and I saw the faces in the room brighten with each passing minute. I saw an elderly woman snapping along to the music, and a man singing along as best as he could. I heard laughter and music, and became lost in my own emotions.
Having a grandmother with Stage 4 Alzheimer's, I have seen the steady destruction the disease has brought to her mental health. This personal experience has affected my association of what it means to grow old… something to accept and come to terms with. I've always thought I felt comfortable with death, as I know that nothing in this world is permanent, but I hadn't realized that though death may come quickly for some, it can also be a slow process depending on our own perceptions of living and dying. Will we allow ourselves to wallow in our own self-pity? Or will we seize the chance to finish strong; to use whatever time we have left to bring positivity to the world instead of negativity? As I watched this group of elderly men and women, I saw both sides of the coin. I saw what I could only construe as sadness. I saw bitterness. But then I saw memories being relived. I saw happiness and joy. I saw acceptance.
Upon arriving back to the Learning Center, I reconnected with the Sober College client I had spoken with before we left. He appreciated the fact that he could give back to the community. He said that although he initially dreaded going, he felt happiness and appreciation afterwards. He felt thankful that he could bring joy to people whose days seemed to be monotonous, and knew that he would have never cared to do anything of the sort when he was active in his addiction.
It is in these moments that we gain important insight into the power we hold in sobriety. We can seek to help others, instead of just ourselves. We can share legitimate happiness brought through natural means. We can forget our own problems for a moment, and help others forget about theirs. We can finally learn to be thankful for one another – to be thankful for life and our journey through it.