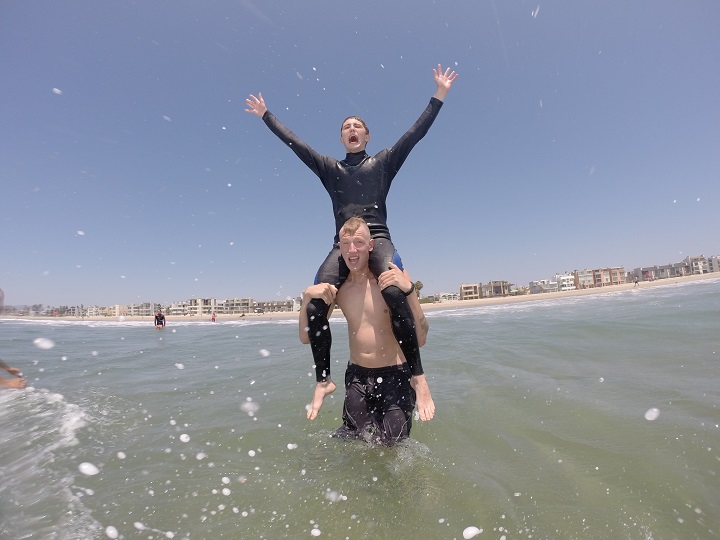 A majority of addicts and alcoholics neglect their physical, mental and emotional health throughout their active addictions.
As a result, clients often arrive at Sober College lacking any semblance of balance in each of these areas of their lives. But, we quickly learn in recovery that balance is a vital part of living a healthy and happy life. Without balance, we fall. The same basic principle applies to surfing – an emotional intelligence activity clients enjoy during their first months at Sober College.
The clients at the Oxnard Men's House recently took surf lessons on the beaches of Santa Monica. For some, zipping up a wetsuit and paddling out was a first-time experience; for others, surfing brought back fond memories of living for something other than drugs or alcohol. One client spoke of the anxiety that accompanied the experience … He was worried about failing, but also excited to try something new. Another client who had surfed for many years was "so stoked to get back in the water."
As everyone lined up on the beach, the surf instructors began their lesson. Once they finished, the group waded into the water and began to paddle out. As the first wave formed, a more experienced client seized the opportunity, paddled hard, dropped in and rode the curl all the way in. For another client, the first attempt didn't go quite so smoothly. While paddling to catch a wave, he was caught at the top of the lip and got tossed head over heels but arose from the water laughing hysterically. He quickly hopped back on his board and paddled back out to the break to try again.
Whether embarking on a new experience or enjoying an old one relived, surfing allows us to become one with nature and to commune with the natural forces of the Earth. It can even become a spiritual experience, so long as we invite it in and commit to it. Regardless of how we internalize the experience, the immensity of the ocean, the ebb and flow of the waves and our connection to the earth through surfing allows us to explore something greater than ourselves.
In my own experience, dawn patrol sessions have brought me some of the most peaceful and introspective moments of my life. Sitting on glassy waters, waiting for the next set and watching as the sun rises from its slumber have allowed me to feel indescribable peace during the most tumultuous times. These brief moments have provided me with inspiration, motivation and a deeper realization of just how miniscule my trials are in the grand scheme of things.
Mirroring the recovery experience, we cannot expect ourselves to be successful at everything we attempt. Instead, we must work for what we want to achieve. Whether we are repeatedly getting tossed by waves and falling off our boards until we find what works or we are repeatedly trying to get clean through as many methods as we are willing to attempt, success can only come when we find balance, both physically and metaphorically.
But wait, there's more.
Surfing isn't just about standing up and riding a wave. Surfing is akin to recovery. It's about camaraderie with not just those who surround you, but with Mother Nature. It's about appreciating the simple things this Earth has to offer. It's about feeling grateful for the chance to enter an entirely new dimension. It's about being part of something greater than ourselves. It's about finding courage, gaining wisdom and discovering serenity.
Benefits of Experiential Therapy
Written by: Jeremy is Sober College's Marketing Intern and currently a resident in our sober living program.
Check out more photos from the day!