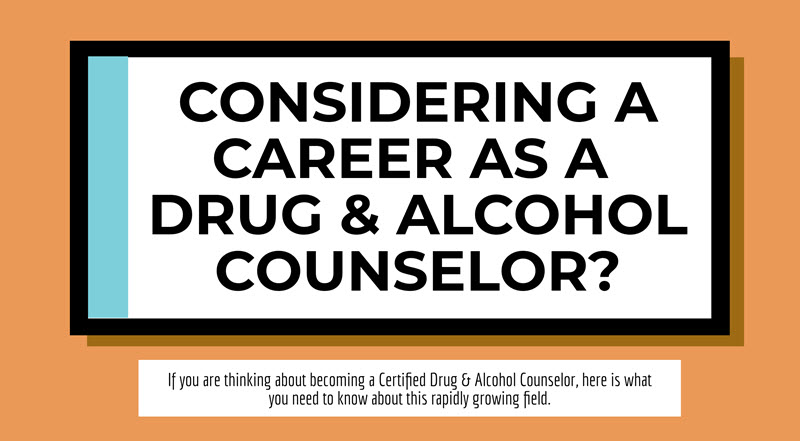 Becoming a substance use counselor can be an incredibly rewarding experience.While the job is not without challenges, the opportunity to directly help a person successfully manage their sobriety is well worth it.
There are many reasons to get involved in the field and numerous ways to go about obtaining the certifications necessary to start your career. Certification requirements often vary from state-to-state. To learn more about what it takes to become a certified counselor and what the job entails, click here to view this infographic, or continue reading below.

What the Job Entails
The demand for substance use counselors is continuing to rise, and the type of work they do can vary greatly. Counselors may provide crisis care, prevention, and recovery services to patients. They may work with any variety of addiction as well, from drug and alcohol abuse to gambling addiction and eating disorders. Counselors may work in any number of environments, including:
Prisons
Probation or parole agencies
Juvenile delinquent facilities
Detox facilities
Halfway houses
Residential treatment programs
Outpatient treatment programs
Private practice
Mental health offices
Employee assistant programs
The responsibilities of a counselor can vary depending on the needs of the clients they serve. Responsibilities may include:
Conducting interviews with potential clients
Administering drug tests
Conducting counseling sessions
Assessing treatment program readiness
Record-keeping for treatment and progress
Developing individualized treatment plans
Developing aftercare treatment plans
Counselors work closely with all members of a person's treatment team to ensure their needs are met. Counselors are an integral part of the recovery journey because of their level of involvement throughout the process. They often have an intimate understanding of the patient's needs and history and can help ensure care is individualized and effective. They also tend to be heavily involved in aftercare to help clients stay on track and manage their sobriety.
Becoming a Counselor in California
Each state has its own set of requirements that must be met before becoming a practicing counselor. In California, there are four levels of certification and two levels for a trainee level (though the last two are not required for actual certification). The four main levels are:
Certified Alcohol Drug Counselor Associate (CADCA)
Certified Alcohol Drug Counselor I (CADC-I)
Certified Alcohol Drug Counselor II (CADC-II)
Licensed Advanced Alcohol Drug Counselor (LAADC)
The first three levels have educational requirements as well as practicum and supervised experience hours. The LAADC level requires a Master's Degree in Behavioral Science (if from another state) or a combination of supervised experience and practicum.
To become a counselor, you will need to complete the following (note, some of these requirements increase with the certification level):
Earn an Associate's, Bachelor's, or Master's degree in a Behavioral Science field

Although Counseling or Addiction Counseling is preferred, other degrees that may be accepted for lower level certifications include Sociology, Psychology, Social Work, or Human Services

Complete a practicum

A practicum is like an internship – it allows you to have supervised experience in the field

Earn supervised work experience hours
Pass a written exam
Apply for certification with California Commission for Behavioral Health Certification
Educational Requirements for California Counselors
The educational requirements for California are as follows:
You must complete 315 hours of approved education from CAADAC-approved institution
You must complete 255 hours of practicum that is also approved by the CAADAC
Supervised experience varies based on the level of licensure you are looking to obtain
CADCA: This is an intro level that does not require supervised hours
CADC-I: This requires 4,000 hours of supervised experience providing alcohol or drug counseling services
CADC-II: This requires 6,000 hours of supervised experience providing alcohol or drug counseling services
LAADC: Hour requirements vary depending on your level of education
No degree: You must have 10,000 hours of supervised experience
Associate's: You must have 6,000 hours of supervised experience
Bachelor's: You must have 4,000 hours of supervised experience
Master's or reciprocal status: You are not required to have supervised experience
Regardless of what level of certification you are looking to achieve, you must pass a written exam before practicing in California. Once that is completed, you may apply for your certification.
Become Certified with Sober College
Sober College School of Addiction Studies can help you achieve your goal of becoming a certified substance use counselor. You can start your journey at any time, from several states, and finish the program within six months.
Our program is flexible with training available in almost every state. Students can take courses online or join us in person at our California campus. Classes are affordable and financing options are also available.
Interested in starting a new journey in the field of addiction counseling?
Why wait?! Call 866.61.LEARN to speak with an admissions counselor and find out which option works best for you.