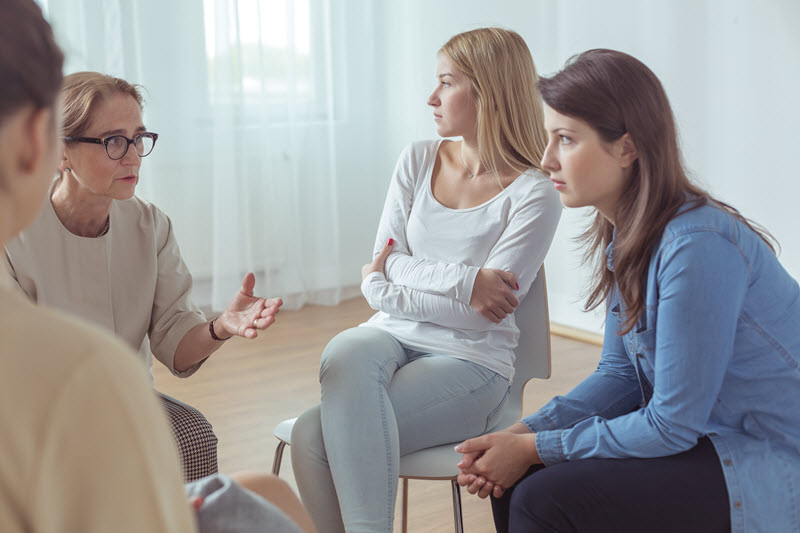 When a loved one struggles with addiction, it can be difficult to know where to turn. Addiction is a powerful disease that consumes a person's life. It affects them physically, mentally, and emotionally, and often negatively impacts those closest to them. Thus, addiction is often seen as a disease that causes a variety of dysfunctions, and treatment is often required for those closest to the person with an addiction. In many cases, family members of the addicted person adjust to the addiction and develop unhealthy coping mechanisms themselves. They may even enable the addiction in an effort to be supportive. Nobody wants to abandon their loved ones, and some of these changes in family dynamic may worsen the person's condition unintentionally.
How Interventions Work | How Interventions Can Help
An intervention can serve as the foundation and first step in seeking treatment. Family members and close friends can use this as a tool to help a person with addiction realize they need help and start working towards achieving sobriety. In most cases, interventions are the first step in the recovery process.
Prepare
It is important to prepare thoroughly and properly prior to an intervention. Working with an interventionist is often beneficial because they can serve as an objective third-party to guide participants through turbulent emotions, stress, and anxiety. They serve as an unbiased entity who can help navigate the process and keep the intervention on track, even when faced with situations in which manipulation or destructive patterns begin to emerge. Interventionists help loved ones learn about addiction and educate themselves as much as possible through reputable resources to better understand their relationship to the situation.
A Wake-Up Call
Interventions can be a wake-up call for both the person with the addiction and their family members. One of the key components of an intervention is understanding the shift in family dynamics and learning how to put oneself first. In many cases, family members or friends may give endlessly in an effort to salvage whatever fragmented relationship exists, which ultimately contributes to the exacerbation of addiction. Although this is not the intention, the desire to protect a loved one can create patterns that enable addictive behaviors and worsen familial relationships. Interventions help family members realize they must care for themselves first in order to better help their loved one.
Family Dynamics
Shifting family dynamics is not an easy overnight process and requires a great deal of work by everyone involved. An intervention requires participants to make difficult choices because consequences must be established if the person refuses treatment. Setting up an intervention essentially creates a space in which the person must make a choice: accept treatment or face consequences that may include homelessness, loss of financial support, or ceasing of emotional support. This helps families establish boundaries that reinforce self-care.
Are you considering an intervention for a loved one?
Call 800.465.0142 to speak with our admissions team who can help guide you through this process.
Tips for an Intervention
We highly suggest speaking with a professional interventionist, or someone experienced in running or being a part of interventions. They are unpredictable, and an unbiased, trained third party is a huge asset. While there is no way to predict how an intervention may go, there are steps to take that can improve its outcome. These include:
Choosing the right people:

An intervention should be a persuasive conversation that involves people the person loves, trusts, or knows well. People with meaningful relationships should be involved, while those who have poor relationships should not be present. It should serve as a motivational conversation, not a place to hash out problems. Interventions normally include parents, siblings, close friends, or spouses.

Pick the right time:

An intervention should not be held while a person is under the influence. A person may not be able to concentrate or understand the message if they are high. Drugs and alcohol can make a person less likely to respond calmly and may increase the likelihood that they lash out. Many choose to hold interventions first thing in the morning when a person is least likely to be under the influence. Some may choose to hold an intervention after a major substance-related instance occurs in order to reemphasize the importance of seeking help.

Be aware of your body language:

It can be easy to fall into old patterns or let your emotions take control, which makes rehearsal crucial to success. Practice what you want to say and how you say it prior to the intervention. This will allow you to maintain control of the situation and reduce the likelihood that it will be derailed. Body language is also key; keep hands unclenched, uncross arms or legs, and lean into show attentiveness. Your words and your body must convey a message of love and support.

Keep your emotions in check:

Addiction often leaves loved ones with scars from past experiences. Many family members feel varying levels of anger, resentment, and other negative emotions that can be difficult to manage at times. This is another reason to practice prior to an intervention. Using abusive language and attacking a person can completely derail and intervention. A person with addiction may use any means necessary to defend themselves during an intervention and it is critical not to give into a fight.
Don't Give Up
Regardless of the outcome of an intervention, it is important not to give up. Addiction is a debilitating condition and it often takes multiple attempts at recovery before becoming successful. If an intervention is not successful, it is important to remember to put oneself first and enforce the consequences established in the conversation. Although it may require multiple attempts, treatment works and some may need extra encouragement to start down the path of recovery.
Check out our guide for more tips regarding interventions for young adults and teens.
Sources
http://www.interventionsupport.com/intervention-steps/10-tips-for-intervention/
https://rehab-international.org/interventions/drug-addiction-intervention-benefits