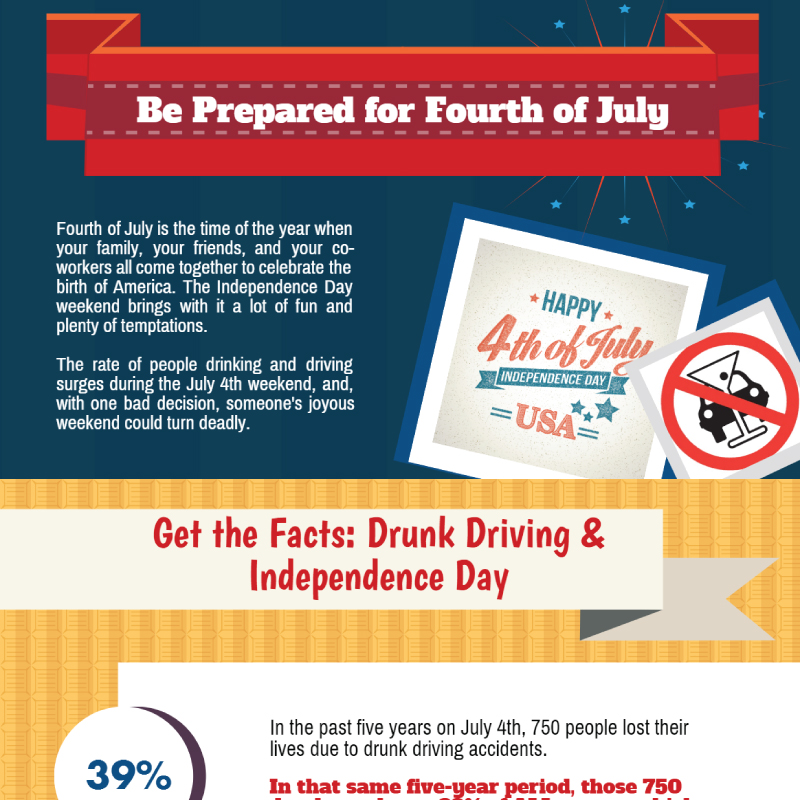 The Fourth of July is one of the most widely celebrated holidays in America.
Everyone in the country takes the day off in order to pay tribute to the day that the British colonies of 1776 finally gained their independence and became the United States of America. Grills are fired up, pools are swum in, fireworks are shot off into the night sky, and family comes together. However, Fourth of July weekend is also the time of the year when the rate of drunk drivers intensifies. The road becomes a dangerous place during the day and night.
The National Highway Traffic Safety Administration (NHTSA) concluded that during the July Fourth period, from 2009-2013, "750 people lost their lives in crashes involving drivers with a [blood alcohol level] of .08 or more. These fatalities accounted for 39% percent of all motor vehicle traffic fatalities over the same five-year period." This statistic should stand as a testament to how dangerous drinking and driving is, and even more so how it becomes even more menacing during the Fourth of July weekend.
Safety On The Road During July Fourth
Even if you're sober and behind the wheel during the Independence Day weekend, you should always keep an eye out for intoxicated drivers. There are so many personal stories to highlight this point, but one in particular really shows the dangers of having drunk drivers on the road. On July 2, 2005, Lisa and David got married in Long Island, NY. After the ceremony, Lisa and David paid for limos and shuttles to take their guests back to the hotels. One of the limos had extremely precious cargo: Lisa's parents, her sister and her brother-in-law, and their two kids, Grace and Katie. The limo driver, Stanley Rabinowitz, had been driving limos for eight years and even offered to drive drunken people home before. As the limo was driving home, a drunken man, coming the opposing direction, had veered over onto their side of the highway and was going 70 miles per hour and hit the limo head on. Both Stanley and Katie lost their lives and everyone else in the limo was severely injured (Neil, Lisa's brother-in-law, broke his back and Chris, Lisa's father, had to get his leg amputated). The family was never the same after that accident and the driver of the car, Martin Heidgen, was charged and convicted with second-degree murder and other related charges. Heidgen had 14 drinks and his blood alcohol level was more than three times the legal limit. Just simply being on the road during the July 4th weekend can prove to be hazardous. You never know what someone else is going to do.
The Cost of Drinking and Driving
Not only is drinking and driving illegal and irresponsible it is also not financially in your favor. If someone is to acquire a DUI, their insurance premium can triple for up to 5 years. Esurance, an auto insurance provider, lays out a possible hypothetical: if you pay $150 a month now, your premium could increase to $450 a month. Spread that extra $300 a month over the next 5 years and you will have paid $18,000 extra for the same coverage. Esurance also points out that the average DUI costs between $5,000 and $25,000 depending on which state you are charged in. So not only are you putting your life and the lives of others on the line when you drive drunk but you also could be draining yourself of a substantial amount of money.
All of these statistics and stories boil down to one simple fact: be prepared. Whether it's designating yourself as the sober driver for the night to insure you and your friends get home safe or figuring out your transportation situation in advance, it all comes down to being prepared and staying safe.
In the spirit of Alcohol Awareness Month 2015, we created the following infographic which depicts some shocking facts about alcohol abuse in the United States, particularly how it relates to young adults and teens.
It is important that we spend this April Alcohol Awareness Month focusing not just on the problem but also the possible solutions.
Enjoy and share this alcohol abuse infographic with everyone you can, and spread the word to raise awareness about alcohol abuse.
[wpsr_sharethis]


To Embed this infographic on your site please copy the code below
[wpsr_sharethis]
Sources
1 http://www.trafficsafetymarketing.gov/july4th
2 http://www.cnn.com/2008/LIVING/personal/05/29/o.lifesaving.lesson/index.html?eref=rss_latest
3 http://blog.esurance.com/dui-statistics-and-the-fourth-of-july/#.VZLJk_lVhBd