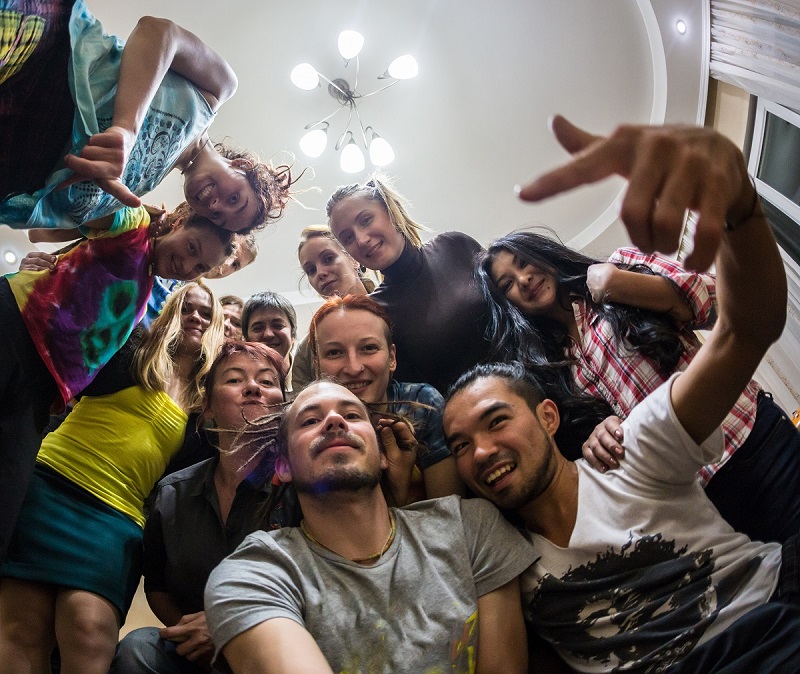 Going to college is a huge milestone for many young adults.
Often, it is their first time on their own, without their parents, surrounded by other young adults going through a similar transition. It can simultaneously be the most exciting and overwhelming experience for both parents and their children, especially for those recovering from addiction.
Away from the guidance of their parents, young adults are faced with new responsibilities that they may have never considered before. Balancing work, school, and social activities while also maintaining physical and mental health can feel like a daunting task, especially when faced with the responsibility of living on a budget. This, coupled with anxiety surrounding building a new social circle and the concerns about meeting new people whose lifestyles may not match that of a person in recovery, can make college seem like a relapse waiting to happen.
While a recovery program works to help young adults establish healthy coping mechanisms and ways of effectively dealing with stress, being on one's own and managing this alone can be overwhelming. Whether it is an individual's first experience in college, or a return to school after dropping out, there are a number of ways to effectively manage stressors and maintain sobriety while still enjoying the overall experience of college life.
Click the image below for access to our College Guide for Sober Students and Their Parents. Or continue reading for some key highlights from the guide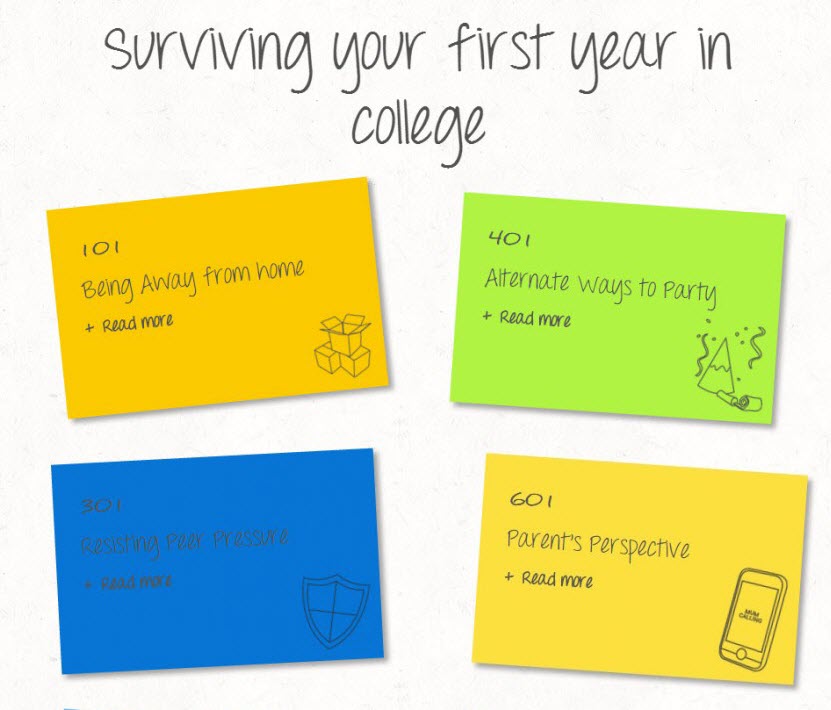 Being Away From Home
Going away to college often takes recovering young adults away from the friends and family members who have supported them through recovery, but it is important to remember that no matter the distance, your support system still exists. There are a number of ways to reach and connect with those who you rely on, either via telephone or the internet, and many college campuses have support nearby. Although it can feel like you are the only sober person on campus, you are not. Many colleges have established Collegiate Recovery Programs (CRPs) to help sober students connect with one another. Students can gather to support one another while participating in fun and exciting events including sports and volunteer activities. These programs allow students to build close friendships with other sober students who can easily relate to one another and support each other through the challenges they may face.
Going to College Prepared
College brings new challenges that require significantly more work, time, energy, and dedication. This can make it easy for an individual to neglect their recovery and can often influence relapse. Be sure to research support options available on and around campus, and consider other resources you may need before beginning your journey. Whether that involves joining a support group, attending meetings, or building relationships with mentors and advisors, it is important to develop a regular schedule that keeps you on track. Finding a recovery sponsor close to your campus can also help, especially when you are faced with more difficult situations.
No matter how overwhelming college life can become, it is important to prioritize your sobriety. Be sure to establish healthy methods of coping with stressors. Relaxing activities, such as meditation or yoga, may help you cope with stress and anxiety. If these types of pursuits are not for you, there are a variety of other activities that can help keep you balanced. Art, sports, and music, are just some of the therapeutic activities tha can help a college student maintain both sanity and sobriety. Find what is most engaging for you and stick with it.
Residential Life
Living in the dorms can be exciting, but it can also be a cause of concern for some. This lifestyle encourages young adults to become independent and self-sufficient, but sharing space with others whose goals do not align with your own can be a source of stress. Living in standard dorms may expose you to a party lifestyle that increases temptation. Even if you are able to avoid temptation, the behavior of dorm mates who party excessively or abuse drugs and alcohol can negatively impact your ability to concentrate on your responsibilities, get enough sleep, or focus on academics.
While not all students engage in these activities, it may be wise to research sober living options at your college. Some colleges offer sober housing for students in recovery. Even if your college does not, there are often sober living homes near college campuses. These homes allow students to enjoy college life while simultaneously offering a supportive community of other sober adults. Students are still able to go to class and participate in social activities with the added benefit of a safe, sober home to which they can return. College often introduces young adults to a lifestyle of excess and experimentation, and sober homes provide many with a safety net that enables successful maintenance of sobriety.
The Realities of Peer Pressure
Regardless of the living arrangement you choose, it is important to remember that peer pressure will occur and it can be incredibly influential. The perceived need to fit in with peers is normal, and being away from your support network can make it easy to give into temptation. For this reason, it is important to consider the ways you can address peer pressure. Whether or not you choose to disclose your recovery status is completely up to you, but sharing this can help you build a new support network. Being upfront about your needs can help you avoid peer pressure, and having friends who understand can also help deflect outside influences.
When faced with peer pressure, it is important to stand your ground, and know that you are not obligated to say anything more than "no, thank you." Choose your friends wisely and surround yourself with people who support you. You can still have fun with others while being sober. You can also use a variety of methods to help avert the influence of peer pressure altogether. Hang out in places such as coffee shops and clubs that do not offer alcoholic beverages. Offer to be the designated driver for others. If you are at a party, have a non-alcoholic drink in your hand at all times.
Having Sober Fun
While many in college will use alcohol as a means of celebrating, there are other ways to relish your successes. You can enjoy concerts, sporting events, and go out for a nice meal. You can enjoy your successes with other rewards as well. Whether you want to buy yourself new clothes, a new gadget, or treat yourself to a spa day, there are plenty of ways to have fun. Enjoying fun adventures can be another way to celebrate your achievements. Go on a hike, explore local shops, or try a new activity. Do not be afraid to change your routine.
If you choose to attend a party where alcohol is served, be sure you are ready to be in that type of environment and consider bringing sober, supportive friends with you. Use your methods of avoiding peer pressure, including having a non-alcoholic drink in hand and keeping an eye on your drink. If you begin to feel pressure to join in, leave the party. No party is worth risking your sobriety. It often helps to establish a time to leave before getting there, preferably before things get too out of hand.
Awareness about your Needs
In college, you must be vigilant in identifying your needs before a serious issue arises. Take sleep seriously and never underestimate its ability to help you feel focused and at ease. Sleep deprivation can often cause individuals to feel the temptation to use drugs or alcohol as a way to induce sleep. Establishing a schedule for yourself ensures that you are well-rested and able to take care of all of your responsibilities.
College can be stressful and may take a toll on your mental health from time to time. Depression, anxiety, and eating disorders are common health issues many young adults face while in school. These disorders can have a profound effect on your ability to maintain sobriety and can often lead to relapse. It is important to be self-aware and recognize symptoms of these conditions before you are unable to address them. Engaging with help from a professional can help you manage your symptoms and develop coping mechanisms that minimize the likelihood of relapse.
Parental Involvement
As stressful as college can be for those in school, it can be equally stressful for parents, especially for those whose child has struggled with addiction. With a child away from home, parents may worry about their health, how they are coping with stress, and if they are balancing all of their responsibilities.
For parents, it is important to be educated about the influences their children may be exposed to while in college and be aware of warning signs. It is important to continue offering support as their children face challenges along the way. Some of the most effective ways to support a child in college are communicating regularly, developing a strategy for coping with problems, helping them develop healthy ways of coping with stress, and teaching them ways to be self-sufficient and independent. As much as parents want to be involved in helping their children manage their newly independent lifestyle, it is important to help them manage it on their own. Developing independence allows young adults to build confidence in themselves and their abilities, making it easier for them to feel more resolute in their sobriety and continue to grow positively.
Click here for access to our College Guide for Sober Students and Their Parents