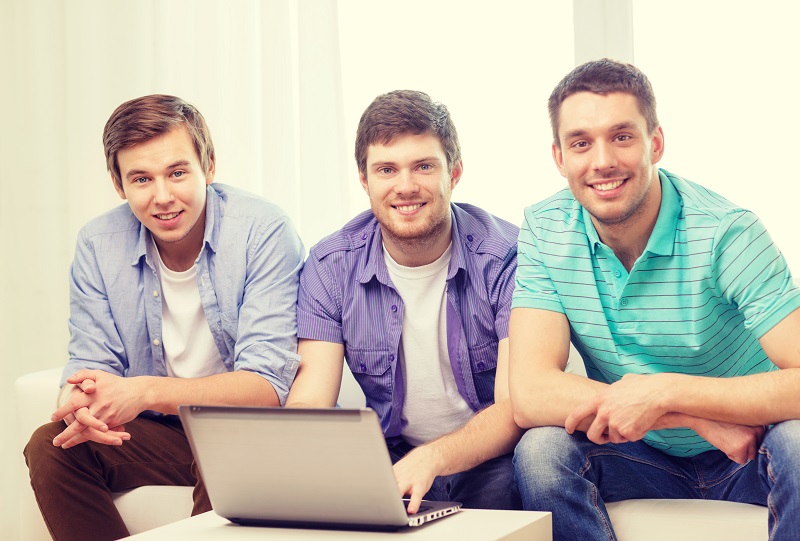 Successfully completing rehab for drug and alcohol addiction is an incredible feat.
It is an individual journey that requires different lengths of time, varied amounts of energy, therapies, and lifestyle changes to accomplish. For many, overcoming addiction requires physically removing oneself from enabling peers and environments through the assistance of long-term rehabilitation programs and residential treatment. This may go on for a mere 90 days or could expand to a period of a year or more. Regardless of the intensity or duration of treatment, getting back into the swing of daily life can be a difficult transition and many find themselves more vulnerable at this point than ever before. Rather than going straight to outpatient care which will increase risk of relapse, young adults recovering from addiction find that sober living serves as an excellent transitional step for those recovering from addiction. It provides young adults with a taste of the real world without completely removing them from the safety and security of a structured, sober environment.
What is Life like in a Sober Home?
There are many misconceptions about what purpose a sober living home serves. One common misconception is that a sober living home is a type of homeless shelter. Sober living homes are actually structured environments designed to provide clients with a safe place to continue working on their recovery as they acclimate to the real world. Every sober home is different and can range from a luxury recovery home to a county-funded halfway home. Regardless of the type of sober home an individual resides in, they all provide residents with the ability to develop life skills, to work or volunteer, and to stay connected with their sober peers. Sober living is a lot like life in the real world, but it's a life with much more structure and regulation.
Sober living can vary from location to location, but many have the same basic routines complete with activities, services, and requirements to continue living at the facility.
Roommates: Sober living homes often have more than one resident and may include two-person or multi-person roommate situations. Living with others helps clients develop their communication skills and learn to work with others.
Schedules: Sober living offers more freedom and flexibility than a rehab program, but there are still schedules clients must adhere to. Clients must wake up at reasonable hours and have curfews for when they must be home. Meals are served on a schedule as well and are served family-style, requiring clients to dine with one another. Some sober living homes may get catering or provide options that address specific lifestyle or health needs.
Meetings: Depending on the type of sober living home, there are different requirements for meetings that clients may need to attend. Some sober homes provide meetings for 12-step programs throughout the course of one's stay while others may only require 12-step meetings during the first 30 days of residency. These 12-step meetings may be led by a counselor or driven by peers.
Counseling: In addition to meetings, some sober homes will offer individualized counseling sessions. Many sober living homes do not offer these services, but recovery-style homes may offer these sessions to treat lingering issues concerning trauma, self-esteem, and other conditions that may influence of use of drugs and alcohol.
Work, volunteer, and education opportunities: Sober living homes require involvement in the community to help with the transition back to the real world. Some clients may choose to get a job while others may opt to enroll in school. Volunteer work is always highly recommended for clients. Engagement with the community and activities that encourage personal growth are essential to the recovery process and set a foundation for life after treatment.
Family involvement: Some sober living homes invite family members to visit and participate in events. These can serve as opportunities for family counseling sessions and allow clients to continue mending damaged relationships or develop healthy relationships with others.
Random drug testing: Sober living homes require random drug tests to ensure the integrity of the house. Drug testing helps clients stay sober while simultaneously keeping others safe from relapse if an individual is using drugs and alcohol. Failure to submit to drug testing or a positive drug test may result in expulsion from the house.
Click here to learn more about the sober living options offered through Sober College.
Aftercare Services and Sober Living
Sober living works similarly to aftercare services and the two often go hand-in-hand supporting a healthy sober lifestyle. Aftercare helps clients continue taking steps forward and reduces the likelihood of relapse. Aftercare services often include:
Sober living: Sober living provides clients with a safe living community while they follow vocational and educational pursuits. These are drug-free and alcohol-free environments shared with other sober individuals.
Individual counseling: Individual counseling provides clients with additional support to address issues of post-traumatic stress disorder (PTSD), depression, anxiety, and other co-occurring disorders.
Medication therapy: Prescription medication may be used as a way to help individuals minimize cravings and continue maintaining sobriety.
Life skills development: Clients continue to develop life skills that support them throughout life after treatment. This may include skills such as doing the laundry and dishes, money management and other housekeeping skills.
Group therapy: Group therapy programs such as 12-step meetings allow clients to continue engaging with the sober community while fueling their motivation and developing new coping mechanisms.
Family therapy: Family therapies can help clients mend relationships damaged by drug and alcohol use.
Job placement assistance: Aftercare services can help clients find a place of employment where they can continue developing their skills and confidence while earning an income.
Aftercare services are beneficial for clients because there is no time limit. Unlike residential treatment programs, sober living homes do not have time restraints. Clients are able to live at the sober home for as long as they like. As long as the client abides by house rules and maintains sobriety, there is no cutoff date for sober living. In addition, living in a structured home provides clients with the same benefits they receive during inpatient treatment while simultaneously learning how to apply new skills to the real world. Sober living homes provide sanctuary from the day-to-day distractions that can interfere with a person's ability to concentrate on their personal growth and sobriety. Since they are surrounded by peers who share similar experiences, they can support one another through struggles and celebrate each other's successes.
The Benefits of Sober Living
Clients who complete treatment may be at risk for returning to comfortable environments with enabling peers who may threaten an individual's sobriety. Living in a sober community keeps clients in touch with sober peers who can relate to their experiences and provide support. The sober community can help alleviate feelings of loneliness or isolation following treatment and is a vital component of life after treatment.
Sober living homes allow clients to develop themselves through action. All clients are responsible for a rotating list of tasks and responsibilities within the household and hold one another accountable for their successful completion. The delegation of tasks encourages clients to develop their communication skills as well as their leadership skills and independence. In addition to these tasks, clients may be expected to contribute to costs, such as paying for utilities or groceries. This allows clients to be slowly reintroduced to an independent lifestyle, becoming more self-sufficient and eventually able to inherit all of the responsibilities that come with living on one's own.
Sober living can help clients find jobs, academic coaching, assistance with interviews, and transportation. Clients may continue to benefit from the resources available to them while in treatment, developing new goals and continuing to progress forward. Sober living and aftercare services act as a safety net for clients that are transitioning from treatment back into the real world. The sober community is critical during this transitional period, helping clients keep their motivation and overcome stressors that may trigger relapse. Engaging with aftercare services and sober living significantly improves a person's ability to maintain sobriety and reduces the likelihood of relapse.
Everyone's needs following treatment are different, and aftercare services are able to be tailored to those unique needs. Clients may continue to engage with therapies, groups, and medical appointments as needed, whether it is on a daily, weekly or monthly basis. Regardless of one's needs in treatment, staying in touch with counselors and a treatment team can help an individual maintain their sobriety and continue to manage it long-term. If you think Sober College could be a good fit, contact us at 800.465.0142 or [check if your insurance will cover rehab].
Sources
http://www.michaelshouse.com/drug-rehab/aftercare/
http://www.soberlivinghomes.com/what-is-life-like-at-sober-living-homes/
http://www.michaelshouse.com/sober-living/things-you-should-know/