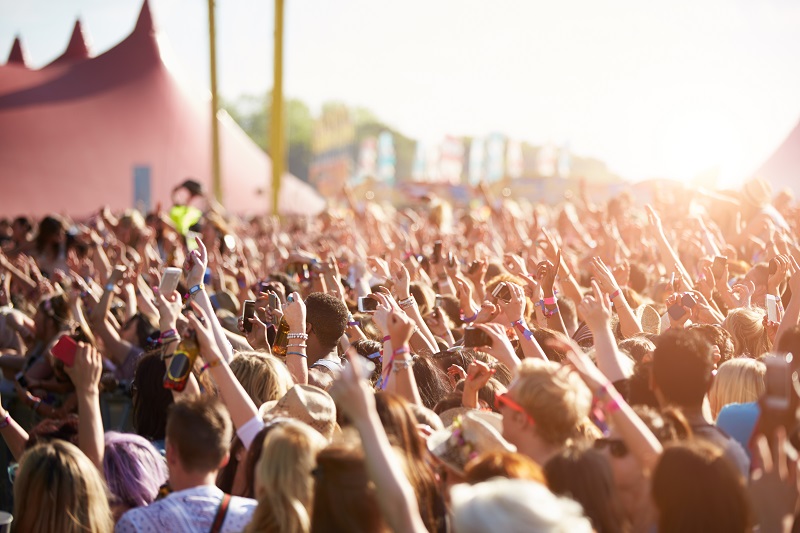 While music festivals have been around for years, the recent rise in popularity of electronic music festivals has increased their visibility in the media.
With this increased visibility has come an increased awareness surrounding the evolution of drug and alcohol use at music festivals. Although substance abuse and music festivals have seemingly gone hand-in-hand for years, the introduction of designer drugs and rising number of deaths have made it a hot topic for discussion and have raised concerns regarding the safety of concert-goers at these festivals. As the summer months approach, so do a wide variety of music festivals and it begs the question: are music festivals dangerous?
Increased Accessibility to Drugs
Music festivals draw in a young crowd because of the headliners and the long days and nights of dancing and partying with friends and strangers alike. While adrenaline and energy are already high, concert-goers often seek a way to keep the good times rolling or want to take it to another level entirely, hence, the introduction of drugs. While the presence of drugs at these festivals is not unheard of, the recent rise in popularity of illicit substances, such as Molly, has been a cause for concern. While Molly is portrayed as a new drug, it's actually the rebranding of an old drug: MDMA, also known as ecstasy. With this rebranding comes the misrepresentation of Molly as a "safer, purer" drug. Along with its ability to create "positive side effects" such as making users feel happy, more open, and unafraid, Molly's cheap price and growing availability has made its appeal to young concert-goers. Coupled with backing from popular songs by major celebrities, Molly is perceived to be a normal part of the festival experience.
Molly is the newest addition to the music festival scene; however, testing on batches of Molly at concerts has identified that Molly is more often than not a combination of multiple illicit substances, making it nearly impossible to know which drugs a user is taking. Batches were found to contain speed, hallucinogens, and chemicals found in bath salts, producing effects that simulate those of Molly and ecstasy. Rather than taking Molly, users are taking a cocktail of drugs that can produce a number of unknown, dangerous side effects that may be life-threatening. In addition, the presence of alcohol at music festivals makes it easy to mix the two substances, increasing the likelihood of adverse side effects.
Concert attendees are often in hot environments, surrounded by countless people and dancing for hours. Many are unaware that while under the influence of drugs and alcohol the risks associated with overheating and dehydration increase dramatically. Molly may make individuals unable to regulate their body temperature and may lead to death due to heart failure or dehydration. The use of drugs like Molly at music festivals has led to an increase in emergency room visits and deaths among young concert-goers.
Combating Substance Abuse at Music Festivals
A study conducted by DrugAbuse.com examined drug and alcohol mentions on Instagram to identify, by festival, what substances were most commonly used. While the findings of this study are inconclusive, they do reveal trends and highlight the growing representation of drug use on social media. Alcohol is one of the most common substances found at many festivals and mention of it on social media far exceeds mention of other illicit substances. While legal, alcohol use at festivals can be dangerous for reasons similar to MDMA use: high temperatures, lots of physical exertion, and dehydration. It is not uncommon for concert-goers to engage in binge drinking or even experiment with combining substances to enhance their effects. These behaviors put individuals at greater risk and increase the likelihood of dangerous, life-threatening side effects.
Not surprisingly, MDMA, ecstasy, and Molly were most commonly mentioned in relation to electronic dance music festivals. These drugs are frequently linked to the electronic dance music scene and their side effects are highly sought in these festivals. As far as festivals go, Burning Man was frequently listed as the number one festival for drug use. Drugs like mushrooms, crack cocaine, DMT, LSD and Mescaline were all mentioned most frequently in relation to Burning Man.
While some are eager to shut down music festivals in response to the increased number of deaths due to drug use, this solution does not address the problem of drug abuse and simply forces users to move elsewhere. Many summer festivals are implementing new methods of addressing the presence of drugs including the use of drug-sniffing dogs and pat-downs. In addition, many festivals will have a stronger medical presence with doctors, nurses, and EMTs on site. While these steps will not prevent concert-goers from using drugs, taking steps to combat the problem of substance abuse at concerts is a step in the right direction and will hopefully reduce the number of deaths that occur at music festivals.
Sources
http://www.billboard.com/articles/columns/music-festivals/6554117/drug-use-music-festivals-study
http://www.browardpalmbeach.com/music/how-dangerous-are-music-festivals-like-coachella-and-ultra-really-6425570
http://www.collegebingedrinking.net/music-festivals-crack-down-on-drug-use.html