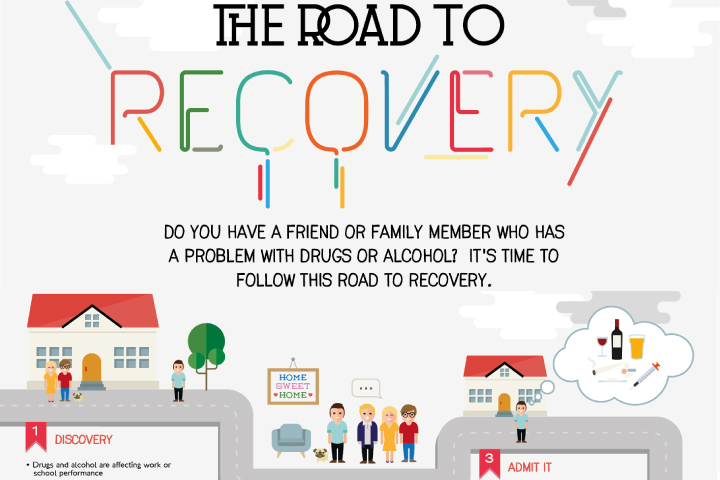 Do you have a friend or family member who has a problem with drugs or alcohol? It's time to follow this road to recovery.
1. Discovery
Drugs and alcohol are affecting work or school performance
Relationships with family and friends are strained
They are in trouble with the law
Many who struggle with alcohol or drug addiction are in a denial that a problem exists and may be unable or unwilling to recognize the negative consequences addiction imposes not only on themselves, but on their loved ones. In many cases, a friend, loved one, or co-worker may recognize the problem first and offer their support.
2. Intervention
Gather family and friends together
Contact an interventionist to facilitate the intervention
Have a treatment plan in place immediately following the intervention
Interventions are designed to assist an individual in coming to terms with the reality of their addiction and provide them with a treatment plan to help them achieve sobriety. Utilizing the assistance of and interventionist can help alleviate stress and keeps the intervention on track, ensuring action quickly follows its conclusion.
3. Admit it
Recognize that substance abuse has become a problem
Agree that the problem needs to be addressed
Open up to friends and family about it
Someone may recognize they have a problem with drugs or alcohol on their own, or with the help of a loved one. This can come from realizing they are reliant on the substance or that it is negatively affecting other areas of their lives such as their relationships. It is important to have a strong support network during this time.
4. Accept help
Seek medical attention
Accept offered advice
Progress onto treatment
Accepting help is essential in recovering from addiction. The risk of losing a job, a spouse, family and friends, or their freedom can often be the driving force that pushes someone to accept the help they need.
5. Treatment
Consider the options
Choose the right treatment program
Selecting and appropriate treatment program is an essential party of an effective recovery. Attending support groups, going "cold-turkey" or checking into a rehabilitation facility are only some of many options available. The effectiveness of each depends on the unique needs of each individual, the type of addiction and the extent to which it has progressed.
6. Detox
Go "cold-turkey" to allow chemicals to leave the body
Check into a detox center
Detoxing from drugs and alcohol can be a painful and uncomfortable process and the discomfort experienced can increase the likelihood of a relapse. Also, depending on the substance detox can cause life threatening side effects. In order to alleviate symptoms of withdrawal, address and potential health risks and reduce the risk of relapse, a medically supervised detox may be recommended.
7. Residential rehab
Live in a sober environment for at least 90 days
Undergo individual, group and family therapy sessions
Lean healthy coping skills to prepare for a life after treatment
It is recommended that individuals attend a residential treatment program for 90 days to 6 months. By removing themselves from their home environment and participating in individual therapy, group therapy and counseling, individuals are able to build a support network of sober peers and develop healthy coping mechanisms to enjoy a life free from substance abuse.
8. Sober living
Live at home or in a sober living environment while still attending therapy and group sessions.
Practice the tools learned in treatment in a less structured setting
Depending on the individual, sober living or outpatient treatment may be the first step in recovery or it can serve as a transition from a structured residential treatment environment back into real life. Aftercare or sober living environments provide and additional level of support and a community of sober peers helping newly sober individuals when they return to their normal lives.
9. Enjoy life
Continue to avoid substance abuse triggers
Attend support groups and seek support from friends and family
Enjoy the new possibilities a sober life provides
After the completion of a recovery program, an individual is better prepared to live free from addiction. They know how to avoid triggers and have the tools to cope with stressors. And by participating in support groups, they are surrounded by people invested in them and their hopes to live a successful, sober, and ideally a fun life.
Click here to reference the infographic to help you with this difficult process.