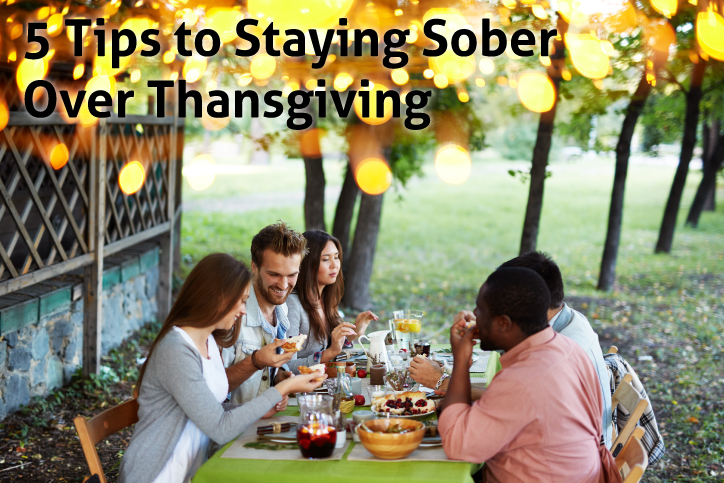 Many people look forward to Thanksgiving and holiday season because it marks a period of time during which family, friends, and loved ones gather to celebrate. While the holidays are often a happy time, for some they can be depressing, stressful, or overwhelming. Depending on a person's past and present experiences, holidays can bring out the worst feelings, leaving some looking for ways to cope in any way they can. While Thanksgiving can be fun, it is not worth jeopardizing sobriety. There are a number of ways to cope with holiday stress and minimize the risk of relapse. Therefore, what tips to staying sober over Thanksgiving can someone use?
5 Tips for Staying Sober Over Thanksgiving and the Holiday Season
Thanksgiving is a particularly chaotic holiday. In some cases, people travel great distances to attend family gatherings. It is often one of the few times where family members may see others they have not seen in years. This can make the gathering even more stressful, especially if some attendees are estranged or feel negatively towards certain people or actions. When you combine these heightened social situations with an overindulgence of food, alcohol, and other substances, Thanksgiving can easily become and unpleasant and negative situation, leading to increased stress and tension.
Here are 5 tips that someone can use to stay sober throughout the holiday season:
Volunteering:

Sometimes, the best way to prevent relapse is to avoid temptation altogether. If you're concerned about jeopardizing your sobriety and can afford to forgo the gathering, you can minimize your risk of relapse by giving back to the community. Volunteer work can provide a safe environment away from enablers and triggers while simultaneously allowing a person to brighten someone else's holidays.

Talk to your support group:

The holidays can be stressful time for anyone, making support groups even more vital to sobriety. Connecting with others who share similar experiences can help you prepare yourself for specific situations while also helping you navigate difficult interactions and environments.

Prepare ahead of time:

At most Thanksgiving gatherings, it is inevitable that there will be some form of alcohol present. You can prepare ahead of time by planning what non-alcoholic beverage you will drink, and always keeping that drink in your hand to avoid being offered alcoholic beverages. If you are not sure if there will be nonalcoholic options, you can always bring your own drinks.

Get help from friends and family:

Your friends and family can serve as a buffer at holiday gatherings. Bring along a sober buddy who has your best interests at heart. They can help support you in difficult situations and will have your back if needed.

Be prepared to leave:

You are not required to stay at a gathering if you are uncomfortable or feel that it threatens your sobriety. If a situation becomes too overwhelming, it is best to leave rather than test yourself and potentially face negative repercussions.
Do you or someone you know have a problem with drinking?
Call 800.465.0142 to speak with an admissions counselor.
Coping with Addiction During the Holidays
There are many reasons why the holidays can threaten sobriety. For some, the holidays can bring about uncomfortable feelings and bad memories that may trigger relapse. In other cases, holidays involve gatherings of people drinking and/or using drugs which can threaten sobriety. Some people may not have a place to go during the holidays, and this can produce feelings of loneliness or sadness that can cause a person to relapse as a means of coping with negative feelings.
Even if all of these situations are not factors and alcohol or drugs are not present, the very act of being around family members can be stressful for some, and may bring out the worst in others. Extreme emotional reactions can serve as triggers and even the anticipation of being around certain people can cause feelings of anxiousness and stress that threaten sobriety. This also applies to those who are alone during the holidays. Being inundated with photos and videos of other people at family gatherings can intensify feelings of loneliness and not belonging if someone does not have his or her own event to attend.
Sources
http://www.choosehelp.com/topics/recovery/7-strategies-for-staying-sober-over-the-holidays
http://www.livingsober.com/staying-sober-thanksgiving/
https://www.recoveryranch.com/articles/alcohol-abuse-alcoholism/how-to-stay-sober-and-sane-at-thanksgiving/