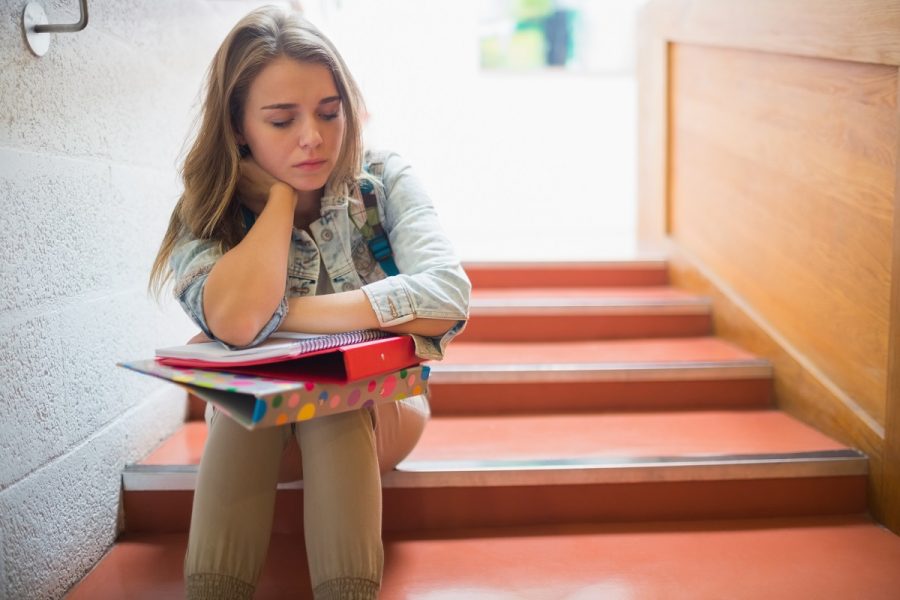 College is often considered an exciting time during which students experience life on their own for the first time while preparing for their futures. College can often be when new friends are made, parties are had, and fun is around every corner; however, the reality is far different for some students. College is a particularly challenging point during one's life. The same excitement surrounding newfound independence can also be a source of stress and negative feelings. Students may find themselves feeling homesick, struggling to fit in, or experiencing difficulty balancing all of their responsibilities. These factors, combined with increased access to drugs and alcohol, irregular sleep patterns, and increased levels of stress, can put many students at risk for depression.
Research conducted by the National Alliance on Mental Illness shows that one in four students on college campuses have a diagnosable mental illness; however, 40 percent of them do not seek help. Left untreated, depression can be debilitating and affect students' school work, job, relationships, and overall health. Although depression is a common problem, it manifests differently for everyone, which can make it difficult to identify.
Identifying Depression
Most college students will experience feelings of sadness and anxiousness that pass within a few days. But for some, these feelings are persistent and can affect how they may think, behave, and feel, which can lead to the development of health problems.
While signs and symptoms may vary, the most common include:
Loss of interest in activities that were once enjoyed such as hobbies or sports
Lack of energy
Feelings of sadness or hopelessness
Anxiety or restlessness
Irritability, frustration, and angry outbursts—even over little things
Trouble concentrating or remembering things
Feelings of worthlessness or guilt
Sleep disturbances and insomnia
Changes in appetite that lead to weight loss or weight gain
Frequent thoughts of death, suicidal thoughts, or suicide attempts
Physical problems that are unexplained such as headaches or back pain
Depression can also affect academic performance, work performance, and relationships.
Treating Depression & Addiction
Treating Depression
For those who struggle with depression, it can be difficult to seek help. This may be due to embarrassment, fear of being judged, or simply being unable to accept the fact that there is a problem. Unfortunately, stigmas surrounding mental health can be a barrier to seeking help. For those who are away from home, it can be particularly difficult for loved ones to notice the signs and symptoms of depression as they develop, making it especially important to talk, listen, and ask questions. If it is suspected that someone struggles with depression, it is critical to encourage them to speak about it and seek help. Depression rarely gets better on its own and often becomes worse when it is left untreated.
There are steps college students can take to help cope with depression and feel better. These include:
Taking on fewer responsibilities:

Depression can often manifest as a result of taking on too much. The pressure to perform academically, manage a job, and live independently can be overwhelming. Taking action to reduce one's workload by enrolling in fewer classes or breaking up tasks into manageable chunks can make it easier to cope with the responsibilities of college.

Taking care of oneself:

While it may seem like a simple solution, sometimes the most important actions one can take are the most basic. Ensuring that you get enough sleep, eat well, and exercise regularly can greatly improve your mood. Students are often exposed to drugs and alcohol and may feel pressured by peers to engage in behaviors they would otherwise avoid. Refraining from using substances to improve one's mood is critical, as these can often influence the development of addiction and lead to depression.

Have fun:

It can be easy to feel overwhelmed by daily responsibilities, but taking a break and having fun can greatly improve one's mood. Finding activities that are enjoyable and healthy such as spending time with friends, being in nature, or going to events can reduce the risk of depression.

Seek help:

Asking for help is difficult, but it can be almost impossible to overcome depression without it. This can include spending time with supportive friends and family members, or may mean seeking professional help from a counselor. Student support groups are also available on many campuses, making it easier for students to network with others and realize they are not alone in their struggles.
Have questions regarding depression treatment for yourself or a loved one?
Call 800.465.0142 to speak with an admissions counselor.
Sources:
http://www.mayoclinic.org/healthy-lifestyle/tween-and-teen-health/in-depth/college-depression/art-20048327?pg=2
http://www.bestcolleges.com/resources/top-5-mental-health-problems-facing-college-students/