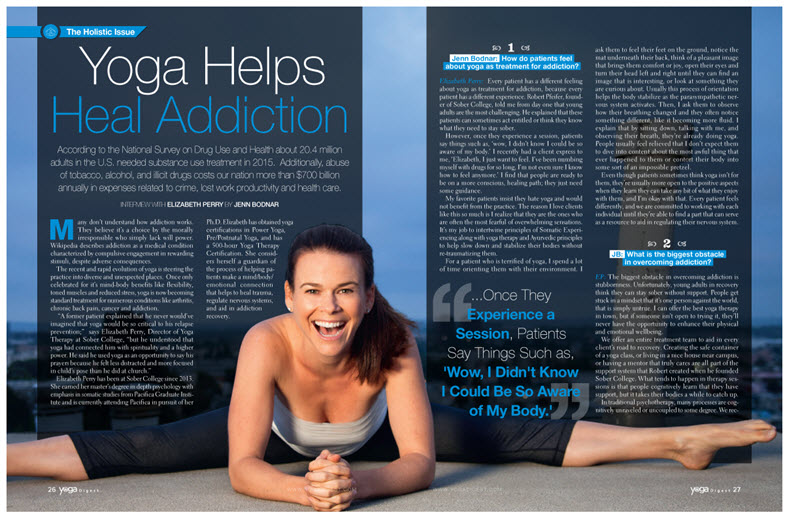 Recently, Elizabeth Perry, MA, RYT Yoga Therapist at Sober College was the main contributor to the article "Yoga Helps Heal Addiction" in the most recent issue of Yoga Digest. Read more about yoga and addiction recovery below or click here to check out the full article.
Yoga is practiced by countless people across the globe and its reach continues to expand. While highly celebrated for its ability to improve flexibility, reduce stress, and tone muscles, new benefits are continuing to emerge. Yoga has become an essential part of treatment for numerous conditions including arthritis, pain, and addiction. Although some approach yoga in addiction treatment with a bit of skepticism, many find after one session that the benefits associated with it are more far-reaching than they could have imagined.
One Sizes Does Not Fit All
Every patient has different needs in treatment, and their feelings towards yoga in the recovery process can differ. Elizabeth Perry, Director of Yoga Therapy at Sober College, works every day with young adults in addiction recovery. Her favorite patients are those who "insist they hate yoga and would not benefit from the practice." Perry combines principles from different forms of yoga with therapy to help patients overcome any fear, anxiety, or misconceptions they may have surrounding the practice. Working primarily with young adults, Perry spends time orienting clients with their environment and asks them to observe subtle changes—such as their rhythm or breathing—and focus on positive experiences in the present, rather than digging up or revisiting the past.
"The biggest obstacle in overcoming addiction is stubbornness," Perry says. Working with young adults can be particularly challenging, especially when many believe they can stay sober without support. Perry's job is to free patients from this mindset and make them realize they do not have to face the world alone. Even for those who do not believe yoga is for them, there are positive aspects that benefit almost everyone in some way. Once a person is able to overcome their resistance to yoga, they allow themselves the opportunity to enhance their physical and emotional wellbeing.
More About Yoga & Addiction Recovery
Yoga as an Essential Tool
Yoga has become an incredibly popular component of addiction recovery because of its ability to connect the mind, body, and spirit. In many treatment approaches, the incorporation of yoga allows for a more holistic approach to recovery, encouraging patients to cope with addiction, stressors, and co-occurring disorders mentally, physically, and emotionally.
Perry believes that disconnecting from our bodies can influence addiction and create barriers in recovery. Whether a person is addicted to their phone, an illicit drug, alcohol, sex, or something else entirely, these dependencies can affect the way in which people cope with difficult situations or feelings, with many opting to mentally check-out rather than deal with it. Perry says that "In my opinion, our society breeds addiction. The media tells us that all we need to feel better [and that there] is a quick fix of some sort." Perry's words ring true in many ways – self-medication can often turn into addiction and drugs or alcohol can simultaneously serve as a quick fix to escape stressors. The use of yoga in treatment is designed to help a person connect with inner resources necessary to overcome addiction while improving mindfulness, self-control, and acceptance. Yoga can be a means to release physical, mental, and emotional tension rather than relying on substances. Yoga also teaches patients that continued practice improves all forms of health, and while it is not a process that will necessarily provide instantaneous results, the skills it teaches are applicable to life-long management of health and sobriety.
Yoga has become an essential tool in many people's recovery as it helps with impulse control, personal awareness, and self-discipline. Many patients who practice yoga find themselves utilizing techniques and skills for various needs. While recovery largely focuses on developing support networks to protect sobriety, Perry also helps patients realize that they can become their own support as well. She also says that yoga allows a person to feel the support their own bodies provide and become aware of the fact that they are incredibly resilient. In addition to realizing the power of supporting oneself, Perry makes it clear that she is also a resource to her patients; "As their yoga therapist, I am part of their support system and they are not alone".
Have questions regarding our program?
Call 800.465.0142 to speak with an admissions counselor.