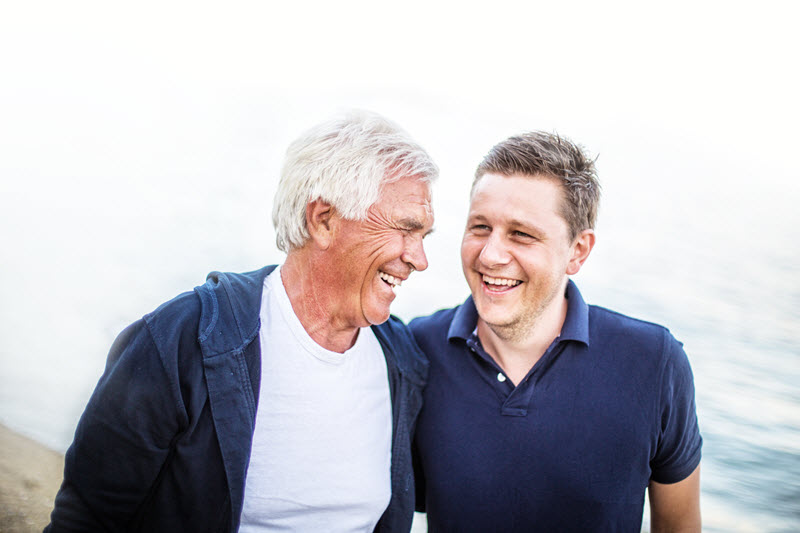 When your child is addicted to drugs, it is scary. There are many illicit substances that could be potentially misused, and each drug comes with its own set of concerns and risks. It can be difficult to cope with a child's drug addiction, especially when you start to reflect back and consider where it could have "gone wrong." When children are young, it feels like we have more control. You are able to assign chores, ground them, and help guide them through troubling situations. As they get older, it's harder to maintain that control, but the same desire to guide them and help remains.
When it comes to how to deal with a drug addict daughter or son, that desire to help can become heavier, and you may feel a greater sense of responsibility to "fix" the situation. It is easy to feel helpless or responsible, but there are numerous ways you can assist them in getting the help they need without carrying the brunt of the weight on your own shoulders. It is important to keep the situation in perspective while doing everything you can to keep yourself, your child, and the rest of the family safe.
Help your Child and your Family Feel Safe
Addiction is complicated and it can affect more than just the person who struggles with it. Family members close to a person with addiction often deal with their own set of personal stressors or trauma related to it. While it is critical to help your child receive help for their addiction, it is also important to recognize its impact on other family members and ensure they feel safe as well.
Ultimately, you must remind yourself that your child is an adult, and while there are things you may want to take responsibility for, you must remember they have the power to make decisions and choices. Regardless of how you feel their childhood could have impacted their current situation, you cannot continue to accept blame for their current choices. You can continue to love and support them without hurting yourself in the process. As a parent, it can be difficult to let go of responsibility, but drawing boundaries to keep yourself and other family members healthy and safe is critical.
Love Your Child, But Set Boundaries
For parents dealing with an addicted child, it can be difficult to know how to set boundaries with your teenager, especially when you feel a sense of obligation or responsibility regarding the situation. While everyone makes mistakes as parents, at some point you must be willing to relinquish this feeling of responsibility and acknowledge that your child is now responsible for their current and future actions. This can be one of the hardest boundaries to set when dealing with addiction.
It is important to continue to love and support your child without enabling them. You may be thinking, "Okay, but how do I stop enabling my drug addict child but still help them get the help they need?" There is often a fine line between the two that can be difficult to distinguish. Setting boundaries can help you prioritize yourself, but still support your child without supporting abusive behaviors.
Limit financial assistance:

Money can be a sensitive subject when it comes to addiction. Parents often feel obligated to continue supporting their child financially, but fear how the money is being spent. Rather than giving them money, you can supply what they need instead. For instance, instead of providing money for food, you can opt to provide groceries. This allows you to support your child without further enabling certain behaviors.

Help them find support:

You can aid your child in finding help, but you cannot force them to take it. Providing them with information about treatment options is a step in the right direction, but if they choose not to use it, do not blame yourself.

The idea of "hitting rock bottom":

Often when addiction is discussed, the idea of "hitting rock bottom" is mentioned, implying that a person will not often seek help until they have reached that point. Not everyone needs to be at their lowest low to realize they need help, and your family certainly does not need to go down that path with them. Those with addiction do not need to hit rock bottom to seek help, and families do not need to either.
Start Your Search for the Right Drug Addiction Rehab
With so many treatment options available, the idea of even beginning to search for rehab can be daunting; however, there are ways you can make the process more manageable. Some questions to consider before moving forward with a program include:
Do they need long-term or short-term care?
Depending on the nature of their addiction, some may require longer treatment programs in order to successfully achieve sobriety. This is dependent on numerous factors including duration of use, type of substance abused, and the potency or strength of the drug (you can think of this in relation to their tolerance level – how much do they need to use in order to achieve a high?). However, in general, studies show that a minimum commitment of 90 days gives young adults struggling with addiction the best chance at achieving long-term sobriety and healthy living. Learning new habits and skills as well as how to have fun as a young person in recovery takes time.
Does the program offer detox services?
Not all drug rehab programs have detox services available and this may need to be coordinated separately from the program. Detox is often a vital first step in drug addiction rehab as it helps clients overcome withdrawal symptoms and cravings more comfortably so they can focus on their recovery.
Does the treatment program teach life skills?
Addiction recovery is more than just abstaining from substance abuse. It requires a complete lifestyle change in order to support sobriety long-term. For many, the stressors of everyday life can be triggering and lead to relapse. Programs that help clients become more independent by teaching them life skills and developing healthy coping mechanisms tend to be more successful.
What is the treatment philosophy of the program?
It is important to find a program that aligns with individual needs. Programs can vary greatly depending on numerous factors. How they view addiction, how treatment programs are developed, and what methods they use to address it are all vital components to understand before choosing. Make sure the program you select matches your child's needs and will be able to support them throughout the process.
Other questions to consider asking may include:
Does the treatment facility accept insurance?
What is the staff to client ratio?
What amenities are offered?
What is the living situation?
How Much Should Treatment Costs?
Cost tends to play a large role in choosing a recovery option. In fact, many people do not seek help for addiction because they believe the costs will be too great. Although there are some upscale recovery programs with lavish amenities and soaring costs, there are countless others that offer excellent resources without a large bill. Many treatment facilities work with a multitude of insurance providers and costs will vary depending on what they will accept. Additionally, some programs offer options such as low-cost services or sliding-scale fees based on income levels. There are even some no-cost options, such as Narcotics Anonymous, that provide free services to the community. Because there are so many variables into how you can finance addiction treatment costs, it is important to reach out to programs you are interested in to discuss your specific situation.
How Do You Present Treatment to Your Child?
Once a treatment program has been selected, it can be difficult to take the next step of presenting it to your child. While you may not be able to force them to accept help, you can present it in a way that encourages them to enter treatment. An intervention is a great way to transition into the conversation. This entails bringing loved ones together to discuss concerns and a plea for change with the individual in a safe environment. If they choose to accept help, it is important to transition them to the program as quickly as possible to prevent last-minute binging or any other dangerous behavior. Selecting a program prior to an intervention can also help you plan any potential transportation needs ahead of time.
Talk to Another Parent Who's Dealt with a Drug Addicted Child
Another reason it is good to reach out to treatment facilities during your search is because they can connect you with others who share similar experiences. Although there is greater awareness and education surrounding drug addiction, it can still feel like a sensitive topic that many are hesitant to discuss. It is not a topic that many willingly engage in because it can make them feel vulnerable or exposed.
In treatment environments, you are surrounded by others who have been in your shoes and can help you through the recovery process. This makes it easier to build support networks of people who understand your experiences and can offer insight into addressing tough topics. Reaching out to a treatment facility can help you connect with others more readily, especially if you are able to visit the location in person. Many rehab programs offer services for family members affected by substance abuse in order to help them heal as well. These often provide critical insight into the recovery process and can help you prepare for some of the challenges you may face. A visit can also help you better determine if the program is the right fit for your child and your family.
If you are unable to visit the location, there are still ways to connect with parents who have similar experiences. Many treatment programs have video testimonies from clients and their family members available on their websites, and many have online components to help families stay connected to one another. You can also learn a lot more about the program and its staff members through these interactions, which can help you better assess if it is the right choice for you and your family.
Personal Coping Skills for Dealing with a Drug Addicted Child
Addiction affects more than just the person who struggles with it. Often, family members are greatly impacted by it as well. Many treatment programs offer various forms of counseling and support for family members to help them cope with addiction's impact on their lives. While helping your child overcome addiction is a priority, it should not supersede all of your needs. Too often, it is easy to lose sight of yourself and your own needs when dealing with a loved one's addiction.
Find support:

There are numerous therapy and counseling services available for family members. Support groups can help you connect to a community of people who share similar experiences and can help you through the recovery process.

Make time for things you enjoy:

Any activity or hobby that brings you happiness can help you through difficult times. Do not let your child's addiction erase your identity. Making time for the things you enjoy can reduce your stress and put your mind at ease.

Follow-through on activities even if your child does not:

If you plan activities and your child decides not to participate, continue without them. It is important not to let addiction control every aspect of your life. By continuing on with your intentions, you are taking back control and prioritizing your needs.
Contact Sober College
If you or someone you know has a child struggling with drug addiction, Sober College has numerous treatment options available. Sober College is an age-specific treatment program designed to address the unique needs of young adults in recovery. We are equipped to address gender-specific needs with the ability to provide dual-diagnosis treatment for those struggling with a co-occurring mental health disorder.
While the idea of exploring treatment options can feel scary, the benefits of taking that first step far outweigh the potential consequences of prolonged use. With personalized treatment programs, clients at Sober College are equipped with the tools needed to manage long-term sobriety. In addition, they are able to begin mending the relationships damaged by drug addiction and build a strong foundation for healthy, sober relationships in the future.
If you think Sober College could help your son or daughter struggling with drug addiction, give us a call at 800.465.0142 or fill out a contact form and one of our admissions representatives will get back to you within 24 hours to discuss your situation.
Sources
http://www.narconon.org/drug-rehab/questions.html
https://www.psychologytoday.com/blog/lifetime-connections/201410/7-tips-mothers-adult-addicts
http://www.addictioncampuses.com/resources/addiction-campuses-blog/coping-with-an-adult-childs-addiction/